$799-$1,299

Tutoring from $2,399

Self-Paced (4 months)

Online and In-Person (Varies)

Free practice LSAT

$69/month or $599/year

+99 for 1-yearof LSAT

Prep Plus

Free Trial

Practice Questions –

Every

Real LSAT Question ever

released


Full-Length Practice Tests
– 80+

Practice Questions

– 7,000+


Full-Length Practice Tests
- 60

Practice Questions
–
5,000
Full-Length Practice Tests

Access to
LSAC Prep
Plus® Digital Practice
Exams

Practice Questions

– 8,000+


Full-Length Practice Tests
- 6

Practice Questions

– 8,500+


Full-Length Practice Tests
- 85

Practice Questions -

7,500


Full-Length Practice Tests
– 95+

Online (self-paced and
live), in-person

Online (self-paced and
live)

Online (self-paced and
live), in-person

Online (self-paced and
live), in-person

Higher score or your money
back
Free repeat if not happy

7-day money-back
guarantee
+5-point improvement

Higher score or your money
back or free course repeat

Live
in-person or online
instruction, tutoring

Affordability, stellar
customer support,
personalized dashboard

Print materials,
interactive

Teacher led sessions both
on-demand and live

Great analytics, expert
instructors
A quick internet search will result in tons of companies touting their LSAT prep course, so how do you know which one is right for you? No worries! We're here to help you make that important choice.
In a hurry? Check out our deal here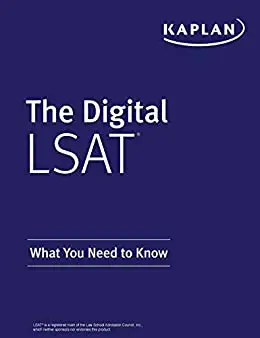 Kaplan LSAT Prep Course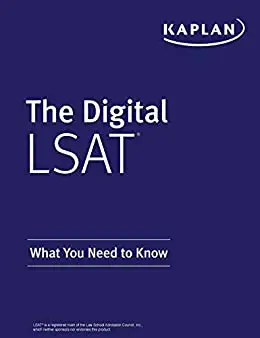 Just reduced pricing on all of their courses.
Things to Consider When Choosing an LSAT Prep Course
Here are some things to think about as you read through this article. Hopefully, our review will make it easier for you to choose which LSAT prep course will help you crush the LSAT and get into law school.
Don't always choose a course just because it's highly rated. It's only is useful if it works for you.
Choose the prep course that fits your learning style, study habits, schedule, and budget. You'll need a program that effectively uses your study time.
If the course doesn't have the features that you need to learn effectively, then it's a waste of your time and money.
Make good use of the free trial that comes with many of the LSAT prep courses. This is the best way to see if the program is the right fit for you.
What is the Best LSAT Prep Course for Me?
Whether you like to work on your own or need individual help, whether you have a year to study or just a month, whether you want to learn through video lessons or just work through practice tests and questions—there is a course just for you. That's why we have created this resource. We reviewed the top-rated online LSAT prep courses so you can see which course matches your personality and how you learn best. Check out the comparison chart to see how they stack up against each other.
The Best Online LSAT Prep Courses at a Glance
Kaplan LSAT
Kaplan has been a front-runner in the test prep game for 80 years. Their story began in 1938 when Stanley Kaplan started tutoring students in the basement of his parent's Brooklyn home. Today, Kaplan is one of the world's largest educational services providers—supported by a staff of 12,000 educators across 28 countries. Their online delivery platform makes all of its courses convenient and easy to use.
Kaplan's Self-Paced test prep option ($700 – $1,000) lets you work online from the comfort of your own home. You'll get 32 hours of instruction, 180+ hours of video (live and on-demand) on The LSAT Channel, 80+ official LSAT exams with self-proctoring tools, every official LSAT question ever released, hundreds of hours of online practice, and a set of prep books for studying on the go.
The Live Online course offers lecture ($1,200 – $1,600) and small class ($1,600-$2,000) options. Courses are instructor-led class offered either live or on-demand. There is a "Plus" option for both courses that includes three hours of tutoring.
The optional tutoring packages give you access to 10 – 40 hours of online or in-person one-on-one tutoring, in addition to the full Live Online or In-Person course, 80+ self-proctored, full-length practice exams, 2 prep books and 400+ hours of online resources. Tutoring packages run from $2,399 – $4,900.
See our full Kaplan LSAT Review here.
Pros
Variety of options (self-paced, live online and in-person classes)
Printed prep books
165+ score guarantee
Cons
Magoosh LSAT
Magoosh is a test prep company that has been around since 2011 and has helped millions of students achieve high scores on a variety of admissions exams. All of their plans are 100% online, accessible from multiple devices, and have a risk-free 7-day trial.  You can get Magoosh LSAT prep for $129 for one month or just pay $249 and you'll have access to the lessons for 12 months. Their prep course includes over 7,000 official LSAT questions with video explanations as well as 60 full-length practice tests. The LSAT questions are actual LSAT tests from prior years. It also includes over 90 comprehensive video strategy lessons and 200 Logic Game explanations.
Magoosh is known for teaching test-taking strategies and will walk you through the best approaches for studying. Their blog will help you keep you focused on the main topic areas by providing you with a variety of study plans from a two-week crash course to a six-moth plan to crush the LSAT as well as everything you need to know to ace the LSAT.
You can download Magoosh's free online flashcards that will help you master the 190 most important LSAT concepts. Magoosh LSAT offers a free 7-day trial for students who wish to test-drive the course. The free trial includes 16 LSAT lessons and 20 LSAT practice questions. The prep course also comes with a 5-point score improvement money-back guarantee. Magoosh doesn't offer tutoring, but they do provide great email support from their team of LSAT tutors who promise an answer within 24 hours.
See our full Magoosh LSAT Review here.
Pros
Budget-friendly quality course
Great customer service
5-point score improvement guarantee
Cons
No in-person course or tutoring
No print course materials
Manhattan Prep LSAT
MG Prep, Inc. (Manhattan Prep) is a test preparation company founded in 2000 by Zeke Vanderhoek, a former New York public school teacher and founder of the TEP charter school. Manhatten's focus is on test prep for the GRE, GMAT, and LSAT.
Manhattan Prep LSAT is one of the most complete prep courses on the market. If you are looking for a wide variety of learning modalities, then check out Manhattan Prep. Their comprehensive study materials, a wide range of course options, and robust print materials will set you to succeed on the LSAT. You can find a program that suits your time and study habits best. Choose from live-online, in-person, or on-demand (self-paced) courses.
The Interact for LSAT Course (self-paced) comes in at $500. You'll get 60+ hours of interactive video lessons on-demand, all of their LSAT prep books, and access to their online resources. The Complete Course starts at $1,300 and gets you 30 hours of classroom instruction over 10 sessions, their complete Strategy Guide Set and access to their Interact on-demand prep course. If you need a last-minute strategy review session, you can sign up for a Crunchtime Workshop for $49. Topics include Logic Games and Reading Comprehension. You can get 10 hours of in-person or online tutoring for $2450.
Manhattan Prep holds its own with leaders in the LSAT prep companies like Princeton Review and Kaplan. All of Manhattan's instructors scored in the 99th percentile on the LSAT and have extensive teaching experience. Their comprehensive course materials are written by their instructors, based on actual exam questions.
On the downside, Manhattan does not offer a money-back guarantee, but they do claim to have the most qualified instructors in the business. You can see our full Manhattan Prep LSAT Review here.
Pros
Comprehensive course materials
Realistic practice exams
Quality instructors
Cons
No refund policy
No free app
The Princeton Review LSAT
Princeton Review is a trusted brand in the test prep business and offers educational services for many admissions exams. Founded in 1981, they offer a wide range of resources, like test prep, tutoring, admissions assistance, and printed prep books. They offer LSAT prep in a variety of options.
Their Self-Paced course runs $799 and offers 150+ hours of recorded video lessons, 6 full-length, diagnostic practice exams, and 1,800+ pages of study material.
The LSAT Fundamentals course ($1,099) will get you 30 hours of live online or in-class prep with a top-scoring instructor, 150+ hours of online lessons, and 4 proctored practice tests, complete with online score reports containing detailed explanations. You'll also get access to your instructor outside of class for questions and review.
Did you know that to get into a Top 25 law school, you'll need a score above 165? If you enroll in their 165+ program ($2,999), they promise just that—a score of more than 165—guaranteed! You'll get 6 full-length practice tests, 84 hours of live online or in-person instruction, 35+ hours of on-demand recorded lessons, and 150 hours of online drills. You can add tutoring to any course; packages start at $1,800.
Pros
Number of practice questions
Live instruction
On-demand content
Cons
Limited in-person classes and locations
No mobile app
Blueprint LSAT
Blueprint recently acquired Next Step Test Prep and offers robust LSAT prep. Blueprint's online self-paced course starts at $699 for 3 months of access and goes all the way up to $1,499 for 12 months. You'll get 8,500 questions, and 85 full-length practice tests. Blueprint has bundled lessons, quizzes, and readings into targeted learning modules to make studying more efficient. You can pay as you go on a monthly basis so you can study as long or as little as you like—no questions asked.
Their Online Live course is 5 weeks and runs $1,399. You'll get world-class online learning resources, including smart homework, powerful performance analytics, and customizable practice sets.
If you learn best in a real classroom, try Blueprint's Classroom Course ($1,699). The course includes 12 weeks of face-to-face instruction with expert instructors as well as 4 in-class practice exams, and complete access to their best-in-class online resources.
Blueprint LSAT also comes with a score increase guarantee and tutoring packages starting at $2,160 for 16 hours of one-on-one tutoring.
Pros
Number of practice questions an exams
Great analytics
LSAT instructors who scored in the LSAT 99th percentile
Cons
7Sage LSAT Prep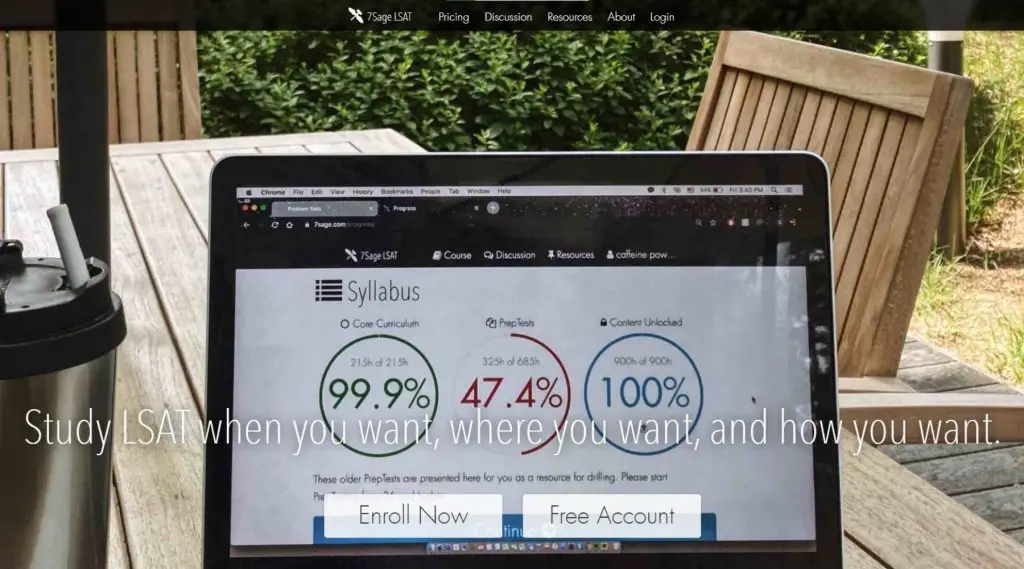 7Sage was developed by two Harvard graduates, and their LSAT prep course is an affordable option that offers a massive library of on-demand lessons, excellent instruction, and an economical subscription price. The course itself is versatile and their in-demand lessons will work on both laptops and tablets. The course includes video lessons, print resources, and answer explanations for more than 7,000 questions. Their video playback method is innovative and you have the option to takes notes and set bookmarks as you watch the lessons.
7Sage offers two different pricing options for its Ultimte+ course. The first option allows you to pay for the prep course month-to-month ($69 per month). The second option is a prepaid 12-month subscription that will run you $599. As with all LSAT courses, you'll also have to pay $99 to purchase the 1-year LSAT Prep Plus subscription from LSAC.
Their Ultimate+ core curriculum includes 50+ hours of video lessons, 7,500+ practice questions with answer explanations, and 95+ LSAT prep tests in both digital tester and PDF formats. Practice exams are an excellent way for you to master the material and get comfortable with the style and the content of the LSAT. The course also lets you generate custom problem sets to work on the lessons when you want.
7Sage offers a free trial to see if you like the course. The free trial includes sample lessons, 1 LSAT prep test, and 100 questions with answer explanations.
Pros
Number of prep tests
Huge content library
Extensive tutorials
Cons
No tutoring package
No score guarantee
What is the Best LSAT Prep Course?
Let's review the features of the top six LSAT test prep courses on the market, compare them to each other, and rank each of them overall. The comparison chart below reviews the best courses so you can see which is the best fit for you. We ranked the programs based on pricing, course materials, course guarantees, and what makes them shine brighter than the rest.
Pricing
When it comes to getting into a top 25 law school, you want to make sure that you pick the LSAT prep course that gives you the best chance to crush it. Self-paced programs will give you the best bang for your buck. It's when you add in-person classes and tutoring that the price tag can really skyrocket.
Make sure that you compare all of the features of the LSAT prep courses before you buy. Most of the programs offer a free trial period to see if the course is the right fit. Make use of that feature, so you don't end up regretting your choice.
Top Pick: Magoosh LSAT
Practice Materials
Full-Length Practice Tests
When it comes to getting the top score on the LSAT, you'll want to make sure to take as many practice exams as you can. Also, make sure that you're getting the scores you want before sitting for the actual exam. The more exams you take, the better you'll know the material, and the more prepared you'll be.
All of the top LSAT prep courses offer plenty of practice exams, but 7Sage and Blueprint both offer more than 85 full-length practice tests. But, we give the nod to Blueprint because of their great analytics.
Top Pick:  Blueprint
Practice Questions
Practice makes perfect when it comes to questions too! In addition to offering a large number of questions to prepare you for the LSAT, they should also be adaptive, allowing you to set the pace, and show you where you need work.
Princeton Review and Blueprint offer the most practice questions, and both offer a personalized approach to learning that focuses on identifying and strengthening your weak areas, saving you time and frustration.
Top Pick: Princeton Review
Guarantees
All of the top LSAT prep courses want to make sure you are happy with its product and get you the scores that you need to realize your dream of a career as a lawyer Some will return your money if you're not happy, and others will promise a higher score after you complete their course.
All of the programs (except Manhattan Prep and 7Sage) promise you'll get a higher test score after taking their course. Magoosh promises a 5-point improvement from your last LSAT. The nod here has to go to The Princeton Review. Their 165+ course guarantees that you'll achieve 165 or better completing the program. These scores can increase your chances of getting accepted to a top 25 law school.
Top Pick: The Princeton Review
Standout Features
All of the top LSAT prep programs we reviewed have features and resources that will help you crush the LSAT or significantly increase your test score. Now that you have seen the pros and cons of each course, and what programs have the best features, check out what makes each program scream, "buy me!"
The Princeton Review LSAT has a  165+ program that guarantees you'll crush the LSAT
Blueprint LSAT has great analytics and expert instructors.
Magoosh LSAT offers an affordable self-paced course and stellar customer support.
Kaplan LSAT offers a wide variety of courses from self-paced to live online and in-person classes.
Manhattan Prep LSAT offers excellent print materials, and its portal is very interactive.
7Sage LSAT Prep offers the most full-length practice questions on the market.
Top LSAT Prep Course: The Princeton Review
Conclusion
In a hurry? Check out our deal here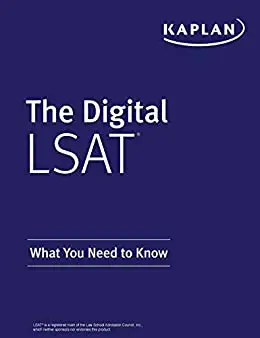 Kaplan LSAT Prep Course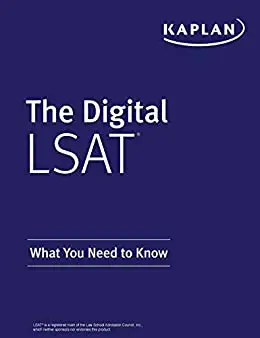 Just reduced pricing on all of their courses.
Use Kaplan LSAT if:
you want the option for in-person classes and tutoring support.
you want printed LSAT prep books.
you want a great score guarantee.
In a hurry? Check out our deal here
Magoosh LSAT Course
Just reduced pricing on all of their courses.
Use Magoosh LSAT if:
you want an affordable LSAT online course.
you want a score improvement guarantee.
you want excellent customer support.
In a hurry? Check out our deal here
Manhattan Prep LSAT Course
Just reduced pricing on all of their courses.
Use Manhattan LSAT Prep if:
you want analytics to gauge your skills.
you want realistic practice tests.
you want quality instructors.
Use The Princeton Review LSAT if:
you want the most number of practice questions.
you want superior on-demand lessons.
you want plenty of course options (in-person classes and one-on-one tutoring).
Use Blueprint LSAT if:
you want the most practice exams and questions.
you want expert instructors.
you want great analytics to track your progress.
Use 7Sage LSAT Prep if:
you want the most full-length practice tests out there.
you want extensive tutorials.
you want the large content library.