f you want to get into the grad school of your dreams, you'll need to get the highest test score you can on the Graduate Record Examination (GRE). To help you achieve that goal, we have personally researched and reviewed the top online GRE test prep courses on the market.
How do you know which test prep course is right for you? We have identified three critical factors for you to consider when choosing from the best GRE prep courses on the market.
How do I get the highest score in the shortest amount of time?
Does it fit into my budget?
Is it easy to use, flexible, and give me a pleasant learning experience?
You can use our research on the six best GRE test prep courses to guide your choice based. We based our rankings on several categories that make GRE courses effective learning tools. We will get into the pros and cons of each GRE prep course later in this article. In the end, Magoosh seems to be the best overall choice, but depending on your learning style, you may end up choosing a course that suits you the best. Even though Magoosh does not have the large number of practice questions and tests as the other courses, their affordability, flexibility, and stellar customer support make it the best course out there.
The Best GRE Prep Courses at a Glance
Magoosh GRE
Magoosh GRE has been in the test prep game since 2011 and has helped millions of students both achieve success on the GRE or improve their test scores. All of their plans are 100% online, accessible from multiple devices, and have a risk-free 7-day trial. The biggest feature Magoosh offers is its price, and is a bargain compared to other programs. However, Magoosh does not provide as many practice questions as its competition but does excel in other areas that make it stand out.
Pros
Affordability and flexibility
100% online platform
Risk-free trial and money-back guarantee
Stellar customer support
Cons
Fewer practice questions and tests
No essay evaluation options
Manhattan Prep GRE
Manhattan Prep GRE was founded in 2000 by a former New York public school teacher and offers a wide variety of test prep services. They are one of the best online GRE prep courses around, due mainly to the strength of their instructors.  All of their instructors scored in the 99th percentile on the GRE and have extensive teaching experience. Manhattan does not offer a money-back guarantee like other courses and does not have a free app to aid in mobile learning.
Pros
Comprehensive Course Materials
Video Lessons on the Go
Realistic Practice Tests
Quality Instructors
Cons
No Free App
No Score Increase Guarantee
Try our:  GRE Test Scores, Good, Average And Range Of GRE Score
Kaplan GRE
Kaplan GRE has been a trusted name in test prep for 80 years. They offer its GRE test prep course in several online options that you can customize to suit your needs. All plans also come with tons of free study resources. Kaplan seems to have the edge in the number of questions and tests offered, but it pricier than its competitors and lacks solid customer support.
Pros
Wide choice of courses
Robust tutoring options
Large quantity of practice questions, video lessons, tests, and study materials
Live and interactive instruction (The GRE Channel)
Cons
Pricier than competitors
Limited mobile access
examPA+L GRE
examPA+L has 20+ years in the online test prep business. Teachers, data scientists, programmers, and video producers created examPA+L to provide a one-of-a-kind interactive, entertaining, personalized experience that learns the way that you learn. As you go through the course, their innovative software called "PAL," will discover your strengths and weaknesses and match you with the best way to solve each question. examPA+L offers top-notch services at a reasonable price, a test score improvement guarantee, and options for even more personal resources. If you don't need flashcards or a mobile app in your study plan, examPA+L may be an excellent choice for your GRE prep.
Pros
PAL Approach
Flexible and Affordable
Support after the GRE
Great guarantees
Cons
No Flashcards or mobile app
Fewer practice questions than other courses
The Princeton Review GRE
The Princeton Review GRE is a top GRE prep course and the variety of GRE test prep options and customized tutor levels will prepare you well for the GRE. The course comes with 8 full-length, computer-adaptive practice exams, tons of free resources, and their innovative tool "DrillSmart," which adjusts the difficulty of the practice questions to your abilities. Princeton Review guarantees you'll do well or improve your test score or your money back.
Pros
Amount of Study Material and Tests
Course Guarantees
Essay Feedback
DrillSmart Technology
Cons
No Quiz Bank
No Mobile App
The Economist GRE Tutor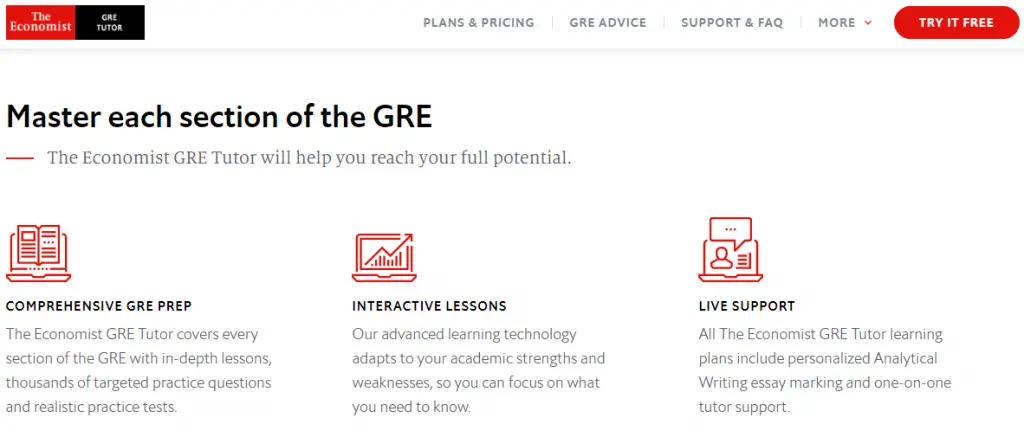 The Economist GRE Tutor is a very comprehensive online GRE prep course that covers every section of the GRE with in-depth lessons, 5,000+ targeted practice questions, and up to 6 authentic practice tests. Their lessons are adaptive and interactive, learning your academic strengths and weaknesses. You are not alone when you are using the Economist GRE tutor. All of their learning plans include personalized essay grading and one-on-one tutor support. Their 3-month (+5 points) and 6-month (+7 points) plans offer a GRE test score improvement guarantee. You can also try GRE Tutor for 7 days with no strings attached. Sign up and also get a free digital subscription to the Economist Magazine.
Pros
Live Tutor Support
Adaptive Learning Lessons
Mobile-Friendly
7-Day Free Trial
Cons
Practice Questions not Realistic
1-Month plan Lacks Features
Visit our: GRE Test: Introduction, Subjects, Requirements, Test Dates, GRE Scores & Benefits
What is the Best GRE Online Prep Course?
Let's review the features of the top six GRE test prep courses on the market, compare them to each other, and rank each of them overall.
Insert Image 1
Pricing
When it comes to getting into the best grad school, you want to make sure that you pick the best GRE prep course you can. But as with everything in your life, you want to make sure you get the best product for the best price.
As you can see, there is a wide range of price tags when you compare the top six GRE prep courses. Magoosh comes in at the lowest advertised price for a 6-month plan. examPA+L and The Economist GRE Tutor are the next most affordable options with the Princeton Review GRE and Kaplan GRE coming in at the top-end of the price scale.
You might be comparing apple to oranges when it comes to pricing because come of the courses like Kaplan and the Princeton Review include live-online support and access to tutors in their plans.
Make sure that you look at all of the features of the GRE prep courses before you buy. Most of the GRE prep courses offer a free test-drive to see if you are a good fit. Make use of that feature, and you'll end up being happy with your pick.
Best Pick for the Price: Magoosh
Practice Materials
Full-Length Practice Tests
When it comes to acing the GRE test, there is one rule—practice, practice, practice!  Research proves that taking practice tests is one of the most effective ways to prepare you for the actual GRE. The more practice exams you take, the better you'll know the material and will hone your test-taking strategies for test day.
The best GRE test prep course should have multiple practice exams. That way, you don't get stuck taking the same test that you will probably memorize. Prep course with the most full-length practice tests got bonus points. Magoosh offers only three exams, while others, like the Manhattan Prep, Princeton Review, and Kaplan offer from six to eight practice tests.
The authenticity of the practice tests also makes a difference. For example, Manhattan Prep provides licensed practice exams from the official administrators of the GRE, Educational Testing Service (ETS). Practicing with actual questions from past GRE's can make a huge difference in your score.
Best Pick for Practice Tests: Manhattan Prep
Practice Questions
The same methodology applies to GRE practice questions—the more, the better! However, the number of questions can't be the only factor. The course must also be adaptive to your learning style and pace.  For example, Magoosh only offers 1,000 GRE practice questions, but using their personalized approach to learning creates customizable practice quizzes based on your strong and weak areas.
However, in this case, both Kaplan and The Economist offer the most practice question and provides a personalized approach to your academic progress and learning style.
Best Pick for Practice Questions: Kaplan
Guarantees
We all want to get what we paid for, and online GRE prep courses are no different. For the most part, all of the courses that we reviewed want to make sure you are happy with their product and will either give you your money back and let you repeat the course for free. examPA+L offers a 30-day money-back guarantee, which is the best of any of the courses we reviewed.
All of the courses, except Manhattan Prep, offer a guarantee that you'll get a higher test score after taking their course. Score increases range from 5-7 points, depending on the course and which plan you choose.
Best Pick for Guarantees: examPA+L
Delivery Method
When it comes to GRE prep courses, there are three methods for delivering instruction: self-paced, live online, and in-person. Picking the best method depends on your learning style and lifestyle.
Magoosh and examPA+L only offer online self-paced instruction. The Princeton Review, Manhattan Prep, and Kaplan offer live online instruction as well as in-person instructors to facilitate learning. Tutoring programs are add-ons to their delivery methods and come at an additional cost.
In-Person Classes
If you learn more effectively in a traditional classroom setting, an in-person course is the way to go. The problem is that courses don't offer classes nationwide. Luckily, if you live near a big city, you have a better chance of getting into a GRE prep class.
Due to the COVID-19 pandemic, it is difficult to see how each prep course is handling in-person classes, so data for availability if unknown at this time. Manhattan Prep, Princeton Review, and Kaplan all offer in-person GRE instruction.
The quality of GRE instructors makes a difference in what you get out of the class. Manhattan Prep and Kaplan have a cadre of GRE experts teaching their in-person classes, so they know how to take the test and can show you how can ace the GRE.
Best Pick for In-Person Course: Kaplan
Live Online
Live Online offers the structure of in-person classes without the need to travel to a classroom. The top live online courses have engaging instructors and access to real-time feedback during lessons. All of the reviewed courses offered live online lessons except examPA+L and Magoosh.
The Princeton Review, Kaplan, and the Economist GRE Tutor all offer great online live lessons. However, Manhattan Prep gives you the flexibility to choose either in-person or live online lessons, and you can mix and match 24 hours of classroom instruction over 8 sessions.
Best Pick for Live Online Course: Manhattan Prep
Self-Paced
All of the courses we reviewed have a self-paced component, but Magoosh and examPA+L are  100% self-paced courses. This means that you are in charge of your learning and must address your academic weaknesses, and getting all of the lessons completed before it's time to take the GRE is all up to you. The best self-paced prep course has adaptive and customizable study tools to help you move through the course.
Magoosh does a great job through their dashboard in keeping you on task, and its adaptive study tools automatically design or allow you to build a personalized program to maximize your study time. Kaplan offers a service called Qbank that lets you create customizable quizzes to fill in any learning gaps you may have.
Manhattan Prep has easy-to-follow resources—essential if you are studying alone.  Their lessons are engaging and informative, and you can pause the videos to answer questions or solve problems. The lessons also have detailed explanations to help you learn both the subject material and the strategies for answering that particular type of question.
Best Pick for Self-Paced Course: Manhattan Prep
Course Materials
Most of the courses are online and self-paced, meaning that their course materials are mainly video lessons, flashcards, mobile apps, and links to online resources. However, if you learn best by having a hardcopy coursebook in your hands, there are two great options. Manhattan and Kaplan both offer physical resources in their packages.
Kaplan has a robust selection of offline resources that supplement its online video lessons, practice tests, and questions. With a Premier Kaplan subscription, you'll get Kaplan's prep books, including the GRE Math Workbook, GRE Verbal Workbook, and GRE Pocket Reference. Kaplan's online and offline course materials complement each other to offer a seamless learning experience. You can buy the textbooks books separately if you don't want to sign up for the Premier plan.
Manhattan Prep is known for its free GRE study materials. If you sign up for the Complete Course, you'll get a comprehensive approach to GRE prep, with a set of eight study books covering all aspects of the test and the 5lb. Book of GRE Practice Problems, all available to help you prepare for the actual test. There are also flashcard packages to help study vocabulary or math.
Best Pick for Course Materials: Manhattan Prep
Standout Features
All of the best GRE prep courses we reviewed have a long list of features that they advertise to impress and convince you to take their course. To be honest, most of the features offered are helpful but similar. So, how do they get you to bite? Any time a course can come up with something that makes them stand out, the more students they will have knocking on their door.
All of the course has video instruction, come with practice questions and full-length exams. So what can a course offer that gives them the edge?
Magoosh has a personalized dashboard that tracks your progress and offers the cheapest plan on the market.
Manhattan Prep offers expert GRE instructors, realistic practice exams, and the best live online and self-paced courses.
Kaplan has the best in-person classroom experience and the most number and best adaptive practice questions and hardcopy course materials.
The Economist GRE Tutor course is affordable and offers access to online live tutors.
The Princeton Review offers the greatest amount of course materials and 8 full-length practice exams.
examPA+L has developed an innovative learning tool customized to your strengths. They also provide support after the test to help you navigate the grad school admission process.
Overall Best GRE Prep Course: Magoosh
Conclusion
Use Magoosh if:
you are price-conscious but still want an excellent GRE prep course.
you want the flexibility of using the full course on multiple devices.
you want the best customer support and help available in GRE prep.
you want a full refund if you are not happy with the product.
you want a dashboard that tracks your progress and predicts your GRE score.
Use Kaplan if:
you want the most GRE practice questions.
you want plenty of practice tests to get you ready for test day.
you want instructor feedback on your essays.
you want hardcopy course materials included.
you want the GRE prep course that has live instructors as part of your course.
Use Manhattan Prep if:
you want a GRE prep course that has a comprehensive set of course materials.
you want the ability to watch video lessons on the go.
you want to take realistic practice tests.
you want instructors who aced the GRE.
Use The Princeton Review if:
you want access to a massive amount of online study material and tests.
you want one of the best course guarantees.
you want personalized feedback on your essays.
you want a program that adjusts the difficulty of the practice questions based on your abilities.
Use examPAL if:
you want an innovative approach to online learning.
you want a GRE prep course that has one of the best guarantees on the market.
you want a learning experience customized to your strengths.
you want support after you have taken the GRE.
Use The Economist GRE Prep if:
you want access to live tutor support.
you want a mobile-friendly app.
you want tailored essay grading and feedback.
you want a GRE prep course that has adaptive lessons personalized to your learning progress.
Related Topics: