Magoosh also promises a +5 point score-increase guarantee as well as several features that Kaplan's prep package lacks. It also includes a free trial and a no-questions-asked money-back guarantee.
In a hurry? Check out our deal here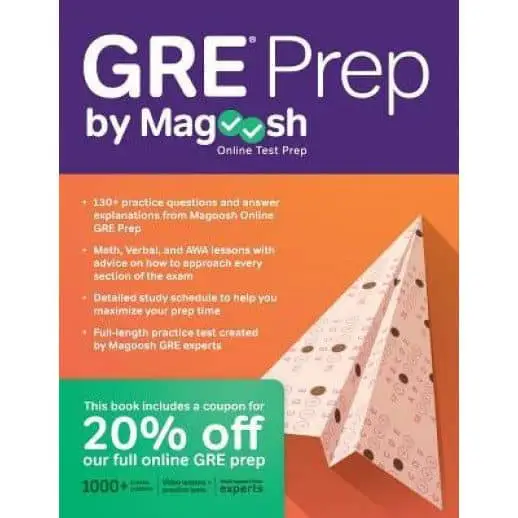 GRE Prep Course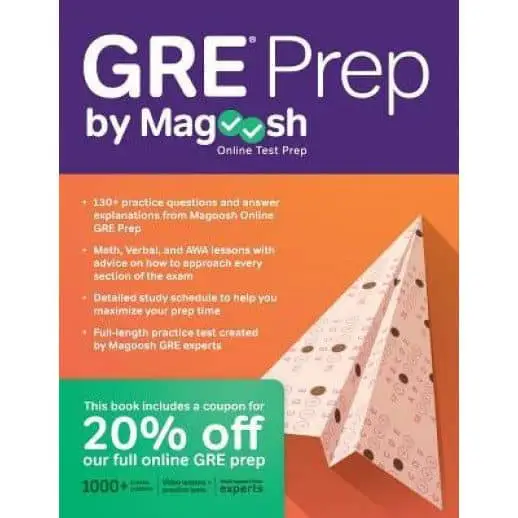 7 Day & 5 Point Improvement Money Back Guarantee
Is Magoosh good for GRE prep?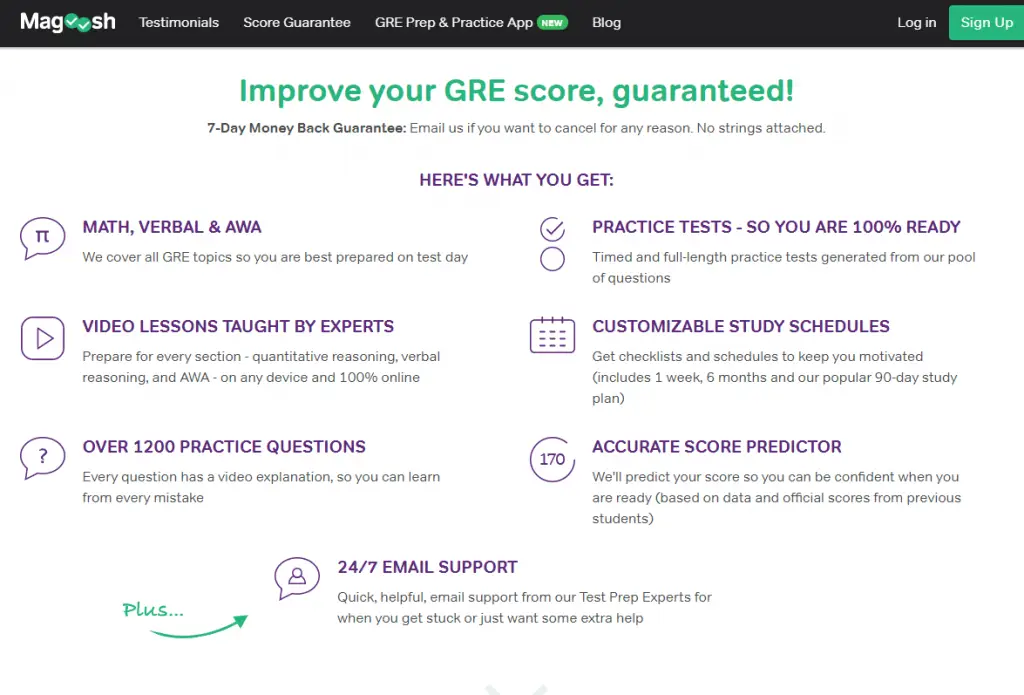 All of their plan options are 100% online and accessible from multiple devices. A big selling point is Magoosh's current price-tag. If you purchase their six-month Premium package now, you'll get a slew of features—all for only $249. This package includes a score predictor and both video and text explanations for every question. You won't find those features in Kaplan's package. Based on how you are performing, the lessons and video tutorials are personalized just for you.
The GRE is becoming more widely accepted every day, there's a better time to get this test done!  The free Magoosh GRE blog offers tons of tips and strategies to score higher on the GRE. The blog contains additional practice questions and helpful advice about the grad school application process.
You can also check out our reviews of the Best GRE Prep Course here.
About Magoosh, Inc.
While studying for the GMAT, Pejman Pour-Moezzi and Vikram Shenoy came up with the idea of a test-prep company with crowd-sourced questions and answers. In 2009, Magoosh became a reality. It took on the GRE in 2011 and has not looked back. Magoosh has twice won the award of "Best Places to Work in the Bay Area," and has helped millions of students improve their scores with their lineup of test-prep programs.
Magoosh GRE Prep Pros and Cons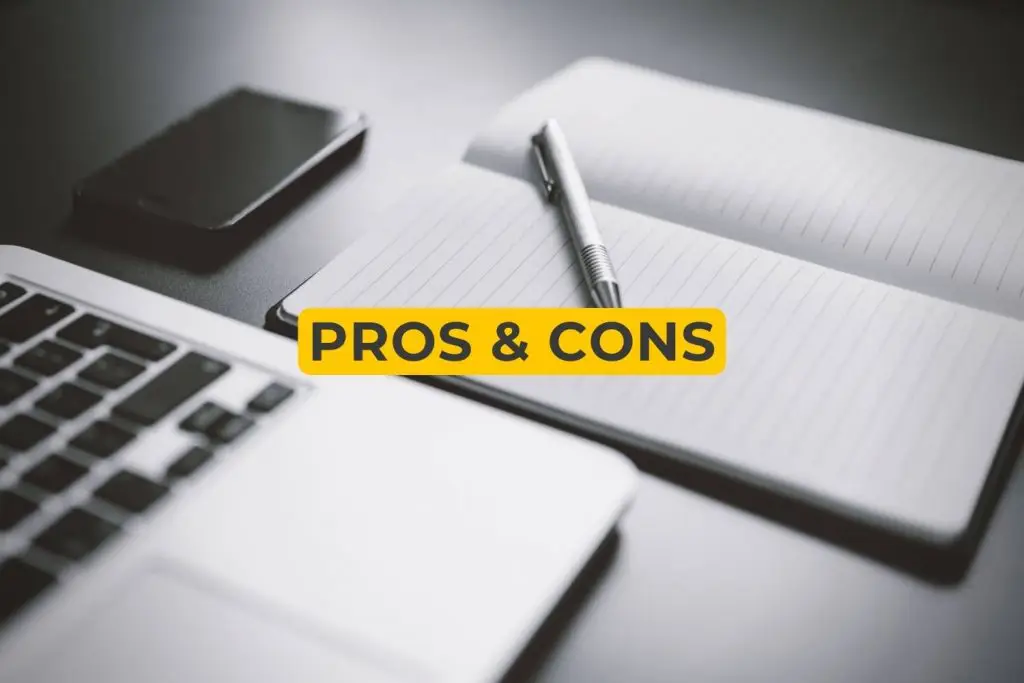 Pros:
Affordability and Flexibility
100% Online Platform
Smart-Review System
 Stellar Customer Support
Great option for students who like group study
All Premium content and features
Unlimited drop-in classes with a live GRE expert for 6 months
Over 30 hours of on-demand recordings
Cons:
Fewer Practice Tests
Online Tutoring is an add-on and expensive ($75-$100/hour)
No Essay Evaluation
Totally Self-Guided
Things to consider before buying Magoosh
Magoosh is the GRE review platform that is ranking #1 in head-to-head comparisons with the top 7 GRE test prep packages. If you want to go to an entirely online platform and stop lugging test prep books and DVDs from study place to study place, then Mogoosh is the program for you. Just a word of advice, you'll have to be a self-motivated learner, because the Mogoosh GRE course is entirely self-guided. If you want more structure, then maybe a classroom GRE review course is for you.
You can see our full breakdown of the Best GRE Prep Book here.
Here are some things you need to think about before you buy the Magoosh GRE course:
Are you looking for the best value?
Do you want the option of in-person or live online Tutoring?
How many practice exams do you plan on taking?
Do you want any hard copy workbooks to come with your package?
Do you want your essays graded?
Depending on your answers, Magoosh could be the right fit for you. We have highlighted the features of Magoosh to help you make this very important decision.
Features & Benefits
It is an excellent value
The Magoosh GRE course is unmatched when it comes to providing quality study material at an economical price. They are currently offering an unbelievable deal on their 6-month Premium Plan. For just $249, you get 6 months of access to all of their video lessons, 1,400+ practice questions, and three practice exams.  You'll also get unparalleled customer support, study plans, the score predictor, and the +5 point total score guarantee.
If you don't want to commit for 6 months, they offer a one month course.
Flexibility is its trademark
The Magoosh GRE test prep courses are 100% online and self-paced. You decide when, where, and how you want to study. You won't find a more flexible program. You can use Magoosh GRE Prep every platform (iOS, PC, Android) from your laptop (iOS and PC) to your mobile devices. You just need Internet access, and you're all set!
Magoosh offers a user-friendly and customizable platform
The Magoosh GRE review site is exceptionally user-friendly and designed to customize your learning experience and offer a great deal of flexibility. Their dashboard makes navigating all of the sections of the website clear, and your progress is easy to follow.
Personalized Dashboard
One of the most significant selling features of Magoosh GRE Prep is its dashboard. Your customized dashboard changes as you move through the course, so you can visualize your progress. Your dashboard shows "Suggested Lessons" based on the areas you may need improvement, an outline of your results, and your projected score.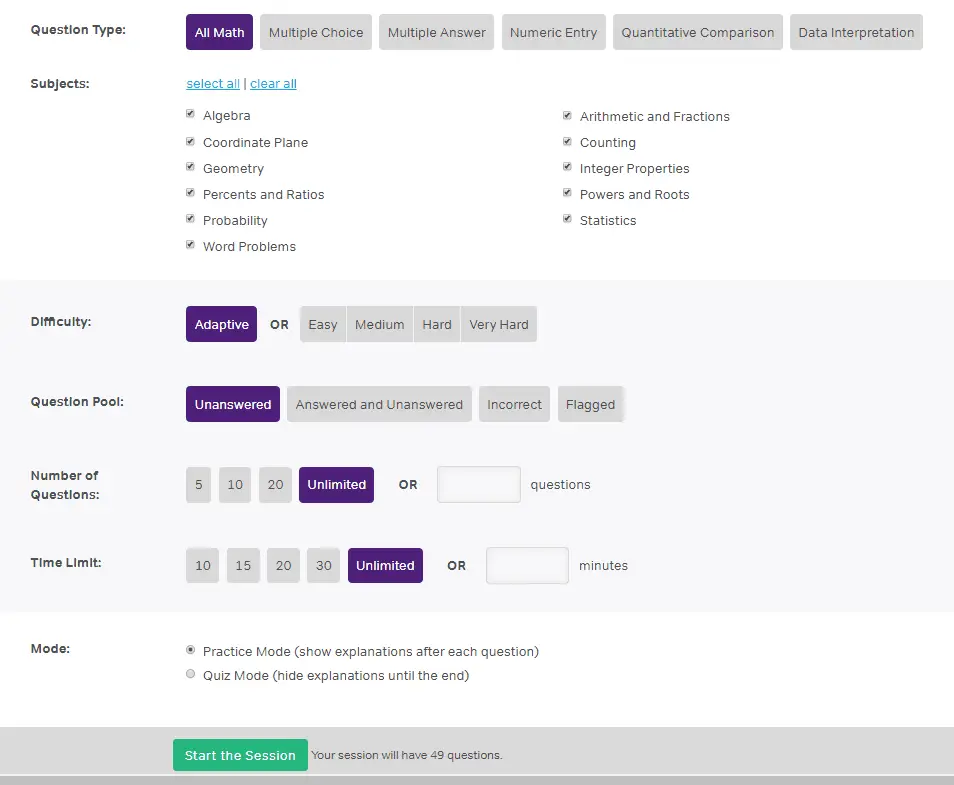 Tailored Study Plans
When preparing your Magoosh GRE study plan and practice sessions, you can tailor your practice questions based on your own specific needs. You can select the level of difficulty, number/types of problems, and the section you want to attack. By going to the "practice mode," you can get explanations to the problems. If you enter the "quiz mode," you won't see the explanations.
You can access Magoosh GRE Prep on all of your devices
Your Magoosh subscription allows you access from your laptop, smartphone (both iOS and Android), and your tablet. Using the Magoosh app, you have access to all of the lessons from anywhere you go! From test questions to video lessons to tips and tricks, you can access the course from your mobile browser so you can study anywhere, anytime.
Is Magoosh harder than the actual GRE?
The Magoosh GRE course chooses questions that are really close to those on the actual GRE. To reach your target score, Magoosh GRE ranks the problems in order of difficulty so you can focus on the ones you need to practice on the most.
The timed and full practice tests will simulate the conditions on test day. This way, you can get the best feel for how you will perform when it counts—on test day!
Magoosh offers more than just text explanations
You get much more than only a few paragraphs explaining the answers to the problems. Along with video explanations, you will get alternative solutions, links to additional resources or blogs, FAQs, and links to other lessons that may help explain the problem in a way you can understand.
Video Explanations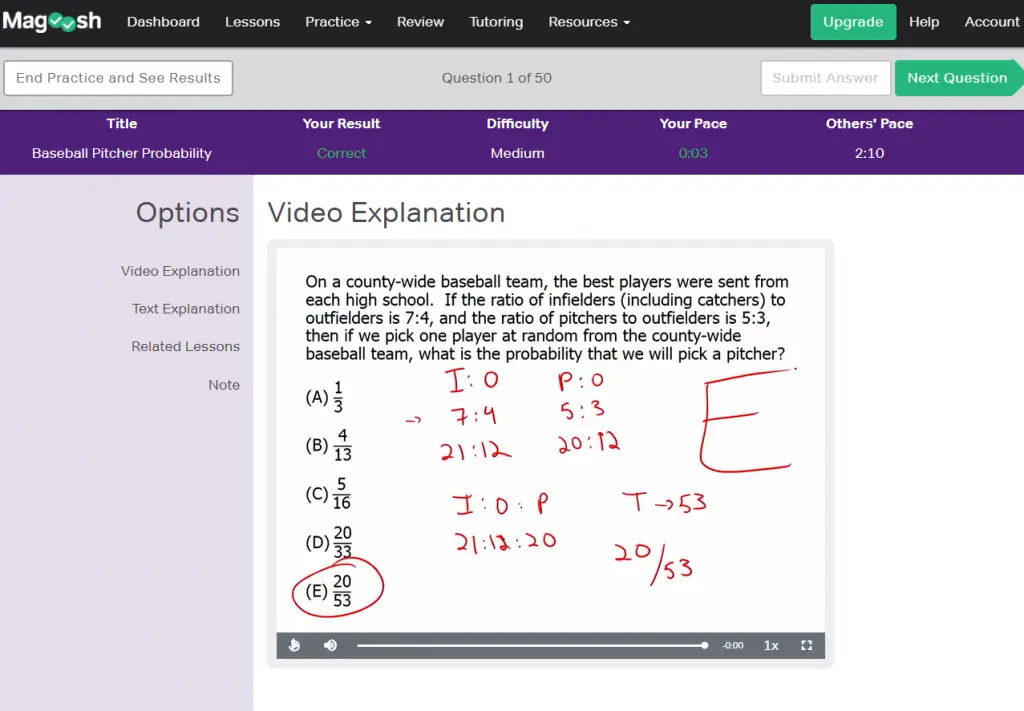 In addition to text explanations, the Magoosh GRE prep course provides a video explanation. This feature makes the Magoosh GRE Prep app a bargain. The 1 – 3-minute videos go in a bit more depth than the text does. It explains the answers and visually shows the answer at the same time. This makes complex answers much easier to understand. This is really helpful in the math section, where it is sometimes hard to comprehend the written explanation. Watching how the problem is solved is so much more valuable than just reading how the problem was solved.
Alternate Solutions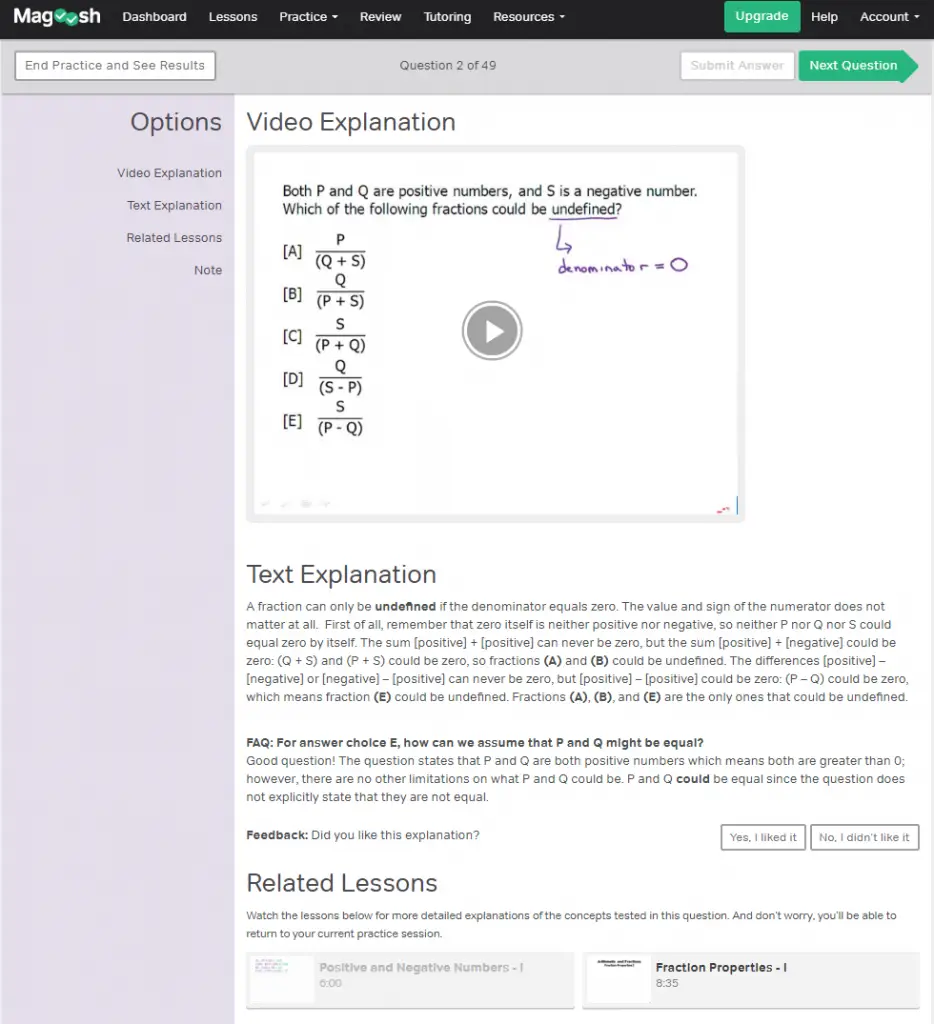 In many cases, there is a mathematical solution and a logical solution. The logical solution is usually less complicated and time-consuming. Magoosh will show you both, unlike many other top programs. You can't afford to spend too much time trying to figure out one difficult question, so the Magoosh GRE Prep course will save you valuable time by showing you quicker and easier ways to solve tough problems.
References to other explanations
Magoosh also offers additional explanations, giving you a link to one or two blog posts that go beyond the standard explanation. They give you the how and why behind any given answer. These links will show up in the Test Explanation section.
In a hurry? Check out our deal here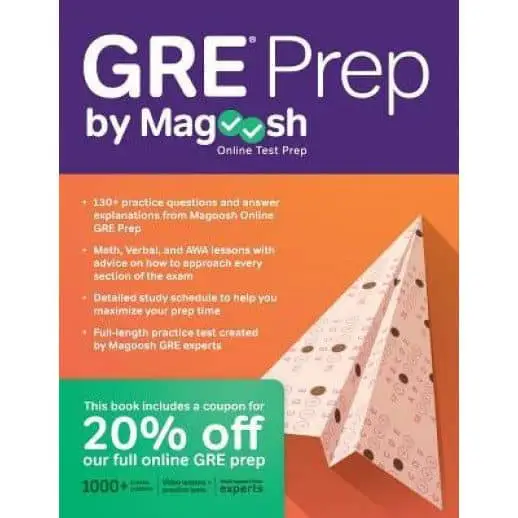 GRE Prep Course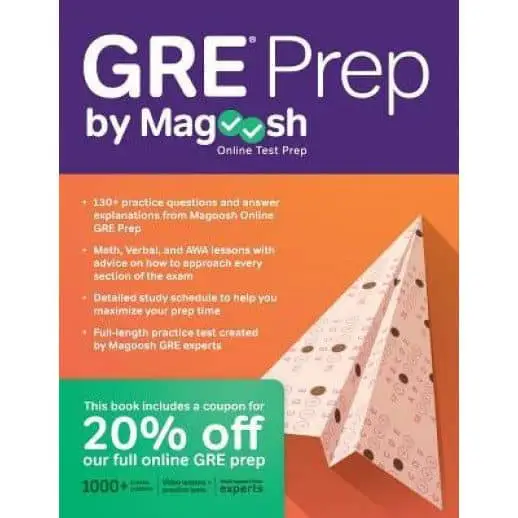 7 Day & 5 Point Improvement Money Back Guarantee
Frequently Asked Questions
You are not the only one who may have questions about problems on the test. Magoosh has an area that answers commonly asked questions about the problem, addressing frequently made mistakes.
Related Lessons
If you still have questions after you have finished the problem, watched the video, and read the FAQs and explanations, the Magoosh GRE course will link you to related lessons that will shed light on any fuzzy areas.
Personalized Notes Section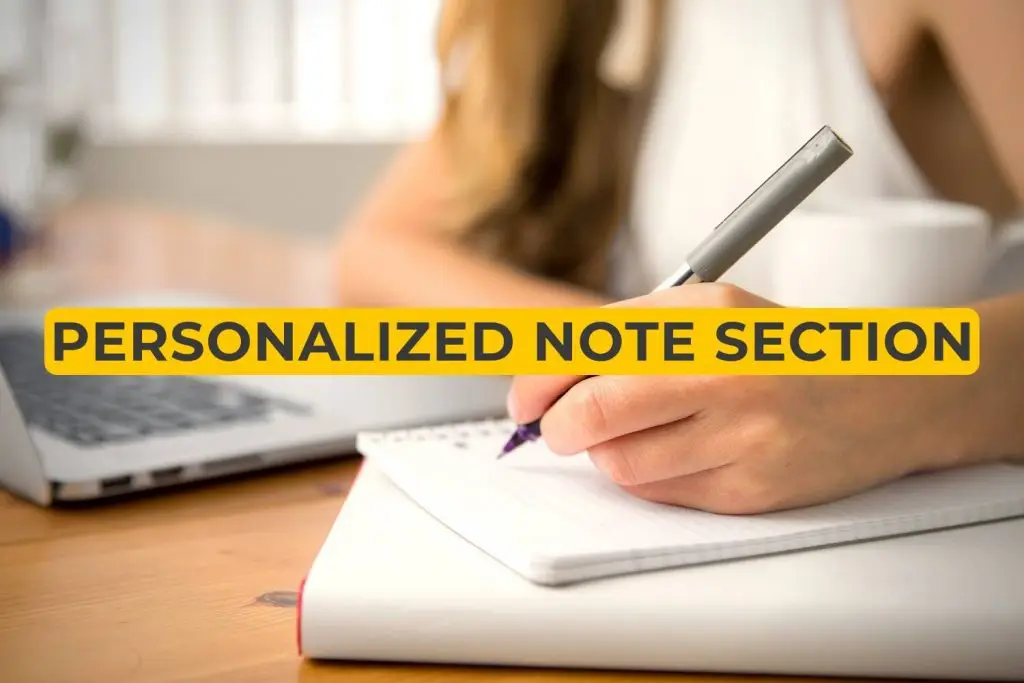 If you are using the app and want to take notes about a particular question, you don't have to scramble to find a pen and paper. In the Notes section, you can type anything you want to help you remember something about the question or highlight that question for review. This feature comes in handy when you just learned something hard, or you struggled with this concept. You can come back to the question later and work it out.
Tutoring packages are available if you need it
Since everyone has a different learning and studying style, Magoosh now offers the option to have a tutor assigned to you. There are four GRE tutoring packages available to help you ace the GRE.
The packages use an hourly rate. Magoosh offers a flexible and cost-effective way to get you the contact hours you need to succeed. More is better. The more hours you buy, the cheaper the hourly rate. This makes Magoosh a better value than other GRE plans.
Here are Magoosh's GRE tutoring options:
Starter
Choose 2-3 focus areas
$100 for a one-hour tutoring session
Verbal
Verbal focused lessons
4 hours of Tutoring for $350 ($87.50 an hour)
Math
Quantitatively focused lessons
4 hours of Tutoring for $350 ($87.50 an hour)
Premium
Covers both Verbal and Quantitative section PLUS essay grading and review.
8 hours of Tutoring for $600 ($75 an hour)
Score Increase Guarantee or get your money back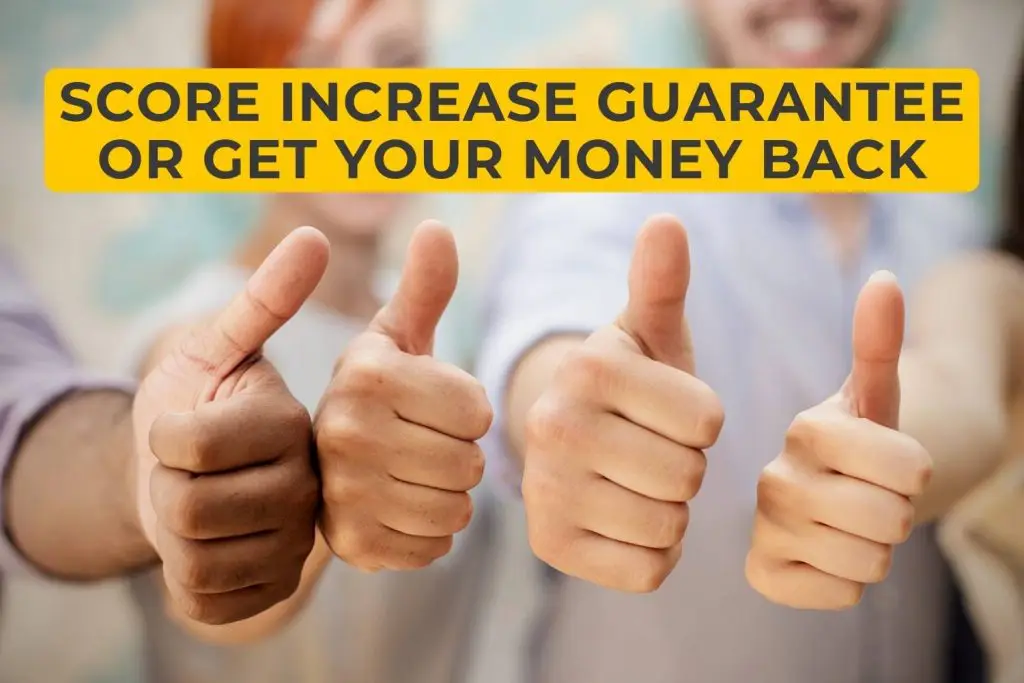 Magoosh is so confident that your scores will increase, they offer a no-questions-asked score improvement guarantee. If your total score does not improve by 5 points, they'll give you a full refund.
Here are the tutoring plans that they offer:
Premium subscription
A guaranteed 5-point increase in your overall score.
Math subscription
A guaranteed 2-point increase on your Math section.
Verbal subscription
A guaranteed 2-point increase on your Verbal section.
However, you must fulfill all of these requirements for the guarantee to kick-in:
You must have a previous score before studying with Magoosh.
You must have a valid old score.
You must email them a copy of your "Before" score report when you sign up. You can just scan or send a screenshot of your official score report and email it to them.
Magoosh recommends the following (but it's not required):
Watch all of the lesson videos and complete all of the Magoosh practice questions.
View the video explanations for the questions you answered incorrectly.
There are valuable free resources
Many top GRE test prep packages offer free resources, but Magoosh takes it to the next level. Their GRE Resources Page contains a wide range of things to help guide you on your path to GRE success. You will find a massive collection of free information and guidance. If you are looking for some sample study plans, the page has links to plans ranging from one week to six months. That way, you can jump in and get the most of the time you have left until test day. They suggest pacing, what to study, and even provide you some free practice materials.
Not everything is free. Most of the study plans contain material that you get only get if you buy one of their plans. Still, this can be an excellent resource, if you decide not to jump into a Magoosh GRE plan.
They have a helpful Blog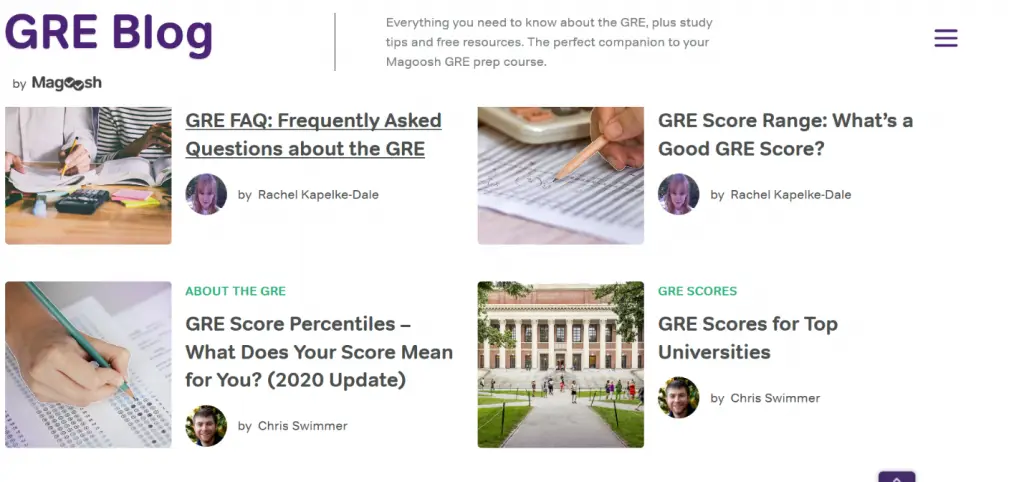 Magoosh GRE Prep course offers a useful blog that offers tips and test prep approaches from students and educators who have "been there—done that." You'll find topics like how to raise your score, additional practice questions and explanations, and assistance in navigating the grad school application process.
They have a score predictor feature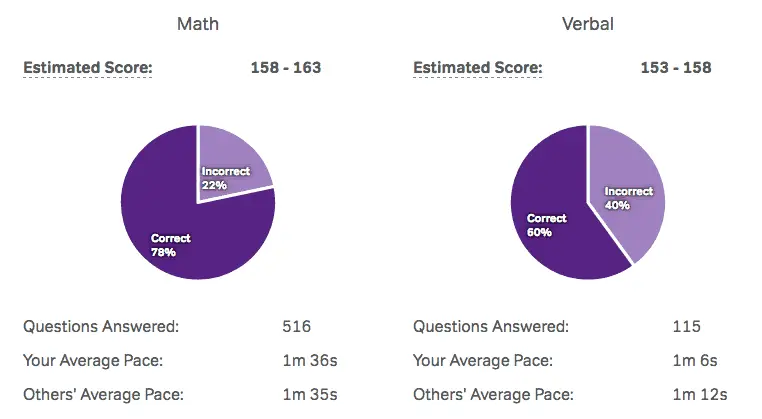 Premium members of the Magoosh course have an added bonus feature that will predict how well you will do on the GRE. The Score Predictor feature is beneficial because it is always displayed on your dashboard. The score shows (within a 5 point range), your possible GRE score. You'll need to answer at least 50 questions per section before it will show you a score estimate. The more questions you complete, the more accurate your predicated score will be.
Explore their money-back guarantee and risk-free trial option
To see if the Magoosh GRE course is right for you, Magoosh offers a free seven-day trial. The trial includes access to 20 of their lessons and 20 practice quizzes. You can see if the self-guided style and video explanations, and their self-guided style fits into your learning style and schedule. It's always best to try before you buy.
If you decide to buy the complete course and give it a try,  you still have the option of getting a full refund after seven days if you are not satisfied.
Magoosh offers outstanding customer support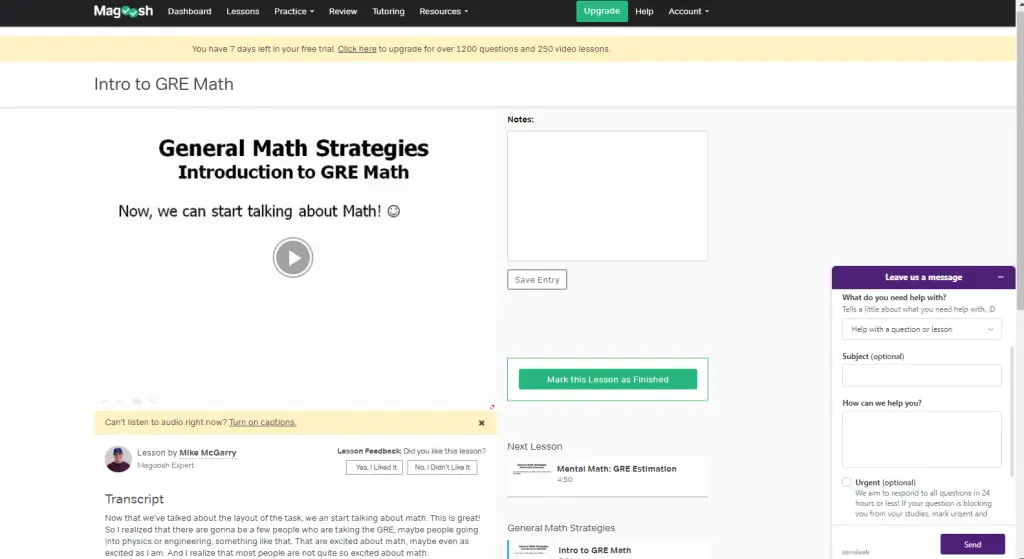 Taking care of its students is a hallmark of Magoosh. Their reputation for speedy and thorough responses to students' issues is well-known. Once you log in, you'll see the ever-present built-in Help tab displayed on the bottom left of your screen. This feature makes it a breeze to submit your question as soon as it comes up. You won't even have to stop that you are working on to ask your question. No more searching for customer support links or typing an email to get the help you need.
Magoosh GRE Prep also offers 24/7 email support. This feature is helpful when you get stuck or just need some extra help. Test prep experts are standing by to help anytime.
If you want another option, you can check out our Kaplan GRE Prep Review here.
Is Magoosh any good?
One of the best ways to see if any GRE review program is worth its weight, is to see what others say about the program. Here are just a few testimonials from users who praise the merits of the Magoosh course: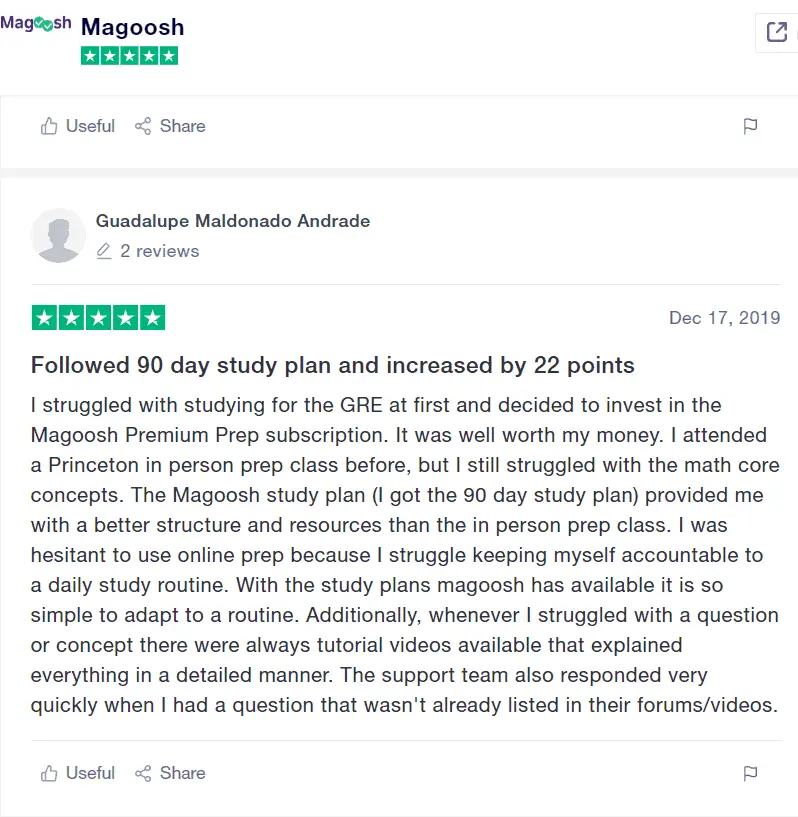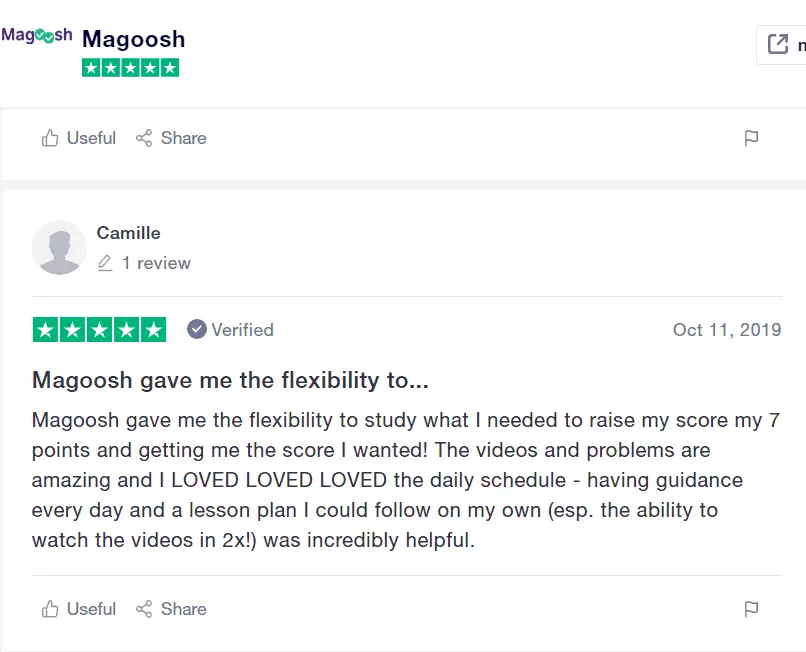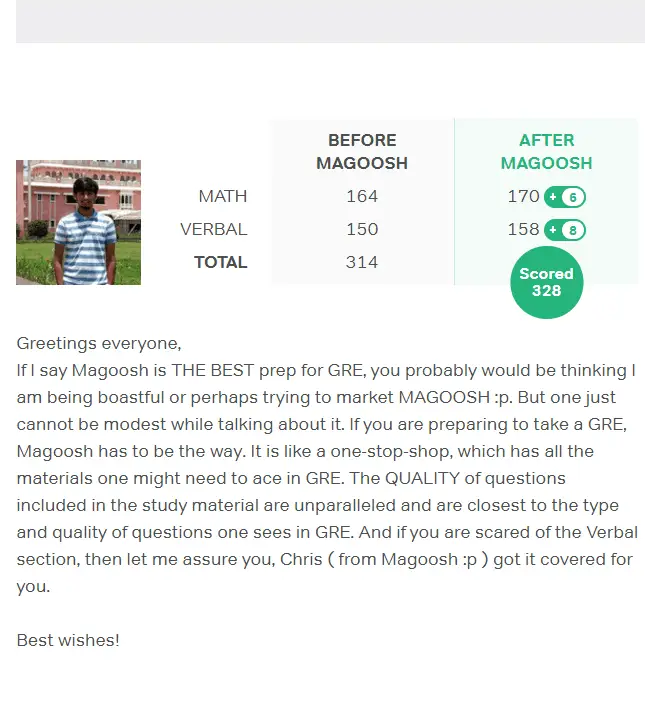 In a hurry? Check out our deal here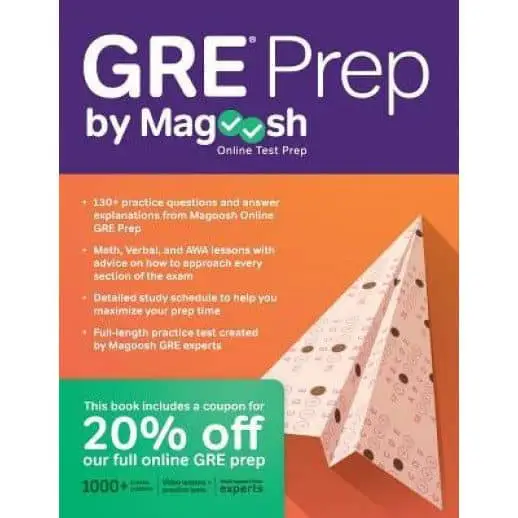 GRE Prep Course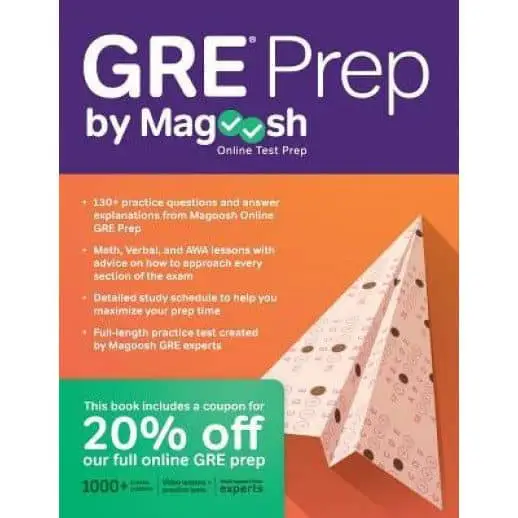 7 Day & 5 Point Improvement Money Back Guarantee
Conclusion
Overall, the Magoosh course is an excellent option for GRE review. It is a flexible and affordable option for students who want to improve their GRE score, and are motivated and disciplined enough to use an on-demand subscription plan. Magooshs' money-back guarantee shows just how confident they are in their product. If you don't improve your previous score by +5 points, you will get a full refund. Try it out for yourself by signing up for their 7-day risk-free offer and see you for yourself. Just remember that not all of its features (like practice tests) are available in the trial version.