No matter your preferences, we're going to help you make that crucial decision by outlining the best MCAT prep courses on the market. We have researched the programs for you and found the top six programs out there so you can choose the option that will give you the best chance to crush the MCAT.
And the winner is…
Even though The Princeton Review topped our overall rankings, if you're looking for a course on a budget then we recommend Magoosh or Kaplan too. It just depends on when you plan to take the exam, your budget, and your learning style. Read on to find out why Princeton topped our list.
$1,499-$6,499
Tutoring from $2,000
12 months

$179-$199
1 month and 12 months
7-day risk-free trial

$1,799-$2,699
Tutoring from $3,699
5 months
Free practice MCAT

$1,799-$2,999
6 months – 18 months

$49-$199
15 days – 365 days

$35.95 - $1,499
3 months – 12 months

Practice Questions – 1,000+

Full-Length Practice Tests - 16

Practice Questions - 740

Full-Length Practice Tests - 3

Practice Questions – 10,000+

Full-Length Practice Tests - 16

Practice Questions – 10,000+

Full-Length Practice Tests - 15

Practice Questions – 4,800

Full-Length Practice Tests - 0

Practice Questions
3,000 - 10,000*
Full-Length Practice Tests
2 – 20*
*Selected Courses

Online (self-paced and live), in-person

Online (self-paced and live), in-person

Higher score or your money back
510 and 515 score guarantees (with program enrollment)

7-day money-back guarantee
+10-point improvement

Higher score or your money back
Free repeat if not happy

Higher score or your money back

Get the score you want or free 6-month repeat

Amount of study materials, live in-person or online instruction, tutoring

Affordability, stellar customer support, personalized dashboard

Live in-person or online instruction, tutoring

Quantity of material, includes course books

Flexible budget-friendly plans, rank estimator

Plan flexibility,
amount of study
materials
Things to Consider When Choosing an MCAT Prep Courses
When choosing the best MCAT prep course for your individual needs, you should consider your:
Learning style
Motivation
Budget
Understanding where you are in your MCAT prep process (personal schedule, time until exam) will also help you decide on the best option and how you're going to fit the course into your already busy schedule.
Online MCAT Prep Course Reviews
The Princeton Review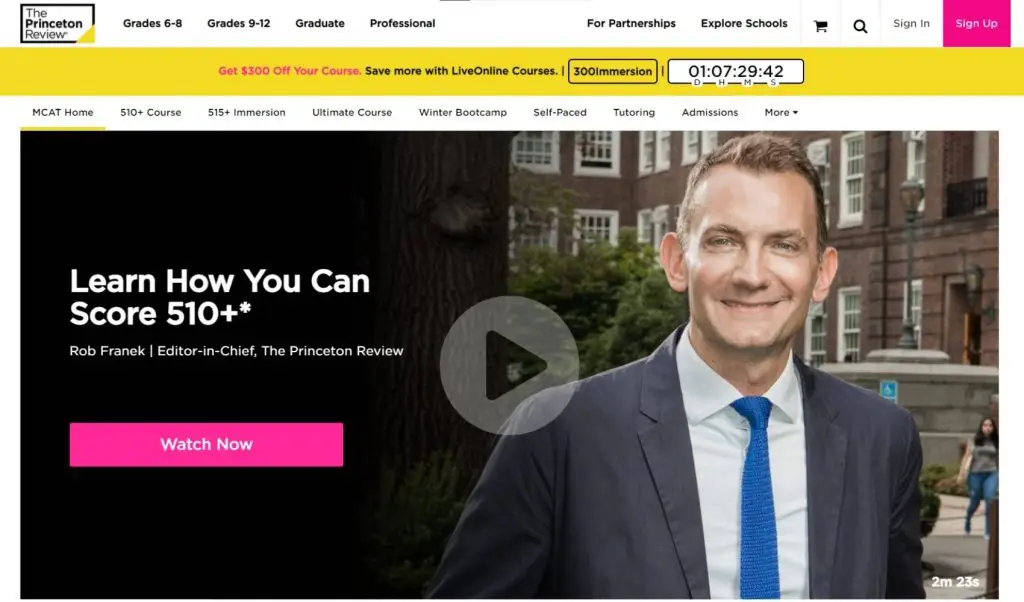 Princeton Review MCAT has excellent name recognition. Founded in 1981, they offer a wide range of resources, like test prep, tutoring, admissions assistance, and printed prep books. Their MCAT prep course focuses on high-quality video instruction with lectures that break down essential and tough topics into concepts that you'll find easy to understand. One of their best features is the detailed score reports used to gauge your progress. The course has diagnostic exams that measure your improvement in each different MCAT subject. These diagnostic exams will help you save time by focusing your efforts on the subjects you need to improve.
The Princeton Review offers a variety of options. Their self-paced course runs $1,499, with the option of adding 10 hours of tutoring for an additional $2,000. The Ultimate Prep Program offers 123 hours in the classroom—in person or live online for $2,499.  Did you know that going from 500 to 510 MCAT score triples acceptance rates into U.S. Medical Schools? If you enroll in their 510+ ($2,999) or 6-week 515+ Summer immersion courses ($6,499), they promise just that—scores of more than 510 or 515—guaranteed! You'll get live online or in-person instruction, tons of exams to take, and a one-on-one expert study manager. On top of everything else, you'll get 10 subject-specific MCAT prep books, 500+ videos to help you learn the material, 16 practice tests, and an MCAT score guarantee.
In a hurry? Check out our deal here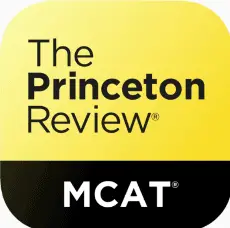 Princeton Review MCAT Prep Course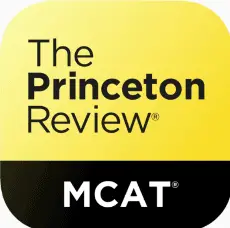 Save $500 right now
Pros
Number of practice tests
Course software (diagnostics and detailed reports)
Variety of Options (including in-person instruction)
MCAT Exam Score Guarantee
Cons
No free trial
Pricier than other prep options
Kaplan MCAT
Kaplan has been a front-runner in the test prep game for 80 years. Their story began in 1938 when Stanley Kaplan started tutoring students in the basement of his parent's Brooklyn home. Today, Kaplan is one of the world's largest educational services providers—supported by a staff of 12,000 educators across 28 countries. Their online delivery platform makes all of its courses convenient and easy to use.
Kaplan's Self-Paced test prep option ($1,799-$2,299) lets you work online from the comfort of your own home. You'll get 600 hours of on-demand instruction as well as 16 practice exams, 10,000 practice questions, and quiz bank that builds your skills, eight prep books for the MCAT, and online access for five months. The Live Online course offers lecture ($2,499-$2,999) and small class ($2,699-$3,199) options. Courses are instructor-led class offered either live or on-demand. There is a "Plus" option for both courses that includes three hours of tutoring and bonus materials.
The optional tutoring packages give you access to 10 – 40 hours of online or in-person one-on-one tutoring, 16 full-length practice exams, 7 prep books, and access to tons of MCAT resources. Tutoring runs from $3,699 – $6,899.
In a hurry? Check out our deal here
Kaplan MCAT Prep Course
Just reduced all prices and Improved course material too!
Pros
Printed course materials
Wide range of course offerings
Live and interactive instruction (The MCAT Channel)
Great brand reputation
Cons
Magoosh MCAT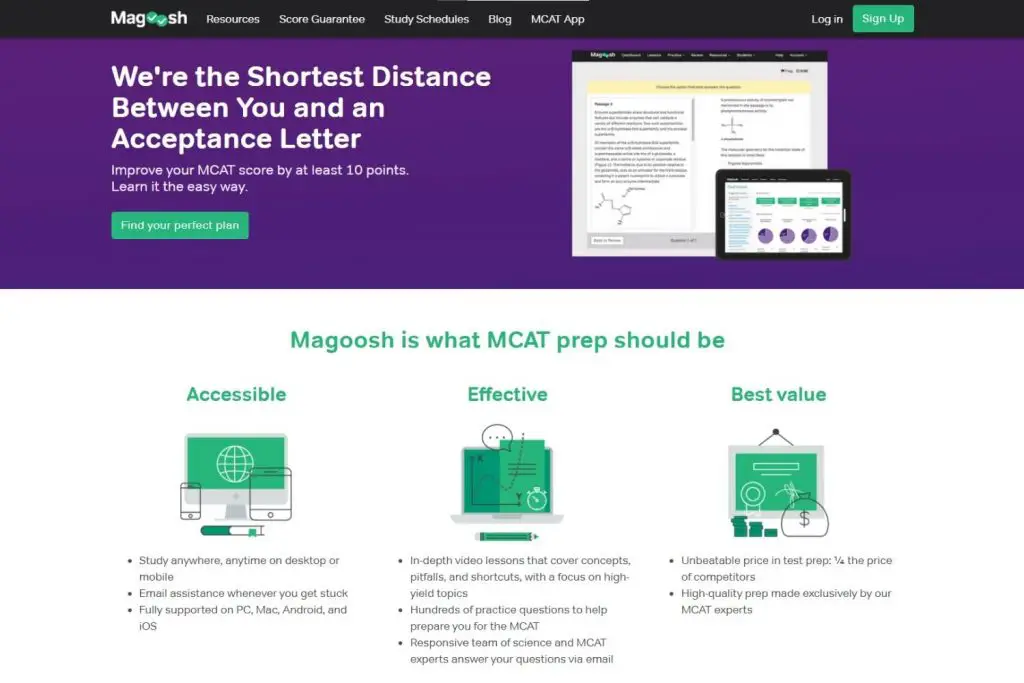 Magoosh is an education company that has been around since 2011 and has helped millions of students both achieve great scores success on a variety of entrance exams or improve their test scores. All of their plans are 100% online, accessible from multiple devices, and have a risk-free 7-day trial. Magoosh has an extensive library of MCAT subject lessons that are organized by subject and has a transcript you can browse through the lessons to see if you want to review the lesson, fast-forward, or skip the entire video.
Magoosh MCAT prep comes with three full-length practice tests that are designed with the look and feel of the actual exam. Each question comes with thorough text explanations. You can select a study plan based on how long you have until test-day. Plans range from one to six months. This is a great way to get organized.
See also our full Magoosh MCAT Review here.
They don't offer tutoring, but they do provide email support from their team of MCAT tutors with a 24 hours response time. Plans start at $179 for a one-month course, and for only $20 more, you get a one-year subscription to their MCAT prep course.
In a hurry? Check out our deal here
Magoosh MCAT Course
Best prices on all the MCAT course material.
Pros
Affordable
Great mobile app
10-point improvement guarantee
Great customer support
Cons
Quantity of study material
Only have self-paced option
Blueprint MCAT
Blueprint recently acquired Next Step Test Prep and overhauled their MCAT prep course. Blueprint's course starts at $1799 for 6 months of access and goes all the way up to $2999 for 18 months. You'll get 10,000 practice questions, and 15 full-length practice tests. Blueprint has bundled lessons, quizzes, and readings into targeted learning modules to make studying more efficient. You have the option to test out of specific learning modules if you want to. The prep course also comes with a customizable study planner tool, a Qbank with 4,000 additional questions, and 6 content books.
A neat feature they offer is access granted to 2-hour office hours sessions, 5 days a week, that feature MCAT instructors teaching and answering questions on specific MCAT topics. They back their prep course up too by offering a score increase guarantee.
Pros
Number of practice questions
Number of practice exams
MCAT instructors who scored in the MCAT 99th percentile
Practice books and personal tutoring packages
Cons
AptarePrep MCAT
After you get past the confusion that AptarePrep MCAT was formally called AdaptPrep, you'll find that AptarePrep offers many personalized practice tools to help you build up your skills and confidence so you can crush the MCAT. They offer a flexible pricing plan so you can save money by choosing the access time and study materials that match your budget and time you have until test-day. Prices start at $49 for 15 days of access to $199 one year of their course. You will get 4800+ practice questions and unlimited quizzes using their custom quiz option that generated new quizzes every time. There's no limit to the number of variety of quizzes to can create to personalize your study sessions. On the downside, they don't offer any full-length tests.
You can get answers to your questions in their discussion forum. You get access to professors, MCAT coaches, and other students so you don't feel alone in the prep process. AptarePrep's section report generator allows you to see your progress across each topic to focus on areas where you need more help. Their rank estimator will let you see how ready you are for the MCAT with their estimate of your likely percentile rank for each MCAT section. Sign up for a free 3-day trial and to see if the AptarePrep MCAT course is for you.
Pros
Unlimited quizzes
Discussion forum
Rank estimator
Cons
No full-length tests
No lecture content
The Gold Standard MCAT
The Gold Standard MCAT has been preparing students for the MCAT for more than 25 years. They have produced a suite of multimedia programs that include prep books, online videos, flashcards, mobile apps, and full-length online MCAT practice exams that simulate the real MCAT. The Gold Standard has just revised all of their prep materials for 2021 with updated questions and answer explanations.  They offer more practice questions than any other MCAT course that we ranked. This makes sure that you won't have to repeat questions and can have plenty of fresh content to review. Gold Standard offers monthly subscriptions so you can buy your prep materials on-demand and cancel anytime. You can purchase access for three months or a year at a time. They offer a wide variety of options ranging from their Crash Course at $29.95 per month to their full-blown Platinum Package for $1,499. This package comes with 12 months of access, 9 prep books, 20 practice tests, and 10,000 practice questions.  Their score guarantee is awesome–get the score you want or retake the course for 6 months for free.
Pros
Number of practice exams and questions
Prep books
Free resources
Number of plan options
Cons
Platform is outdated
Confusing web page
What is the Best MCAT Prep Course?
Let's review the features of the top six MCAT test prep courses on the market, compare them to each other, and rank each of them overall. The comparison chart below reviews the best courses so you can see which is the best fit for you. We ranked the programs based on pricing, practice materials, course guarantees, and what makes them shine brighter than the rest.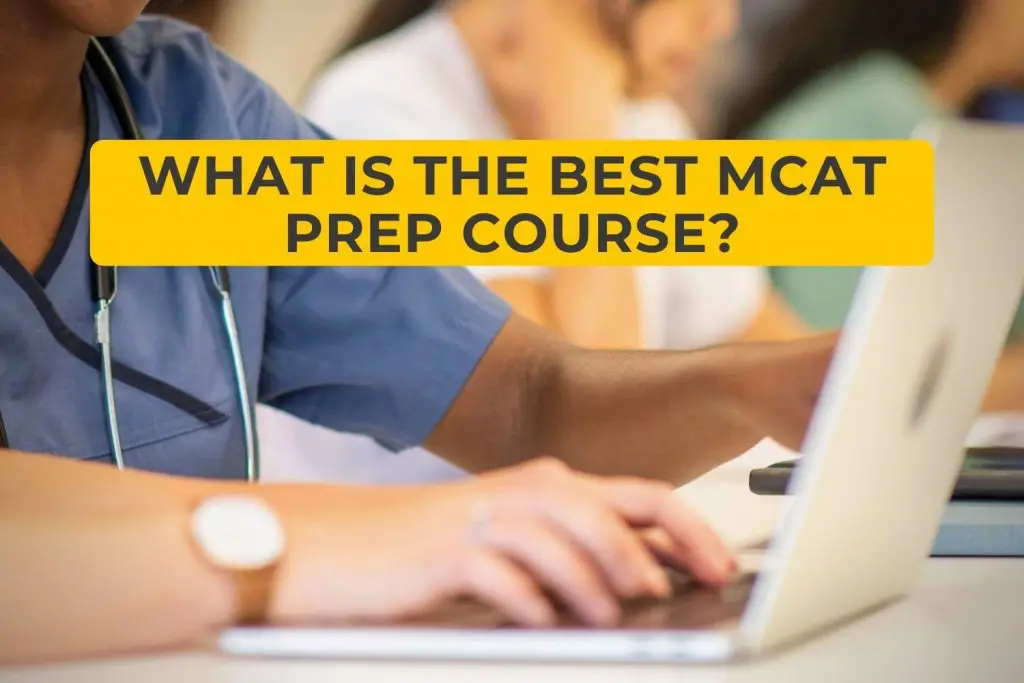 Pricing
When it comes to getting into your dream college, you want to make sure that you pick the MCAT prep course that gives you the best chance to crush it. Self-paced programs will give you the best bang for your buck. It's when you add in-person classes and tutoring that the price tag can really skyrocket.
For the basic self-paced online course, Magoosh and AptarePrep are a bargain. Both courses offer you one year of access for under $200. Magoosh has a great platform and excellent course materials for the price. They also are known for superb customer service.
The Gold Standard offers monthly subscriptions and plans that start at $35.95 and go up to $1,499. Kaplan and Princeton Review both offer tutoring and in-person classes, so they are the priciest options, but if you need the extra help, these programs are well worth the money.
Make sure that you compare all of the features of the MCAT prep courses before you buy. Most of the programs offer a free trial period to see if the course is the right fit. Make use of that feature, so you don't end up regretting your choice.
Top Pick: Magoosh MCAT
Practice Materials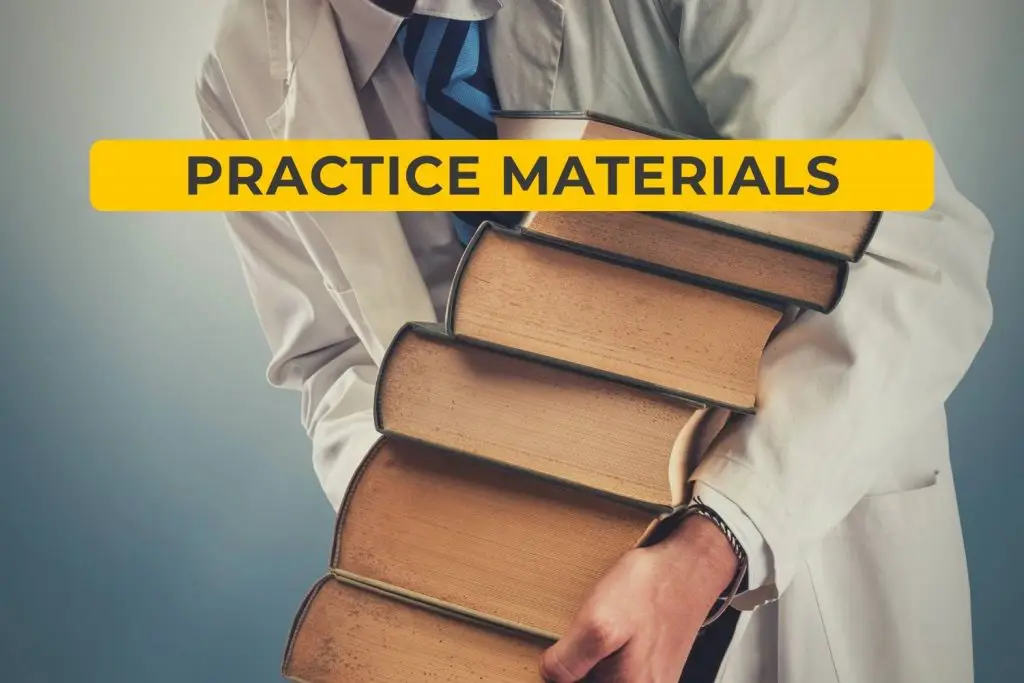 Full-Length Practice Tests
When it comes to getting the top score on the MCAT, you'll want to make sure to take as many practice exams as you can. You should shoot for 4-6 practice exams under realistic conditions. Also, make sure that you're getting the scores you want before sitting for the actual exam. The more practice exams you take, the better you'll know the material, and the more prepared you'll be.
Kaplan and Princeton Review both offer 16 full-length practice tests and are both excellent picks. But, we give the nod to Princeton Review because of their great analytics. Not only do they show you the results of your tests, but it also breaks them down by topic area and provides a goal tracker to keep you on target. It's also important to remember the timing on taking the MCAT, so see our full When Should You Take The MCAT here for more guide.
Top Pick:  The Princeton Review
Practice Questions
Practice makes perfect when it comes to practice questions too! In addition to offering a large number of questions to prepare you for the MCAT, they should also be adaptive, allow you to set the pace, and show you where you need work.
Kaplan and Blueprint offer to more than 10,000 questions, the Gold Standard has up to 10,000 (depending on the plan). Even though The Princeton Review doesn't offer the most practice questions, their personalized approach to learning focuses on your strong and weak areas, so you can save time and frustration going through needless questions.
Top Pick: Princeton Review
Guarantees
All of the top MCAT prep courses want to make sure you are happy with its product and get you the scores that you need to realize your dream of a career in medicine. Some will return your money if you're not happy, and others will promise a higher score after you complete their course.
All of the programs (except AptarePrep) promise you'll get a higher test score after taking their course. Magoosh promises a 10-point improvement from your last MCAT. The nod here has to go to The Princeton Review. Their 510+ and 515+ courses guarantee that you'll achieve those scores after completing each of those programs. These scores can triple your chances of getting accepted to med school. You can also see our How Many Times Can You Take The MCAT if you're interested.
Top Pick: The Princeton Review
Standout Features
All of the top MCAT prep programs we reviewed have features and resources that will help you crush the MCAT or significantly increase your test score. Now that you have seen the pros and cons of each course and what programs have the best features, check out what makes each program scream, "buy me!"
The Princeton Review MCAT has a large offering of study materials and in-person instruction and tutoring.
Kaplan MCAT offers a wide variety of course options like live online and in-person classes.
Magoosh MCAT offers an affordable self-paced course and stellar customer support.
Blueprint MCAT offers plenty of printed course materials.
AptarePrep offers a variety of flexible, budget-friendly plans and their rank estimator.
The Gold Standard MCAT has many plan options for any budget and a large selection of printed course materials.
Top MCAT Prep Course: The Princeton Review
Conclusion
Use The Princeton Review MCAT if:
you want plenty of practice exams.
you want great analytics to gauge your skills.
you want the most options (including in-person classes and one-on-one tutoring).
Use Kaplan MCAT if:
you want the option for in-person classes and tutoring support.
you want some of the best MCAT prep books on the market.
you want a trusted test prep brand.
Use Magoosh MCAT if:
you want an affordable MCAT course.
you want a score improvement guarantee.
you want excellent customer support.
Use Blueprint MCAT if:
you want the most practice exams and questions.
you want expert instructors.
you want practice books and a tutoring option.
Use AptarePrep if:
you want analytics to gauge your skills.
you want unlimited personalized quizzes.
you want academic support via a discussion forum.
Use The Gold Standard MCAT if:
you want a large number of practice exams and quizzes.
you want tons of prep books.
you want a wide choice of plan options.
Read More About the MCAT