So you've just received your ACT scores and now you're wondering, how did I do? Or maybe you've haven't taken your ACT yet and you're trying to figure out what score you need to get into your college of choice.
You're in the right place. This page will help give you a better idea of how you did on the ACT, what the average ACT score is and what a good ACT score is.
Check our ACT Test Dates for 2020-2021
ACT Scores 101
As you probably know, on the four ACT test subjects: Math, English, Reading, and Science, you will receive a scaled score between 1 to 36. The average of these four scores will then be computed to get your composite score. These figures will be shown on your score reports. Obviously, like every other test you've taken the higher your ACT score the better.
Related Topic: ACT Registration And Requirements
What is the Average ACT Score
The average ACT score is 20.8. That means if you score between a 20 and 21 on the ACT this will put you right in the middle of the pack. Your score will be higher than 50% of other test takers but also lower than the other 50% of test-takers.
Check our Free ACT Practice Tests 2020 – Full Length Practice Questions with Explanation
Average ACT Score by Test
Here are the average ACT scores are broken down by test over the last 5 years.
The average English ACT Score is 20.3.
The average Math ACT Score is 20.8.
The average Reading ACT Score is 21.3.
The average Science ACT Score is 20.8.
Learn more: ACT Math Test Overview, Content Type And Tips To Score High
What is a Good ACT Score?
Although there are average ACT scores, what's considered to be a good ACT score is that which corresponds to the requirements of your chosen college. However, the higher your score is, the more benefits you can enjoy. A high ACT score presents more options for you pertaining to being accepted in various prestigious colleges and universities.
The highest possible score for the ACT is 36, and the current average score for the same test is 21. Obtaining a score of 23 would deem you to be a strong candidate for many universities, particularly because it is above the range of the current national average. Then again, such a score may not render you qualified to enter more selective colleges. 
In the ACT,  your score will be measured on a scale of 1 to 36. Each of the subjects in the test, whether English, Math, Reading, and Science will be scored out of 36 points. The total computed average scores of each of these four sections make up your composite score. The following table indicates the average scores for every subject in the ACT in 2017, along with the average composite score:
| | |
| --- | --- |
| SECTION | AVG ACT SCORE |
| English | 20.3 |
| Math | 20.7 |
| Reading | 21.4 |
| Science | 21.0 |
| COMPOSITE | 21.0 |
Source:  ACT
Achieving these average scores for all the four ACT subjects can have you accepted in many colleges and universities, but may have you unqualified for more selective schools.
Here is a quick break down of ACT score percentiles:
35 and above ACT Score = Top 1%
31 and above ACT Score = Top 5%
29 and above ACT Score = Top 10%
24 and above ACT Score = Top 25%
21 and above ACT Score = Top 50% (reminder 21 is the average ACT score)
16 and below ACT Score – Bottom 25%
We have ACT Reading Test Basics & Practices to Improve Scores
Here are more details on ACT score percentiles.
ACT Score Percentiles For 2020
If your score falls on the 75th percentile (a composite score of 25 or above), that means you have a good score. This means you scored better than 75 percent of the test-takers. But if your score is lower than the 25th percentile average ACT score (a composite score of 16 or lower), then that means your score is poor and you need to take steps to improve it, whether by taking ACT review classes or working on ACT practice tests.
However, note that your basis for what a good score is should be based on your desired college or university's average ACT score.
Look into the average ACT score of the students who got into the college or university of your choice. UCLA, for example, has an average ACT score of 29. If you want to get into UCLA, you need to have an ACT score of 29 or higher to improve your chances of getting accepted.
| | | | | | |
| --- | --- | --- | --- | --- | --- |
| Percentile | English | Math | Reading | Science | Composite |
| 90th (excellent) | 29-30 | 28 | 31 | 27-28 | 28 |
| 75th (good) | 24 | 24 | 25 | 24 | 24 |
| 50th (OK) | 20 | 19 | 20 | 20 | 20 |
| 25th (poor) | 14-15 | 16 | 16 | 16-17 | 16 |
| 10th (very poor) | 11 | 14 | 13 | 13 | 13 |
Sources: ACT 2017 National Profile Report, ACT 2012 National Profile Report
We have Practice Test that you can use: ACT English Practice Tests
When Will Your ACT Scores Be Available?
How long do you have to wait to get your ACT scores? Not too long, actually. These results vary in release depending on various factors. However, for most students, availability of their ACT scores comes in approximately 10 days after they have taken their test. 
Since the ACT is given on a Saturday, scores for it tend to be accessible on a Tuesday or Thursday following 10 waiting days, typically at 1am Eastern time, or midnight at Western time or 10 pm Pacific time.
If within this time period, your scores haven't been released yet, check for it on a weekly basis. All scores should normally be available within 8 weeks after the test. Scores are usually provided in two instalments, but colleges will not receive your score report for the ACT if all scores have not been released and finalized (both for the multiple choice test and the Writing test).
With your ACT score report ready, ACT, Inc. will then grant your access to your official Student Score Report, your High School Score Report, and your College Score Report. Take note that a majority of test-takers will tend to receive their scores after 10 days of taking the ACT test, while a small number of them will access the same after one or a few weeks of waiting after the designated release date.
The following list will guide you about the 2020 ACT test dates along with their ACT Score Release Dates:

| | | |
| --- | --- | --- |
| ACT Test Date | Multiple-Choice Scores Release | Complete Scores (w/ Essay) Release |
| Sept 12, 2020 | Sept 22, 2020 | Oct 6, 2020 |
| Oct 24, 2020 | Nov 10, 2020 | Nov 24, 2020 |
| Dec 12, 2020 | Dec 24, 2020 | Jan 7, 2021 |
| Feb 6, 2021 | Feb 23, 2021 | Mar 8, 2021 |
| Apr 17, 2021 | Apr 27, 2021 | May 11, 2021 |
| June 12, 2021 | June 22, 2021 | July 6, 2021 |
| July 17, 2021 | July 27, 2021 | Aug 10, 2021 |
Knowing the scoring system for ACT exam can give you an advantage as you prepare your study plan and goals. We will help you understand how the ACT is scored, with official ACT scoring charts so you can use this knowledge to assess how well you'd do on the test.
Visit our website to learn more review materials: ACT Science Practice Tests
The ACT Scoring System
What Scores Will You See on Your ACT Score Report?
Scaled scores for each subject
Composite score
Scores on the STEM (Science, Technology, and Math) indicators
Scores on ELA (English Language Arts) indicators
US and State Ranks
Scaled Scores
On the ACT Score Report, what you will see are scaled scores for all the ACT subjects: English, Math, Reading, and Science. Every subject area has a scaled score between 1 and 36. Scaled scores do not reflect the actual number of questions you answered correctly, which is your raw score.
The scaled scores are based on your raw scores or the actual number of questions that you answered correctly on each of the subject areas. The ACT test scores are scaled to make it possible to compare your performance with other test-takers who may have taken an easier or more difficult test.
Related Topic: ACT Test Introduction, Registration & Dates
Here is a table from ACT.org for converting your raw scores to scaled scores:
Scale Score
Test 1 English
Test 2 Mathematics
Test 3 Reading
Test 4 Science
Scale Score
36

35

34

33

32

31

30

29

28

27

26

25

24

23

22

21

20

19

18

17

16

15

14

13

12

11

10

9

8

7

6

5

4

3

2

1

75

72-74

71

70

68-69

67

66

65

63-64

62

60-61

58-59

56-57

53-55

51-52

48-50

45-47

43-44

41-42

39-40

36-38

32-35

29-31

27-28

25-26

23-24

20-22

18-19

15-17

12-14

10-11

8-9

6-7

4-5

2-3

0-1

60

58-59

57

55-56

54

52-53

50-51

48-49

45-47

43-44

40-42

38-39

36-37

34-35

32-33

30-31

29

27-28

24-26

21-23

17-20

13-16

11-12

08-10

7

5-6

4

—

3

—

2

—

1

—

—

0

40

39

38

37

35-36

34

33

32

31

30

29

28

27

25-26

24

22-23

21

19-20

18

17

15-16

14

12-13

11

09-10

8

6-7

—

5

4

3

—

2

—

1

0

40

39

38

37

—

36

35

34

33

32

30-31

28-29

26-27

24-25

22-23

21

19-20

17-18

16

14-15

13

12

11

10

9

8

7

5-6

—

4

3

2

—

1

—

0

36

35

34

33

32

31

30

29

28

27

26

25

24

23

22

21

20

19

18

17

16

15

14

13

12

11

10

9

8

7

6

5

4

3

2

1
Composite Score
The average of your four scale scores is computed to get your composite score, which also ranges from 1 to 36.
STEM and ELA
Both STEM and ELA reflect your performance on specific subject tests.
The STEM score shows your performance on the science and mathematics tests.
The ELA Score shows your performance on the English, reading, and writing tests.
US and State Ranks
The US and State Ranks show the estimated percentages of ACT test-takers in the US and in your state with scores that are the same or lower than yours. If your composite score is 28 and you have a rank of 70 for your composite score, that means 70% of students got that composite score or below.
More review materials HERE 
Steps to Compute Your Average ACT Score
You can use your knowledge of the ACT scoring system to see how well you'd perform on your practice tests. Just follow these steps:
Compute your raw scores for each subject.
Use the table to convert your raw scores to scale scores.
Compute your average scores on the four subjects to get your composite score.
Here's a sample computation:
If you have scaled scores of 24 for English, 28 for Math, 26 for Reading, and 23 for Science, the composite ACT score would be (24 + 28 + 26 + 23)/4 = 25.25, which is rounded down to a 25.
How the Writing Test is Scored
Two checkers will read and score each student's ACT Writing test essay based on four domains:
Ideas and Analysis
Development and Support
Organization
Language Use and Conventions
Each checker gives the essay a score ranging from 1 to 6 for each of the four domains, with 6 being the highest possible score. The two counts are added together to get a student's writing subscore for each area, which can range between 2 and 12, with 12 being the highest possible score. If the two readers' ratings differ by more than one point, a third reader will be called in to resolve the disagreement. The writing score is calculated from the domain scores and ranges between 1 and 36.
A student's ACT English, Reading and Writing scores are scaled to create a student's combined English Language Arts (ELA) score. Choosing to take the ACT Writing test does not impact your composite score or subject area scores, but without the Writing test score, no ELA score will be reported.
Related Topic: How ACT Reviewers And Guides Help You Boost Your ACT Score
ACT Score Reports
The ACT organization initially prepares three different reports for each student who tests—the Student Report, the High School Report, and the College Report. If you took the ACT with writing, an image of the essay you wrote might be available to the high school and colleges that receive your score report. See more details in this chart:
| | | | |
| --- | --- | --- | --- |
| Type of Report | Where It's Delivered | When It's Delivered | What It Reports |
| Student Report | Your online ACT web account | About 2–8 weeks after the test date | ACT scores, college, and career planning information |
| High School Report | Your high school | About 2–8 weeks after the test date | ACT scores, college, and career planning information |
| College Report | Each valid college or scholarship agency code you listed and paid for when you registered or tested (up to six) | Varies based on college and when ordered | Everything on the Student and High School Report, plus the grades you reported in up to 30 high school courses; it may also include predictions about your performance in specific college programs and courses |
To learn more about their scoring process, check the guide from the ACT website.
How To Receive Your ACT Score
Your ACT scores will not be emailed to you personally. What you have to do is to look it up online in the official ACT, Inc. website by logging in to your account. This can be done at about 10 days after taking the ACT test (for the multiple choice test), and two weeks following that to access your score for the Writing test. Individual people check the Writing test (not machines), that's why it takes longer to release the scores. 
All ACT scores are expected to be posted on the ACT Inc., website eight weeks after the corresponding ACT test. If you live in a location outside U.S. or Canada, your score might arrive later than this time period.
Although some test-takers might deem it necessary, there is actually no way to prioritize or speed up the releasing of ACT scores. The ACT Inc., website may feature a priority report option, but it does not refer to that. What it does instead is prioritize sending reports to colleges and not obtaining score reports faster. Your full ACT score report (including your Writing score- if you took it) has to be fully processed before they are sent to your selected colleges.
Here is a step-by-step guide to getting your ACT scores:
The first thing that you should do is to log on to your account in the ACT website. Use the user ID and password that you have created when you initially signed up for an account. In case you forgot your user ID or password, click on the "Forgot password" or "Forgot User ID" links to be able to retrieve those details.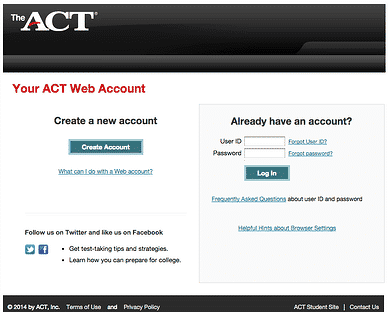 When you have successfully logged in, the ACT student home page will appear. You will find your test registration dates summarized in the page. Go to the left column and select "Your Test Dates and Scores" to be able to be directed to your ACT scores:
You will then be taken to a page containing a table that indicates all your ACT test dates and the types of tests that you took (whether ACT or ACT Plus Writing). Next to it, you will find a link where you can view your scores. Note that you may find some test dates that you have signed up for canceled later, such as the September 2009 test listed on the screenshot:
Click on the "View Your Scores" option: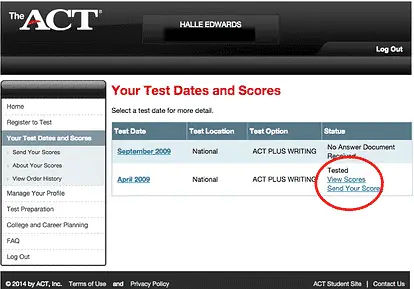 A prompt will ask you to enter your password again. It means the password that you used to log in: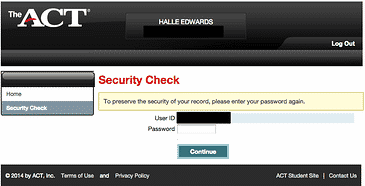 You will finally arrive at the page that contains your ACT scores. Here, you'll be able to view your composite score (36 at most), as well as your section scores and subscores. The subscores are particularly useful because they indicate specific information about your performance in each subject area:

In the same page, you'll see a "Download student score report PDF" link. If you click on it, you'll be able to obtain a PDF report that features more information, such as your percentile scores and potential areas that you need to improve on along with other details that you can use to boost your score in the ACT. 

Now that you've seen your ACT scores, what you should do? 
Have you met your ACT goal score? You have probably an idea of what a good ACT score is, and if you have achieved it, you can proceed with your college applications. Otherwise, your next best option could be to retake the ACT. 
Scholarships You Can Get According To Your ACT Score
Having high expectations for your ACT score can be stressful. You know you have to get a good score in order to gain admission to the school of your choice, and more so, to get a scholarship. There's pleasing news for that, nonetheless, because even real-world ACT scores within the low 20's range can qualify you for a grant.
Basically, scholarships are tend to be given based on ACT score ranges. Other than achieving the proper score, you also have to take into account other requirements for eligibility. In fact, you can even find scholarships that don't require ACT test scores. For those scholarships that do require good ACT test scores, however, some will give money for scores that range between 20 to 24. Some scholarships would want to see scores that range from 25 and above, while those that are more competitive entail scores of 29 and higher. 
You have hundreds of scholarships to choose from, and it's best to think in terms of score ranges instead of exact scores when it comes to obtaining these. 
At the very least, you need to get a score that ranges within the low 20's to have some chance of getting scholarships that entail ACT scores. Although you can barely gain admission to a promising school with these scores, just getting accepted would be enough to render you eligible for a grant. If your score is within the range of 20 to 26 and your GPA is 3.0, you can be qualified for $1,000 to $2,000 worth of scholarships from Mississippi State. In the same way, you can be considered for a scholarship from the University of Reno Nevada if your ACT score is 22 or above.
Find out more about Scholarships by ACT Score and work on achieving your target score with the help of a credible and effective online ACT study guide.
Good ACT Scores for Popular Schools
| | | | | |
| --- | --- | --- | --- | --- |
| School | 25th Percentile ACT | 75th Percentile ACT | US News Ranking (National Universities) | 2016 Acceptance Rate |
| Princeton University | 32 | 35 | 1 | 6.5% |
| Harvard University | 32 | 35 | 2 | 5.4% |
| University of Chicago | 32 | 35 | 3 | 7.6% |
| Yale University | 32 | 35 | 3 | 6.3% |
| Columbia University | 32 | 35 | 5 | 6% |
| Stanford University | 31 | 34 | 5 | 4.8% |
| MIT | 33 | 35 | 7 | 7.9% |
| Duke University | 31 | 35 | 8 | 11% |
| University of Pennsylvania | 32 | 35 | 8 | 9.4% |
| Dartmouth College | 30 | 34 | 11 | 10.5% |
| Northwestern University | 31 | 34 | 12 | 10.7% |
| Brown University | 29 | 34 | 14 | 9.3% |
| Cornell University | 30 | 34 | 15 | 14.1% |
| University of Notre Dame | 33 | 35 | 15 | 18.7% |
| Vanderbilt University | 32 | 35 | 15 | 10.7% |
| Georgetown University | 29 | 33 | 20 | 16.4% |
| University of California, Berkeley | 30 | 34 | 20 | 17.5% |
| University of Southern California | 31 | 34 | 23 | 16.5% |
| Carnegie Mellon University | 30 | 34 | 24 | 13.7% |
| University of California, Los Angeles | 29 | 34 | 24 | 18% |
| University of Virginia | 27 | 31 | 24 | 28.9% |
| University of Michigan | 30 | 34 | 27 | 28.6% |
| Wake Forest University | 28 | 31 | 27 | 29% |
| University of North Carolina | 28 | 33 | 30 | 26% |
| Boston College | 30 | 33 | 31 | 29% |
| New York University | 28 | 32 | 36 | 32% |
| Boston University | 28 | 32 | 39 | 29% |
| Penn State | 26 | 30 | 50 | 51% |
| Villanova University | 31 | 33 | 50 | 43.5% |
| Ohio State | 27 | 31 | 54 | 49.1% |
| University of Georgia | 27 | 32 | 56 | 53% |
| Clemson University | 26 | 31 | 66 | 51% |
| Baylor University | 26 | 30 | 71 | 44% |
| Texas A&M | 23 | 29 | 74 | 66% |
| Virginia Tech | 24 | 29 | 74 | 72.6% |
Related Topics: