No matter how you study best, you will find a program that suits your schedule and study habits. Choose from live-online, in-person, and on-demand courses., while The Interact™ for LSAT Course (self-paced) starts at $500, while the Complete Course (live online or in-person instruction) starts at $1,300. If you want that extra boost to help students like you crush the LSAT and get into the law school of your dreams, then check out our review of Manhattan Prep's LSAT prep course.
In a hurry? Check out our deal here
Manhattan Prep LSAT Course
Just reduced pricing on all of their courses.
Is Manhattan good for LSAT prep?
Manhattan Prep holds its own with leaders in the LSAT prep companies like Magoosh and Kaplan. All of Manhatten's instructors scored in the 99th percentile on the LSAT and have extensive teaching experience. Their comprehensive course materials are written by their instructors, based on actual exam questions.  On the downside, Manhattan does not offer a money-back guarantee like most of their competition, but they do claim to have the most qualified instructors in the business.
See our full breakdown of the Best LSAT Prep Course here.
About Manhattan Prep
MG Prep, Inc. (Manhattan Prep) is a test preparation company founded in 2000 by Zeke Vanderhoek, a former New York public school teacher and founder of the TEP charter school. Manhattan Prep's focus is on test prep for the LSAT, GMAT, and GRE. They pride themselves on expert instructors, live-online and in-person classes, and an interactive on-demand self-paced course.
Pros
Large amount of print course materials
Tons of free resources
Engaging and fun classes
Expert instructors
Cons
No Refund Policy
No Score Guarantee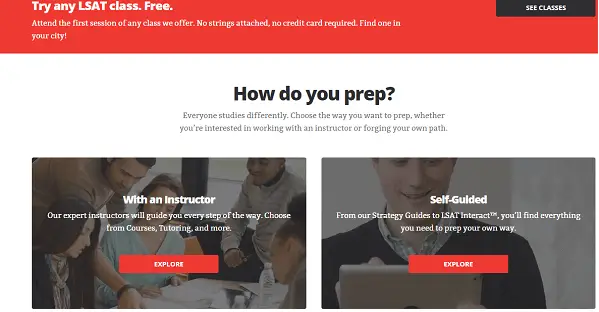 Things to consider before buying Manhattan LSAT test prep
Manhattan is one of the best LSAT prep courses on the market and offers a wide variety of course options If you want the option of working with an actual instructor (live online or in-person) and like the choice of owning hardcopy course materials, then Manhattan Prep is the right choice for you. Manhattan LSAT offers high-definition videos, excellent study materials, knowledgable instructors, and a huge selection of free resources.
Here are some things you need to think about before you buy the Manhattan LSAT prep course:
Do you want to have the option of having hard copies of the course materials?
Do you want to take a free trial class to see if you like it?
Do you want an LSAT course that includes classroom instruction?
Do you want instructors that aced the LSAT?
If you answered yes to all of these questions, then Manhattan is the right course for you. Read on to see what features make Manhattan stand out from the rest.
Features of Manhattan Prep LSAT Courses
Multiple Course Options
Manhattan prep is an excellent choice if you want the choice of both online and live options. Manhattan also offers the best selection of both print and online course materials. You can create a flexible study schedule that takes you through the LSAT using study guides, video lessons, and authentic practice exams. Manhattan will gauge what you've learned and guides you to areas that need improvement.
Even though Manhattan does not have an app, you get the option of downloading or stream the easy-to-follow video lesson to your PC or mobile device.  Take a look at the course options that Manhatten LSAT prep offers: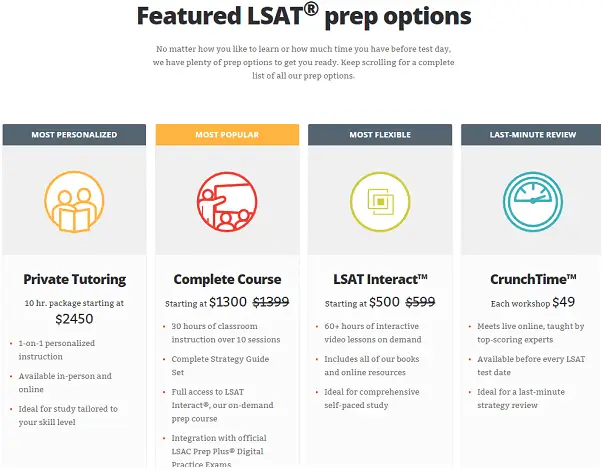 LSAT Interact Complete  
Manhattan Prep's self-paced online LSAT course comes is $500 for a 6-month subscription. It provides videos that are highly interactive and adapt to where you need to you're your focus. It's not just a video lesson. It's a fun and interactive journey with a Manhattan Prep instructor who guides students through each lesson from start to finish.
It comes with:
60+ hours of interactive video lessons, challenge sets, and homework explanations
Integration with official LSAC Prep Plus Digital Practice Exams (a $99 value—free!)
A suite of online resources
The Complete Strategy Guide Set and Official LSAT Practice Book
5 lb. Book of LSAT Practice Drills with over 5,000 questions across 180 drills
All lessons available on your computer, tablet, or mobile device
LSAT Interact Complete + Coaching
If you need to work with an LSAT coach, you can sign up for their Interact™ Complete + Coaching course for $800. You'll get everything that comes with the Interact Complete Course plus two 1-hour coaching sessions, one-on-one with an expert instructor.
LSAT Complete Course: Online or In-Person
Whether in person or online, their instructors will help you master every aspect of the LSAT. The $1,300 Complete Course includes:
Comprehensive Live Instruction (online or in-person)
30 hours of classroom instruction over 10 sessions
Access to LSAT Interact™ to build your foundation with 60+ hours of interactive video lessons
CrunchTime, their 3-session review course
The Complete Course + Coaching Course ($1,600) includes everything in the Complete Course plus two 1-hour coaching sessions, one-on-one with an expert instructor.
CrunchTime Course
Manhattan Prep's CrunchTime online workshops ($49) are great if you have already mastered most the LSAT concepts, but need that extra study boost to get you over the finish line. The workshops focus on maximizing your studies and skills in the last few weeks before test day. If you've already learned most of the LSAT strategy, but need that extra boost to head into test day with confidence, these workshops are for you.
Here are the CrunchTime Workshops available:
Logical Reasoning & LSAT Strategy
Logic Games
Reading Comprehension
Flexible Private Tutoring Packages
With Manhattan Prep's private tutoring packages, you'll get personalized expert instruction, either in-person or online. Their instructors will help you ace the LSAT.
Here's what you get:
Personalized expert instruction
On-demand video lessons (With 10+ Hour Package)
LSAT Prep Plus® Digital Practice Test Integration (With 10+ Hour Package)
A suite of online resources (With 10+ Hour Package)
LSAT study materials (With 10+ Hour Package)
Here are their hourly customized tutoring packages:
30 hours (includes all books and resources) $225/Hour
20 hours (includes all books and resources) $230/Hour
10 hours (includes all books and resources) $245/Hour
Hourly rate (2-hour minimum) $255/Hour

Engaging Classroom Instruction
As we have mentioned, Manhattan is known for its quality instructors. These top-notch instructors really shine in the live classroom classes or on their live online video lessons. They are not only experts, but they are engaging, fun, and teach LSAT strategy in a way that stresses test-taking strategy.
For any of you who struggle to learn by reading the text of a lesson, Manhatten Prep's approach to learning through instructor-led lessons is one of their most significant selling points.
Free Stuff
Manhattan prep is known for its free LSAT study materials, including the LSAT Blog, LSAT forum, tips and study tools. The LSAT BLog will give you current info on the LSAT Flex Exam and how the Coronavisrus has affected the LSAT.
To see if you want to opt for the Complete Course, you can sit in on any in-person or live online class for free. You can see how their classroom instruction sessions work and then decide if Manhattan Prep is right for you.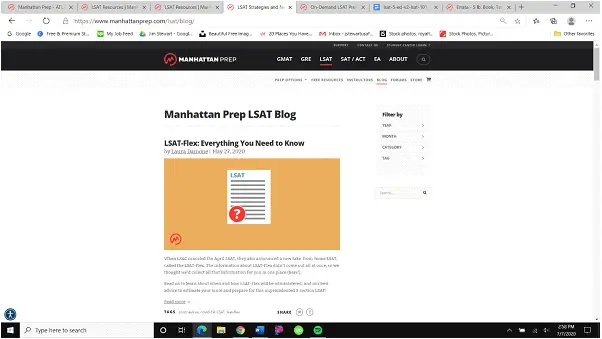 Is Manhattan Prep any good?
We have searched the internet on found that there are plenty of Manhattan fans out there. Here are some great things that students are saying about the Manhattan LSAT prep review: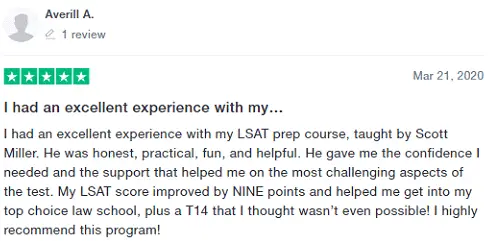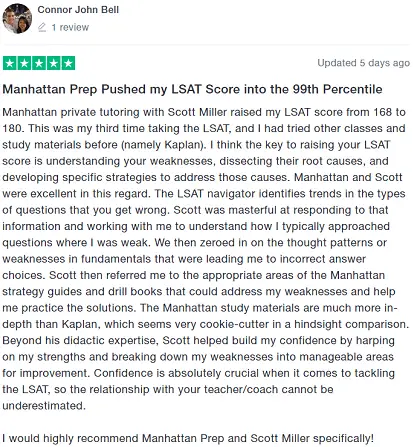 In a hurry? Check out our deal here
Manhattan Prep LSAT Course
Just reduced pricing on all of their courses.
Conclusion
Manhattan is an excellent choice for LSAT. They have a large staff of very qualified instructors and offer the course across a wide variety of platforms, from online live and in-person classroom instruction to a self-paced online course. Manhattan's prep books with tons of practice questions, authentic study materials, engaging online platform, and adaptive practice tests are the biggest reasons you should check out our Manhattan LSAT deal here.