PrepScholar also offers a one-of-a-kind 160-point SAT score improvement guarantee! Read on to see how PrepScholar has helped thousands of students like you master the SAT.
In a hurry? Check out our deal here
SAT Prep Course
The Only 160+ Point Guarantee
Is PrepScholar SAT prep worth the money?
Many students who have completed the SAT prep course would answer—ABSOLUTELY! Even though you'll pay a little more than Magoosh and won't get the name brand recognition of The Princeton Review, you will get a personalized course focused on your needs, skills, and schedule. You can take their SAT prep course using their Online Prep program or via their engaging online classroom. Their tutoring program is tailored just for you and offers a choice of between 4 – 54 hours of private tutoring. You can even take PrepScholar for a test-drive for five days—risk-free—to see if it's the right fit for you. They are so confident their course gets results, that they promise you a 160-point score improvement from your previous test score.
About PrepScholar, Inc.
Harvard grads Allen Cheng and Fred Zhang founded PrepScholar because they were fed up with expensive SAT prep classes and mediocre instruction. They both aced the SAT in 2013 and created PrepScholar the next year, sharing their winning test-taking strategies with students like you.  The PrepScholar instructors are just as gifted and will motivate you with weekly reports, progress trackers, and customized feedback. It's the only online program scientifically designed to recognize your strengths and weaknesses and tailor a course precisely to your skills.  The program really works! According to the College Board, PrepScholar student's scores improve 4.1 times higher than the average student in the country.
Pros
160-Point Score Improvement Money-Back Guarantee
Personalized Course
Online Classroom and Tutoring Options
Expert Instructors
Cons
Expensive Tutoring Options
No Mobile App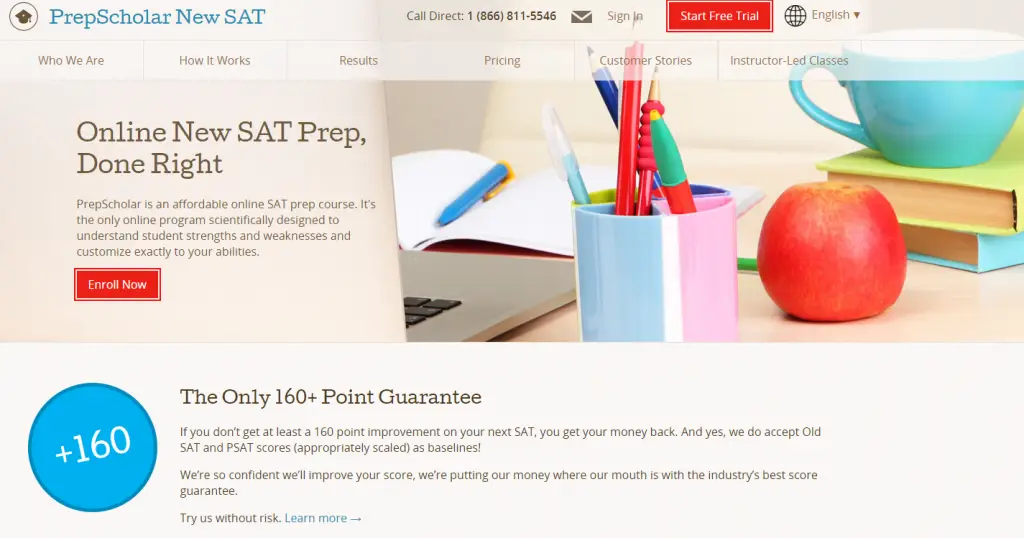 Things to consider before buying
If you want a course that uses only expert instructors and the option to complete the course either on your own time or in an online classroom, then you should put PrepScholar in the mix. You'll get, personalized study sessions, high-definition videos, plenty of practice tests, and access to world-class private tutors. Check out what a sample lesson looks like to see for yourself!
Here are some things you should ask yourself before signing up for the PrepScholar SAT prep course:
Do you want access to instructors who aced the SAT?
Do you learn best in a classroom, even if it's virtual?
Do you want access to a private tutor?
Do you want to try the course for free to see if you like it?
Do you want a guarantee that you'll improve your SAT score by at least 160 points?
If you answered yes to these questions, then PrepScholar is the perfect fit for you. Read on to check out the top features and benefits of enrolling in one of the best SAT test prep programs on the market! We've done all the research, all you have to do is decide if PrepScholar is right for you.
Features and Benefits
Choice of high-quality programs
The Complete SAT Online Prep course ($397) is a personalized online program that focuses on your needs, skills, and schedule. Their most popular program gives you 12 months of access to 210+ hours of content, 7,100+ practice questions, 700 problem-solving videos, dozens of test-taking skill lessons, and ten real practice tests.
PrepScholar Classes ($895) include everything from the Complete Online Prep Class plus access to expert-led classes using their innovative live online classroom. You'll be taught by an expert teacher and have real-live classmates.  If you have a question, just raise your hand, and your teacher will respond—live! The classes include nine hours of instruction in class that is never any larger than nine students.
Their Complete+ Tutoring program is tailored just for you. You can choose from 4 – 54 hours of one-on-one tutoring. The tutors tailor their lessons based on your goals and progress. PrepScholar's tutoring program is engaging and well worth the price. Their tutoring programs run between $995 and $6,995 and include all the features of the Complete SAT Online course.
Innovative online classes and tailored homework
After taking their SAT diagnostic exam, you'll start receiving individualized homework assignments and lessons. Once you start working through the lessons, you'll get focused feedback, based on your progress. Set your own schedule, and PrepScholar will adjust to fit your progress. Your classroom will have instructor-led lessons complete with voice, video, and a shared whiteboard. Have a question? Just ask questions and get answers from your teacher. The small classes mean you get personal, one-on-one help. Between classes, you'll get homework assignments that are tailored to your skills and progress. As you move through the course, you'll take timed, full-length practice exams with an SAT score and feedback on areas you need to review.
Programs customized just for you
PrepScholar's course software will figure out your skill level and design a study plan tailored to your learning level. If you have a strong grasp of science, you'll get more difficult problems. If you're weak in math, you'll get easier problems at first, until your skills improve. PrepScholar will challenge you and provide you with efficient study sessions. Their customization technology makes sure that you're always spending time on the areas where you'll get the biggest gains.
PrepScholar motivates you to learn
The best way to stay motivated is to see your progress. PrepScholar encourages you to study by sending you weekly email reports showing you (and your parents) which lessons you have completed and how long you have worked on your lessons. This info keeps everyone up-to-date on your progress and holds you accountable for your learning. Kudos are sent for a job well done, and a word of caution for taking your foot off the gas. Positive motivation keeps you engaged and ensures you are putting in the effort needed to crush the SAT.
They stay with you all the way to test day
You'll never feel like you're left on your own to figure out how and what to study. You'll get detailed directions on which lessons to take and when. They advise you when you should be reading lessons, answering questions, or reviewing your mistakes. You're still free to choose what to work on based on your mood. If you're not feeling up to a science lesson, take a math or reading lesson instead.
Your study "Dashboard" will display your weekly study assignments (based on your strengths and weaknesses) and contains strategy lessons, quizzes, and practice tests. You can see what's important to work on every time you sign in. If a practice test is coming up, lessons will target what you'll need to review the week before the test.
They track your progress
On any journey, it's important to know where you are and how far you have to go to reach your goals. PrepScholar has a set of tools at your disposal to track your progress. The time tracker shows you how much time you're studying. The skill charts show you how you're making progress over time. The log documents all of your past work. Seeing your progress will motivate you, giving you the confidence you need to master the SAT.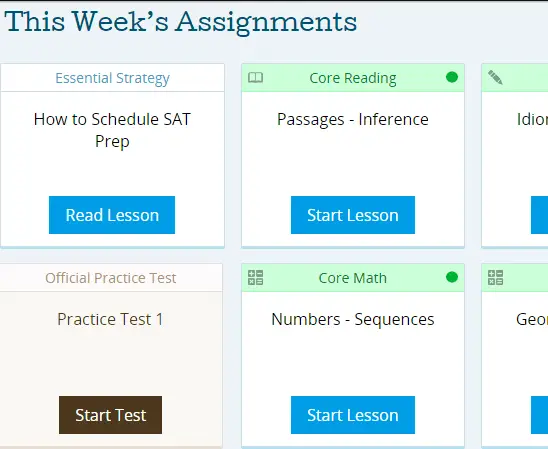 40 hours to success
To get the most from the Complete SAT Online Prep, you'll need to commit to a minimum of 40 hours to the program. For example, if you are taking the test in 60 days, you'll spend about an hour a day going through the program. To crush the SAT, you need to go beyond the minimum. There are 60+ hours of total content, as well as additional questions and lessons, so you go into the SAT with all the tools you need to ace the SAT.
PrepScholar walks you through the course, step by step, so you won't get overwhelmed or stressed out:
First 10 Minutes: Sign up and prepare
First Hour: Take their Smart Diagnostic
Hours 2-10: Get "skilled-up" with eight one-hour lessons (20 min. teach/20 min. quiz/20 min. review)
Hours 11-14: Take a full-length practice test (get your score right away)
Hours 15+: Continue your customized prep (program evolves as you improve)
Final Step: Ace the SAT
A world-class tutoring program
The best way to help you increase learning and motivate you to continue studying is through one-on-one tutoring. The Complete+ Tutoring package will let you choose from four options, depending on how much tutoring you need. You'll get from 4 – 54 hours of tutoring integrated into your Complete Prep experience. You'll get the best of both worlds: access to their online or virtual classroom programs and a live one-on-one tutor. They'll even customize a study plan based on your strengths and weaknesses.
We all have busy lives! The tutoring program is designed to fit into your schedule and is extremely flexible. Take your pick! From weekend or weekday to morning, afternoon, or night, they'll tailor your tutoring sessions to accommodate you.
All your tutoring is held online with a live one-on-one PrepScholar tutor. You'll get the most out of every session using face-to-face video and a problem-solving whiteboard. Live online tutoring eliminates a commute to the tutoring center or the hassle of fitting a prescheduled session into your life—you set the time and day.
A 5-day risk-free trial
If you're not completely happy within the first five days of the SAT prep course, just let them know, and you'll get your money back, no questions asked. If you enrolled in their tutoring program, the portion of tutoring that has already been completed can't be refunded. The 5-day grace period starts after you submit your completed diagnostic test.
Just a word of caution. Unlike other SAT prep trial offers, you'll have to give them a credit card number to sign up. If you don't cancel before the trial period ends, they will charge your credit card for the full amount of your course.
A 160-point score improvement money-back guarantee
PrepScholar is so convinced that you'll improve after going through their course, that if you don't increase your score by at least 160 points from your last SAT, they'll give you your money back. What do you have to lose—you'll either get the score you want or free SAT test prep.
Is PrepScholar any good?
One of the best ways to see if a test prep course is worthy is to see what students and parents say about the program. Here are just a few endorsements from users who praise the merits of PrepScholar's SAT course:
In a hurry? Check out our deal here
SAT Prep Course
The Only 160+ Point Guarantee
Conclusion
PrepScholar seems to offer it all: an impressive online prep program, innovative live online classes, and one of the best tutoring programs in the country. Your SAT test-prep experience is personalized to focus on your needs, talents, and busy schedule. You'll also get their promise of a 160-point test score improvement and plenty of practice to make sure that you are ready to crush the SAT.
Even though PrepScholar is a bit more expensive than other SAT prep courses out there, their impressive results speak for themselves! According to the College Board, 93% of PrepScholar students improved more than what the College Board predicted they would. Try it out for yourself by signing up for their 5-day risk-free offer and decide if PrepScholar can help you crush the SAT! See also our Best SAT Prep Courses here.