Their courses offer thousands of practice questions, plenty of practice tests, and a four-point score improvement guarantee. Their program is definitely worth checking out.
In a hurry? Check out our deal here
ACT Prep Course
+4 Point Guarantee and Free Consultation
Is PrepScholar ACT prep with it?
If you ask students who have completed the PrepScholar ACT prep course, they would answer that question with a resounding—YES! Even though the price tag is a bit higher than the budget-friendly ACT prep courses like Magoosh or ACT® Online Prep, you'll get a personalized course that focuses on your needs, skills, and schedule. They offer courses in an online platform and via an engaging online classroom. Their tutoring program is tailored just for you and offers from 4 – 50 hours of private tutoring. You can try out their course risk-free for five days to see if you guys make a good team.  They are so confident that their course works, they promise you a four-point score improvement from your previous ACT. See also our Best ACT Prep Course here.
About PrepScholar, Inc.
PrepScholar was founded by Harvard grads Allen Cheng and Fred Zhang because they were discouraged with expensive test prep courses and mediocre teaching. They mastered the SAT and the ACT and created PrepScholar to share their strategies with students motivated to crush the ACT. They only employ expert instructors, all of whom either aced the ACT or were in the 99th percentile. They will motivate you with weekly reports, progress trackers, and customized feedback, ensuring you are totally prepared to take the ACT. You can also check out our PrepSchocal SAT Review here if you're interested.
Pros and Cons
Pros
Four Point Score Improvement Guarantee
Expert Instructors
Student-Centered Syllabus
Cons
Pricey Program
 No Mobile App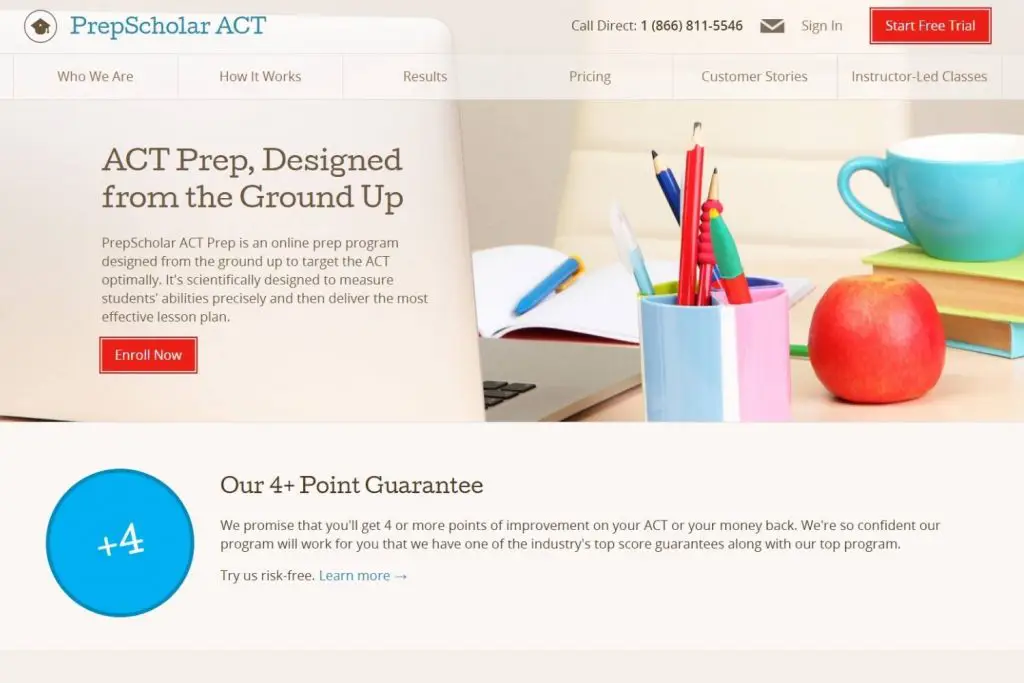 Things to consider before buying
If you want a course that offers expert instructors, the option to complete the course either on your own time or in an online classroom, then you should give PrepScholar ACT prep serious consideration. The course offers high-definition videos, personalized study sessions, and quizzes, realistic practice exams, and access to top-notch private tutors at your fingertips.
Here are some things you should ask yourself before signing up for the PrepScholar ACT prep course:
Do you want to learn from instructors who aced the ACT?
Do you want a course that includes classroom instruction?
Do you want access to a robust private tutoring program?
Do you want a free trial of the course to see if it fits your needs?
Do you want a guarantee that you'll improve your ACT score by at least four points?
If you answered yes to all of these questions, then PrepScholar is the perfect fit for you. Read on to see what features make PreScholar a fantastic ACT prep course.
Features and Benefits
Choice of high-quality programs
The Complete ACT Online Prep course ($397) is a personalized program that focuses on your requirements, skills, and schedule. You'll get 12 months of access to 60+ hours of content, 2,400+ practice questions, dozens of skill lessons, and up to five real practice tests.
Their PrepScholar Class ($895) is a bit pricer, but the results will impress you. The class includes everything you get in the Complete Online Prep Class plus expert-led classes using their innovative live online classroom. You'll be taught by an expert teacher, and have real-live classmates in your online classroom.  If you have a question, just raise your hand, and your teacher will respond—live! You'll get nine hours of instruction in a class that is capped at nine students.
Their Complete+ Tutoring program is tailored just for you. You can choose from 4 – 50 hours of one-on-one tutoring. The tutors tailor their lessons based on your goals and progress. PrepScholar's tutoring program is engaging but well worth the price. Their tutoring programs run between $995 and $6,995.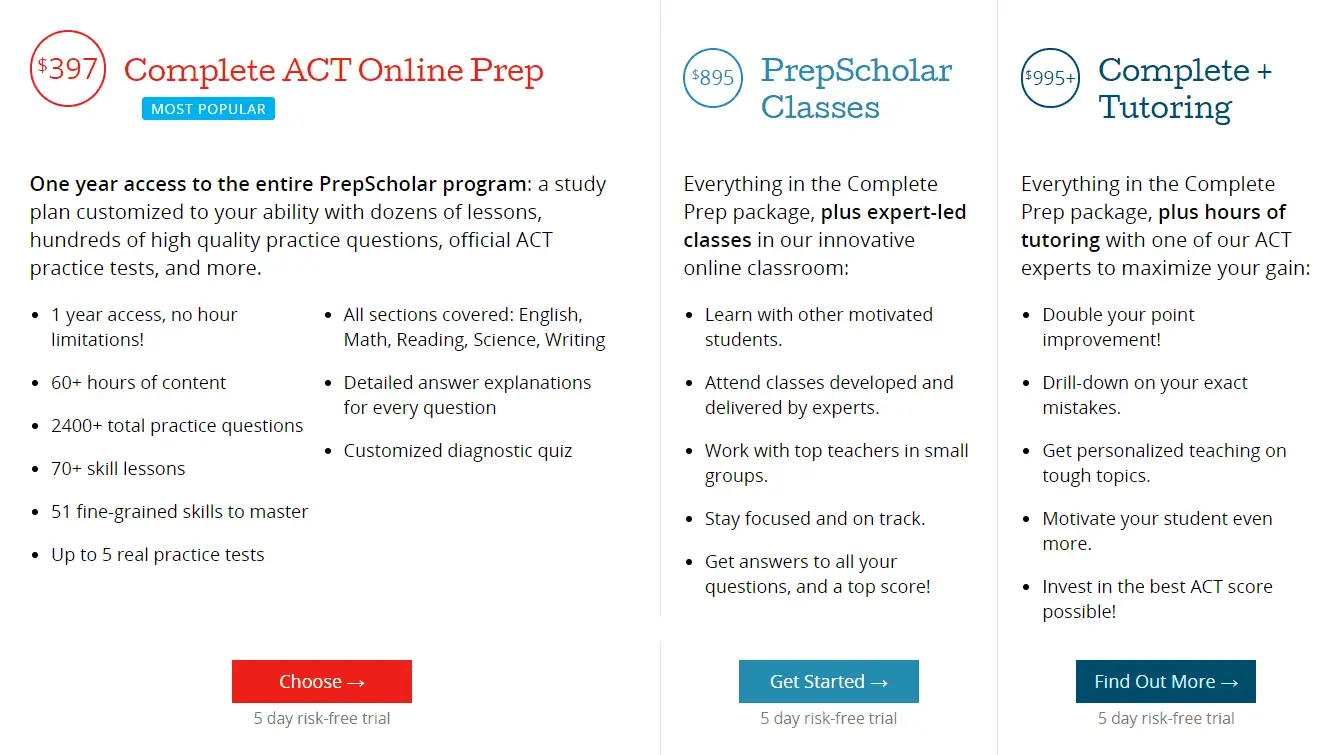 Online classes and homework are tailored based on your progress
After you have taken their diagnostic assessment, you'll get individualized homework assignments and lessons, complete with focused feedback. You can set your own homework schedule, and the course will adjust to fit your progress. Learn from an expert teacher in their online classroom that includes voice, video, and a shared whiteboard. Have a question? Just ask questions and get answers from your teacher. The small classes mean you get real one-on-one help from a teacher who will take the time to get to know you. You'll get personalized homework assignments between classes. So you can put it all together on test day, you'll take timed, full-length practice tests that include feedback on areas you need to review.
What if online classes are not for you? No problem! If, after your first class, you decide it's not the right fit, just email them within 48 hours, and you'll get a refund for the entire class purchase! You can then can continue to learn with their online course.
Programs customized just for you
PrepScholar's course software will find out your skill level and design a custom program tailored to your learning level. If you're strong in math, you'll get harder problems. If you're weak in science, they'll give you easier ones. Their programs will challenge you and provide you with efficient study sessions. In the end, you'll get a higher score for every hour you put in.
They will design a customized study plan unique to you. It will focus first on your weaker skills and as you progress, questions will match your skill level. If you're not making progress in an area, they will assign you easier lessons so you can take smaller steps. Once you have mastered a subject, your skill level is upgraded.
Their customization technology makes sure that you're always spending time on the areas where you'll get the biggest ACT score improvement.
You'll learn from your mistakes
To ace the ACT, you'll have to learn from your mistakes. Every practice question has a full explanation of the answers so you can work step-by-step through even the most challenging problems and master that skill. They use the strategies taught in your lessons so you can use them when you take the exam. Many lessons include high-quality videos that show you not only the content but the strategies you'll need to get the highest score you can on the ACT. These videos complement their interactive lessons, thoroughly explaining even the hardest concepts.
They get you in "test-ready" shape
PrepScholar ACT prep teaches you more than how to master the subject. They integrate previously given full-length, timed, ACT exams into their program. This helps you in a couple of ways:
You'll get used to the pacing (it's a four-hour test) and format of the real test.
You'll get to practice applying test-taking strategies that you have learned and which strategies work best with different types of questions.
PrepScholar motivates you to learn
The best way to "stay the course" is to see your progress. PrepScholar motivates you to study by sending you weekly email reports showing you (and your parents) which lessons you have completed and how many hours you have studied. These reports keep everyone up-to-date on your progress. This holds you accountable for your growth. You'll get kudos for a job well done, and warnings for slacking off. Motivation keeps you engaged and ensures you are putting in the hours needed to ace the ACT.
They guide you on your road to ACT success
You're never left on your own to figure out how and what to study. You'll get step-by-step instructions on which lessons to take and when. They suggest when you should be reading lessons, drilling questions, or reviewing your mistakes. You're still free to choose what to work on based on your mood. If you're not feeling up to a math lesson, take a reading lesson instead.
Your study "Dashboard" will show your weekly study plan of assignments (based on your strengths and weaknesses) and contains strategy lessons, quizzes, and practice tests. You can see what's important to work on at any point in time. When a practice test is coming up, the lessons will target what you'll need to cover the week before the exam.
Your progress is tracked
On your journey to crushing the ACT, it's essential to know where you are and how far you have to go to reach your goals. PrepScholar has a suite of tools at your disposal to track your progress. The time tracker shows you how much time you're studying, the skill charts show you how you're making progress over time, and a log documents all of your past work. Seeing your progress will highlight the fruits of your labor and give you the confidence you need to get that high score on the ACT.
40 hours to success
To get the most from the Complete ACT Online Prep, you'll need to commit to a minimum of 40 hours to the program. For example, if you are taking the test in 30 days, you'll spend about two hours a day going through the program. To ace the ACT, it's recommended that you go beyond the minimum. There are 60+ hours of total content, as well as additional questions, and lessons.
They walk you through the course, step by step, so you won't get overwhelmed or stressed out:
First 10 Minutes: Sign up and prepare
First Hour: Take their Smart Diagnostic
Hours 2-10: Get "skilled-up" with eight one-hour lessons (20 min. teach/20 min. quiz/20 min. review)
Hours 11-14: Take a full-length practice test (get your score right away and send in your essay for grading)
Hours 15+: Continue your customized prep (program evolves as you improve)
Final Step: Ace the ACT
In a hurry? Check out our deal here
ACT Prep Course
+4 Point Guarantee and Free Consultation
PrepScholar's tutoring program is world-class
The most effective way to help you increase your understanding/test scores, and motivate you to continue studying, is through one-on-one tutoring. You can add tutoring to your current course by selecting the Complete + Tutoring package. You'll get from 4 – 50 hours of tutoring integrated into your Complete Prep experience. You'll get the best of both worlds: access to their online or classroom programs between tutoring sessions and a live one-on-one tutor to ensure you understand every concept and question. They'll even customize a study plan based on your strengths and weaknesses.
They use the nation's top tutors
Their tutoring program is better because their tutors are better. PrepScholar only hires tutors who scored in the 99th percentile on the ACT. The tutors have mastered all of the material and they can help you do the same thing. Each tutor also has extensive teaching experience in the country's top colleges. This ensures you'll have access to the best tutors around, not just the ones who live nearby.
Tutoring is scheduled around you
We all have busy lives! The tutoring program is designed to fit into your schedule and is extremely flexible. Take your pick! From weekend or weekday to morning, afternoon, or night, they'll tailor your tutoring sessions to accommodate you. If you have an event scheduled or are planning a vacation, no problem. They'll create a study plan that will keep you on track until test day.
Tutoring is face to face, one-on-one
All your tutoring is held online with a live one-on-one PrepScholar tutor. You'll get the most out of each and every session using face-to-face video and a problem-solving whiteboard. Live online tutoring eliminates a commute to the tutoring center or the hassle of fitting a preprogrammed session into your schedule—you set the time and day.
College admissions consultation is included
Included your allotment of tutoring hours is the option of using one hour of one-on-one tutoring into a college admissions consultation session. They will evaluate the strengths and weaknesses of your application. You'll also learn tips on how to handle recommendations and academics so you can get a leg-up on your peers. They will help you with your ultimate goal– getting into your dream college.
5-Day Risk-Free Trial
If you're not completely happy within the first five days of using the prep course, just let them know, and you'll get a full refund–no questions asked. If you enrolled in their tutoring program, the portion of tutoring that has already been completed can't be refunded. The 5-day grace period starts after you submit your completed diagnostic test.
Just so you know, unlike most other ACT prep trial offers, you'll have to give them a credit card number to sign up. If you don't cancel before the trial period ends, they will charge your credit card for the full amount of your course.
A 4-point score improvement guarantee or your money back
PrepScholar is so convinced that you'll improve by using their program, that if you don't increase your score by at least 4 points from your last ACT, they'll give you your money back. What do you have to lose—you'll either get the score you want or free ACT test prep.
Is PrepScholar any good?
We have searched the internet and discovered that students and parents are thrilled with the results that the PrepScholar ACT prep program delivered. Here's what people are saying about their ACT prep course experience:
In a hurry? Check out our deal here
ACT Prep Course
+4 Point Guarantee and Free Consultation
Conclusion
As you can see, PrepScholar is an ACT test prep course that offers it all: a great online program, impressive live -online classes, and one of the best tutoring programs on the market. They hire the best instructors and tutors in the country and personalize their course to focus on your needs, talents, and schedule. You'll also get their promise of a four-point score improvement, and plenty of practice to make sure that you are ready when test day arrives.
Even though their program is a bit more expensive than other ACT prep courses on the market and doesn't have a mobile app, their impressive results speak for themselves! According to the College Board, PrepScholar student's scores improve 4.1 times higher than the average student in the country. Try it out for yourself by signing up for their 5-day risk-free offer and decide if PrepScholar is the right fit for you.
More ACT Article Reviews