Is Manhattan good for GRE prep?
Manhattan Prep holds its own with leaders in the GRE prep companies like Magoosh and Kaplan. All of their instructors scored in the 99th percentile on the GRE and have extensive teaching experience. Their comprehensive online GRE practice problems are written by their instructors, based on actual test questions. On the downside, Manhattan does not offer a money-back guarantee like Magoosh, but they do claim to have the most qualified instructors in the business.
In a hurry? Check out our deal here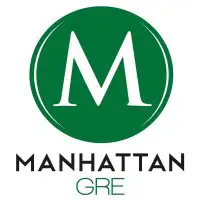 GRE Prep Courses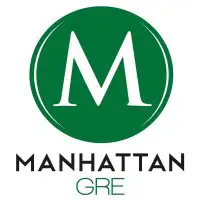 Manhattan Prep have some of the best GRE Prep courses available
About Manhattan Prep
MG Prep, Inc. (Manhattan Prep) is a test preparation company founded in 2000 by Zeke Vanderhoek, a former New York public school teacher and founder of the TEP charter school. Manhatten's focus is on test prep for the GRE, GMAT, and LSAT.
Pros and Cons of Manhatten GRE Prep
Pros
Comprehensive Course Materials
Video Lessons on the Go
Realistic Practice Tests
Quality Instructors
Cons
No Refund Policy
No Free App
No Score Increase Guarantee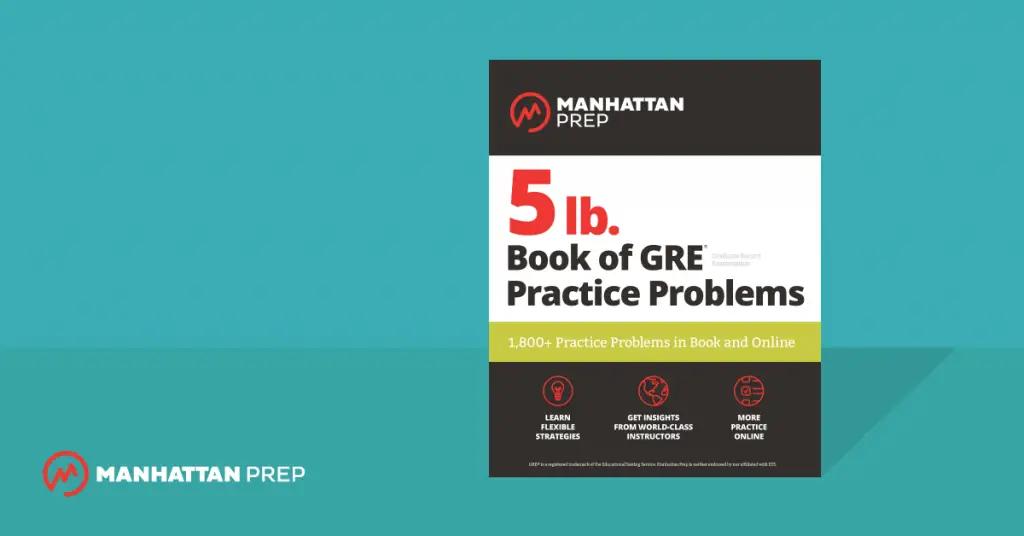 Things to consider before buying
Manhattan is a comprehensive GRE online prep course that offers a wide variety of learning platforms. If you want the option of working with an actual instructor and like the choice of owning hardcopy course materials and access to live video lessons, then Manhattan is the right choice for you. Manhattan GRE offers excellent study materials, realistic practice problems, knowledgable instructors, and a huge selection of free resources.
Read more on our the Best GRE Prep Course here.
Here are some things you need to think about before you buy the Manhattan prep course:
Do you want to have the option of having a book of GRE practice problems?
Do you want a free trial of the course to see if it fits your needs?
Do you want a course that includes classroom instruction as well as an online course?
Do you want instructors that aced the GRE?
If you answered yes to all of these questions, then Manhattan is the right course for you. Read on to see what features make them stand out from the rest.
Features and Benefits
All-Inclusive Study Materials
Manhattan Prep GRE shines in this area. They offer you tons of in-depth study material for every section of the GRE. The InteractTM (self-paced) course gives you access to 27 hours of video lessons, strategy guide books for each area of the exam, and six practice exams.
In addition to everything contained in the self-paced course, the Complete Course includes nine sessions of live classroom or live online instruction, totaling 27 contact hours.
Flexible Tutoring Packages
With Manhattans tutoring packages, you'll get personalized expert instruction, either in-person or online. Their instructors will help you ace the GRE.
Here are their hourly customized tutoring packages:
30 Hours (includes all books and resources) $225/hour
20 Hours (includes all books and resources) $230/hour
10 Hours (includes all books and resources) $245/hour
Hourly Rate (2-hour minimum) $255/hour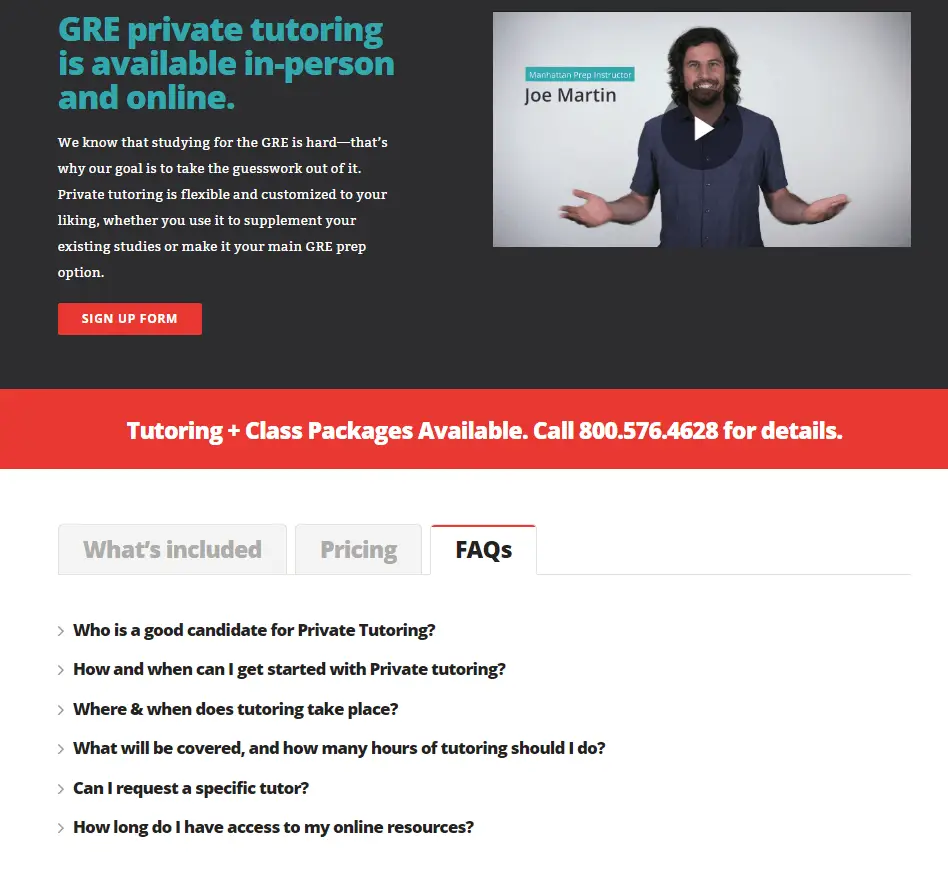 Free Stuff
Manhattan prep is known for its free GRE study materials, including a full-length computer adaptive practice exam, challenge problems, flashcards, and twice-a-month online study, tips, and study tools, which are available on the Manhattan Prep GRE website. To see if you want to sign-up for the Complete Course, you can sit in on any in-person or live online class for free. You can see how their classroom instruction sessions work and then decide if the course is right for you.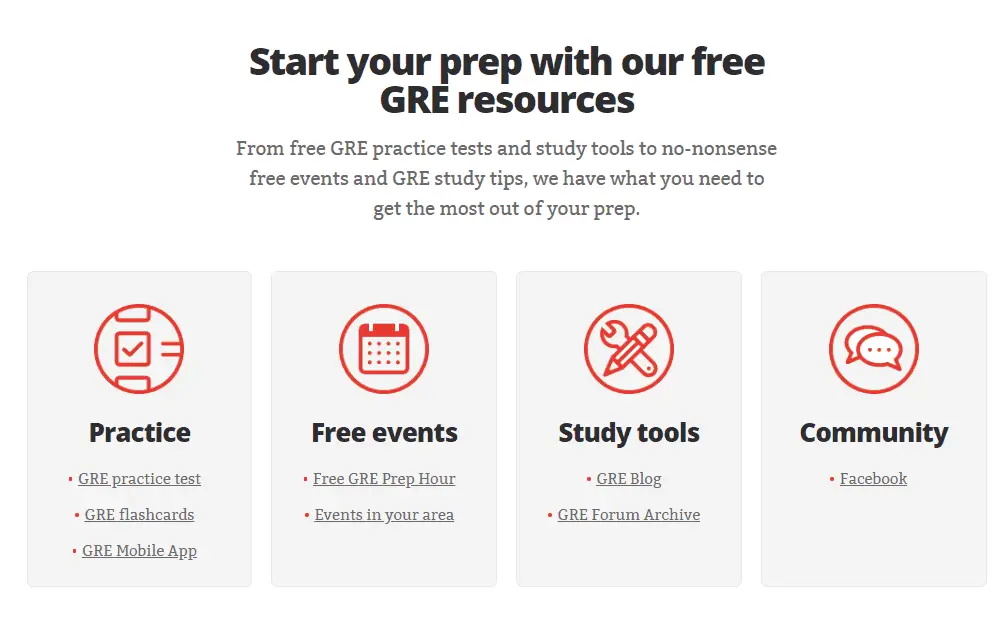 In a hurry? Check out our deal here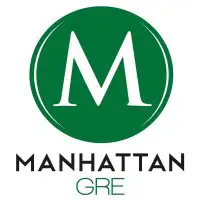 GRE Prep Courses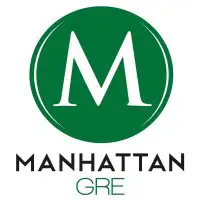 Manhattan Prep have some of the best GRE Prep courses available
Course Options and Flexibility
Manhattan prep is an excellent choice if you want the choice of online and live options. They also offer the best selection of both print and online course materials. You can create a flexible study schedule that takes you through the GRE using study guides, video lessons, and authentic practice exams. Manhattan will gauge what you've learned and guide you to areas that need improvement.
Even though Manhattan does not have an app, you get the option of downloading or streaming the easy-to-follow video lesson from your PC or mobile device. Let's take a look at the course options that Manhatten GRE prep offers:
Interact™ Self-Paced GRE Prep Course
Manhattan Prep's self-paced online course comes in one-month ($249), three-month ($349), and six-month ($399) packages. The course provides videos that are highly interactive and adapt to where you need to focus. The Math and Verbal sections increase in difficulty as you progress through the three levels of learning: Learn It, Drill It, Prove It.
The Interact™ course comes with:
77 interactive and adaptive video lessons.
detailed video explanations.
100,000+ practice problems.
six full-length GRE practice tests.
GRE Complete Course: Online or In-Person
The $1,999 package includes:
8 sessions of classroom instruction, each three hours long.
Daily vocabulary emails.
Six full-length section adaptive practice tests with explanations and assessment reports.
On-demand class recordings to review course concepts.
Manhattan Prep's Complete Strategy Guide Set books.
ETS Official Guide to the GRE book.
You can also get help with just the GRE Match section ($699) or opt for the GRE for the MBA Course ($1,399) if that applies to you.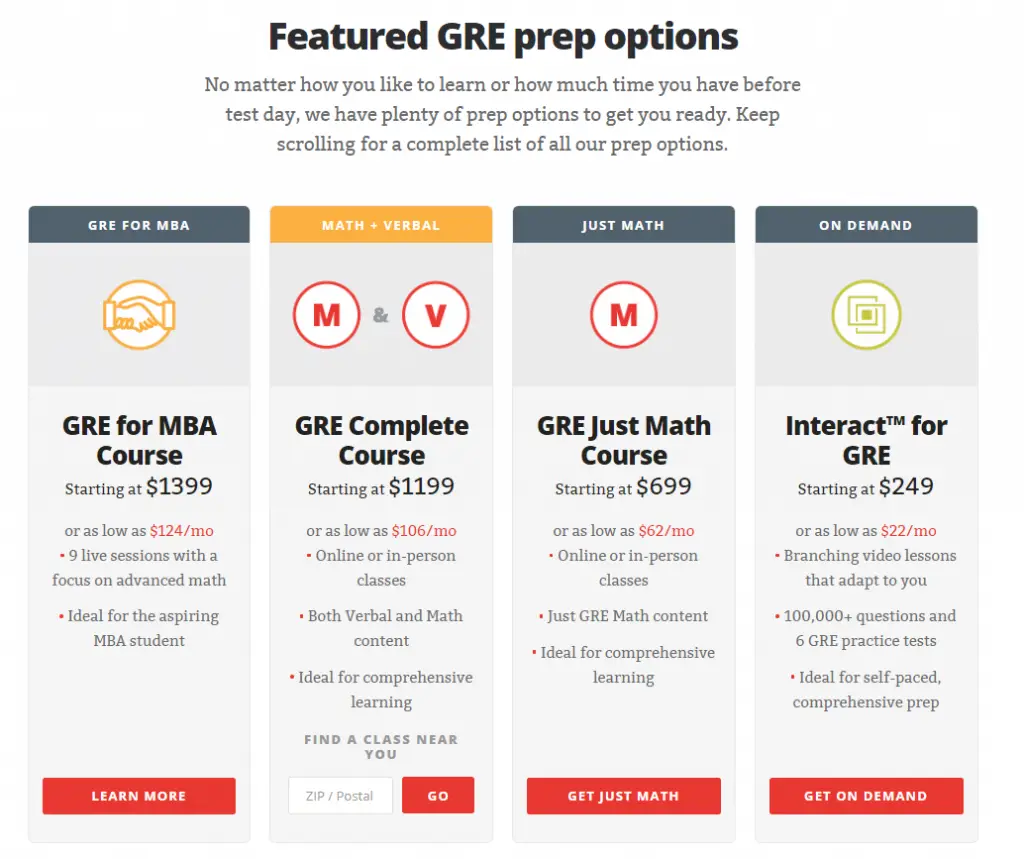 Engaging Classroom Instruction
As we have mentioned, Manhattan Prep is known for its quality instructors. These top-notch instructors really shine in the live classroom classes or on their live online video lessons. They are not only experts, but they are engaging, fun, and teach GRE strategy in a way that stresses test-taking strategy.
For any of you who struggle to learn by reading the text of a lesson, Manhatten's approach to learning through instructor-led lessons is one of their most significant strong points.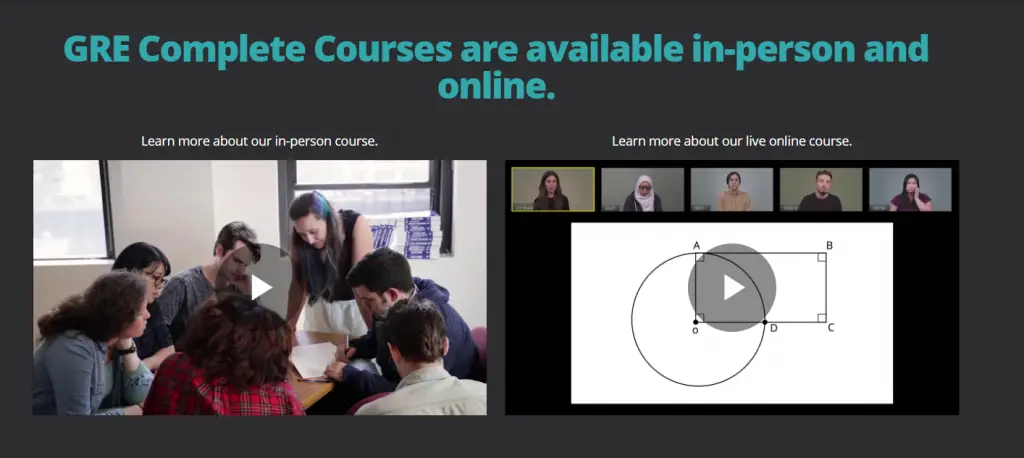 Realistic Practice Tests
Manhatten's in-depth lessons and top-notch study materials lay the groundwork for your ultimate goal—the best score on the test possible! How do you know if you are making progress? You take a practice test and Manhatten GRE claims to have some of the best on the market. You'll get six complete practice exams with questions that are really close to those on the actual test.
Like the GRE itself, their practice exams are section-adaptive. You can jump around within each section, and your scores on that section determine how hard questions in the next section will be. Your practice test also includes a detailed report breaking down your performance in different areas of the exam.
The report will give you solutions and explanations for each test question. You can see where you went wrong, and the report shows you the solutions and explanations for the correct answer. You can also see where your strengths lie so you can focus on your weaker areas.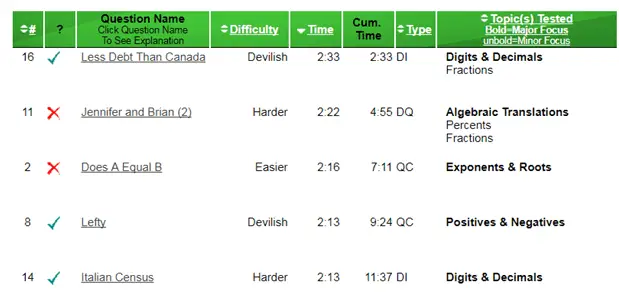 Is Manhattan Prep Any Good?
We have searched the internet on found that there are plenty of Manhattan fans out there. Here are some great things that students are saying about the Manhattan GRE prep review: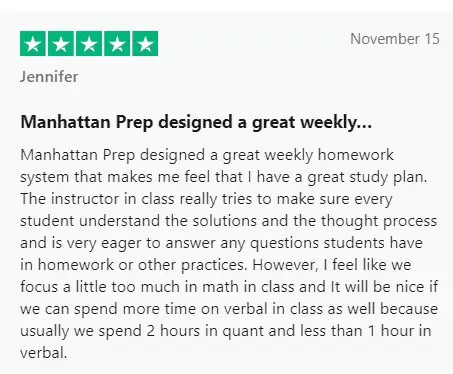 Alternatives to Manhattan Prep
The best way to choose a GRE prep review product is to see how it stacks up to its competition. Let's see how Manhatten compares to other products on the market.
Magoosh
Manhatten offers a more robust range of study materials, as well as the option to have live instructors or online video lessons. Magoosh is 100% online and self-paced and offers fewer practice exams than Manhattan. Magoosh is much more "budget-friendly" than Manhattan and provides a guarantee to increase your test score or your money back.
Kaplan
Manhattan and Kaplan both offer physical resources in their packages. Manhattan gets the nod to a more comprehensive approach to GRE prep books with a set of eight study books covering all aspects of the test and the 5lb. Book of GRE Practice Problems, all available to help you prepare for the actual test. There are also flashcard packages to help study vocabulary or math. Kaplan does have an app that provides a better flashcard experience than Manhattan. Check out our full Kaplan GRE Prep Review.
See our post here for a full breakdown of the Best GRE Prep Book.
Princeton Review
Princeton Review and Manhattan have very similar online practice tets questions, number of practice tests, quality of instruction, and price-point. Princeton Review does have a score increase and money-back guarantee that you can't get with Manhattan. Manhattan does a better job of tracking your progress through the course and offers hard copy course materials that you can't get with Princeton Review.
In a hurry? Check out our deal here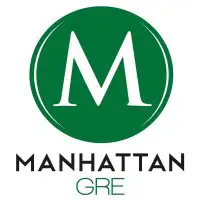 GRE Prep Courses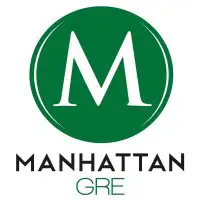 Manhattan Prep have some of the best GRE Prep courses available
Conclusion
Manhattan Prep is an excellent choice for GRE review. They have a large staff of very qualified instructors and offer the course across a wide variety of platforms, from classroom instruction to a self-paced online course. Manhattan does not offer the value and flexibility of Magoosh, but you do get the chance to try the course for free for seven days, risk-free. Manhattan's GRE prep books, authentic study materials online platform, and adaptive practice tests are the biggest reasons you should check out Manhattan Prep GRE.