Getting your hands on the right MCAT prep course can mean the difference between getting into med school or coming up just short. The path to medical school is not easy, so you'll have to put in countless hours prepping for one of the most significant steps to becoming a doctor.
If you want to crush the MCAT on your very first try, you might want to give Blueprint MCAT a try.  The Blueprint MCAT (formerly Next Step MCAT) is a hybrid program that blends live online and self-paced learning options into one platform.
The Blueprint MCAT prep course takes a direct approach to learning, making the most out of its practice tests, offering you a great value, and an overall amazing MCAT prep course.
In this Blueprint MCAT prep review, we'll take an in-depth look at what you will get by enrolling in the Blueprint MCAT Online Course.
We will also outline all of the features that make the Blueprint MCAT prep course a course that needs genuine consideration as you research the MCAT prep course that's the best fit for you.
If you're looking for the Best MCAT prep courses overall then check out our post here.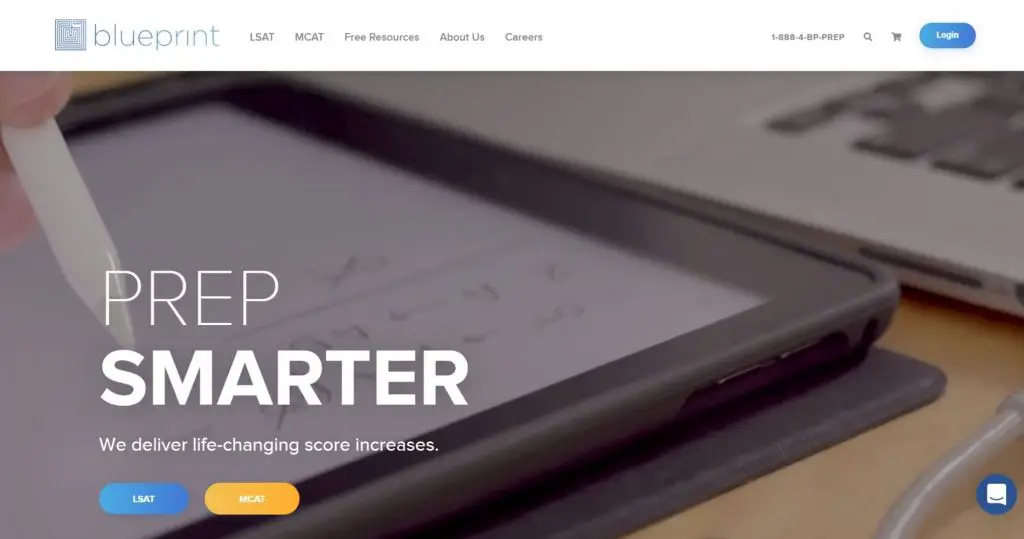 Is Blueprint the Best MCAT Prep Option?
Blueprint is one of the best MCAT prep options on the market. It's highly customizable and offers live online office hours five hours a week—at no charge! There are hundreds of on-demand video lessons so you can really tailor your study sessions. Blueprint teaches you how the MCAT works so you will be really prepared and have the confidence to ace the MCAT on test day. Their courses now offer full-length practice tests. Blueprint is so sure of their course that they guarantee that your score will increase or give you your money back.
About Blueprint MCAT (formerly Next Step MCAT)
Blueprint was founded by skilled test prep instructors on a simple idea–you learn better when you're having fun. After more than 15 years in the test prep business, Blueprint is one of the biggest and best test prep companies in the country. When Blueprint merged with Next Step Test Prep, they brought their advanced technology and content delivery tools to Next Step's stellar MCAT content and strategies. Their online course was created by 524+ scoring instructors and 50+ of their tutors have scored 520+ on the MCAT. Their team has put together an entertaining and effective MCAT prep course for students all over the world.
Blueprint MCAT Prep Course Pros and Cons
Pros
Strong analytics
MCAT review books
Awesome drag-and-drop Study Planner tool
Highly engaging and interactive video lessons
Lots of course bundles to pick from
Easy to use online platform with a mobile-friendly app
Unlimited 2-hour live office hours
Cons
Pricing options a bit higher than other top online live courses like Princeton Review
Some of the answer explanations don't explain why the answer is considered wrong
Some grammar errors in practice exams
Subject review books are not as useful as practice lessons
Features and Benefits
A Wide Choice of Course Options
Live Online Course
Blueprint's six-month Live Online Course will run you $2,499 or just $416.50/mo. The great thing about the Live Online Course is that it combines the accountability of a structured live class with the flexibility of an online course. Classes include 40+ hours of live instruction (split over 16, 2.5 hours lessons) taught by two 99th percentile MCAT instructors five days a week. Classes are dynamic, engaging, and fun! You'll get a customized day-by-day study plan, unlimited class reschedules and retakes, a higher score guarantee, and unlimited 2-hour officer hours—live.
Here is what else you'll get with the Blueprint Live Online Course:
160 learning modules integrating content videos, strategy, and quizzes.
Videos with illustrations and animations to help you stay engaged.
Advanced analytics so you can see what you got right and wrong and help you see underlying patterns.
Tons of AAMC Resources like full-length practice exams, question packs, and the new CARS Diagnostic Tool.
More than 10,000 total practice questions, 15 full-length MCAT practice exams, 6 MCAT content and strategy books, the 2020 short format option, and their 4,000 question Qbank.
Online Course
If you like self-study, then Blueprint's Online Course is your best bet. The Online Course starts at $1,799 for their 6-month plan. You can also choose 9-month ($2,199) and 12-month ($2,499) options as well. With their Online Course, you'll get comprehensive, personalized MCAT prep anywhere, anytime. Blueprint MCAT prep courses maximize the notion of online, on-demand learning by using dynamic, animated videos that will keep you engaged and learning all the way to test day. One great feature of the Online Course is that you don't have to waste time on stuff you already know—just test out of it! You'll get many of the features of the Live Online Course like the customizable study planner tool, great analytics, live-online office hours, their score increase guarantee, and integrated learning modules. Blueprint offers online MCAT prep tailored to you.
Here is what else you'll get with the Blueprint Online Course:
160 Learning Modules with 30 Learning Modules dedicated specifically to teaching strategy and reasoning skills to help interpret the MCAT.
Special emphasis on statistical reasoning and experimental design.
4,000 Qbank questions that feature advanced filtering so you can build and customize your own practice sets.
Six revised and updated MCAT books.
Mobile-friendly format without having to download anything.
A Personalized MCAT Tutoring Program
Blueprint's tutoring programs stack up against all the best programs on the market. They have over 50 tutors with 520+ scores and are experts in teaching you how the MCAT works, helping you prepare for the MCAT. Tutoring is completely customized to your needs and schedule, so they can tailor the best tutoring strategies for you. Tutors team up with Blueprint's advanced Online Course that provides powerful analytics and engaging videos to help you crush the MCAT.
All tutoring plans provide you with the following features:
Personalized study plan Written by your tutor
6 months of access to their MCAT Online Course
Diagnostic Pre-Test
10 full-length practice exams
All online AAMC practice resources
4,000 Qbank questions that feature advanced filtering so you can build and customize your own practice sets.
Here are the tutoring packages offered by Blueprint:
Essential Plan Core
16 hours – starting at $3,200
Completed Over a minimum of one month
Comprehensive Plan
24 hours – starting at $3,999
completed over 2-3 months
Intensive Review
40 hours – starting at $5,899
completed over 3-6 months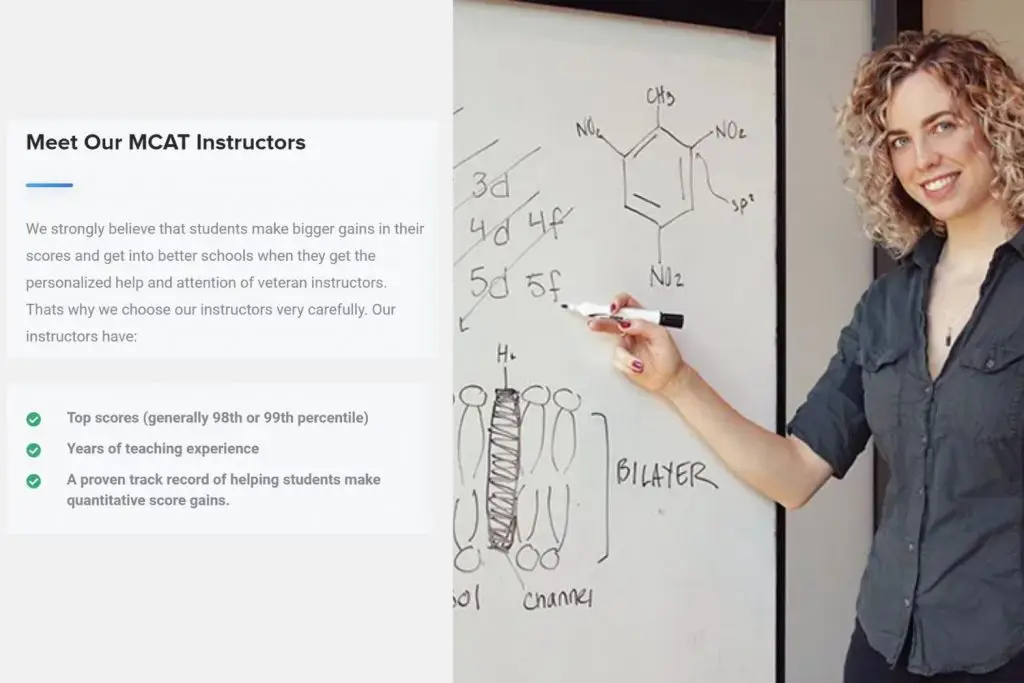 Full-Length Practice Exams
Blueprint offers full-length practice exams that carry the content that made Next Step (now Blueprint) famous. These practice exams are the most comprehensive available (after the AAMC).
All practice test bundles include 6 months of access and:
Blueprint full-length MCAT Exam #1
Five attempts for each practice test
Half-length diagnostic
Study planner tool
Advanced test performance analytics
Here are the MCAT practice tests available to you:
4 Practice Exam Bundle ($99) – Access to  full-length MCAT #2, #3, #4
6 Practice Exam Bundle ($149) – Access to full-length MCAT #2, #3, #4, #5, #6
10 Practice Exam Bundle ($249) – Access to full-length MCAT #2 through #10
10 Practice Exam Bundle + QBank ($399) – Access to full-length MCAT #2 through #10 and the full MCAT QBank (saves you $100 if you bought Qbank separately)
Visually-Stunning and Uniquely Engaging Videos
If you have fallen asleep listening to a lecture, then you'll love Blueprint's videos. They have spent countless hours animating and editing their videos to keep you engaged and learning. Blueprint's videos are designed with illustrations and animations that help you to imagine complex chemical processes and biological systems. Their mobile-friendly format has the look and feel of an app—without having to download anything. The integrated video player comes will controls that you are used to seeing on streaming platforms. You can pick up where you left off, skip forward and control the video speed.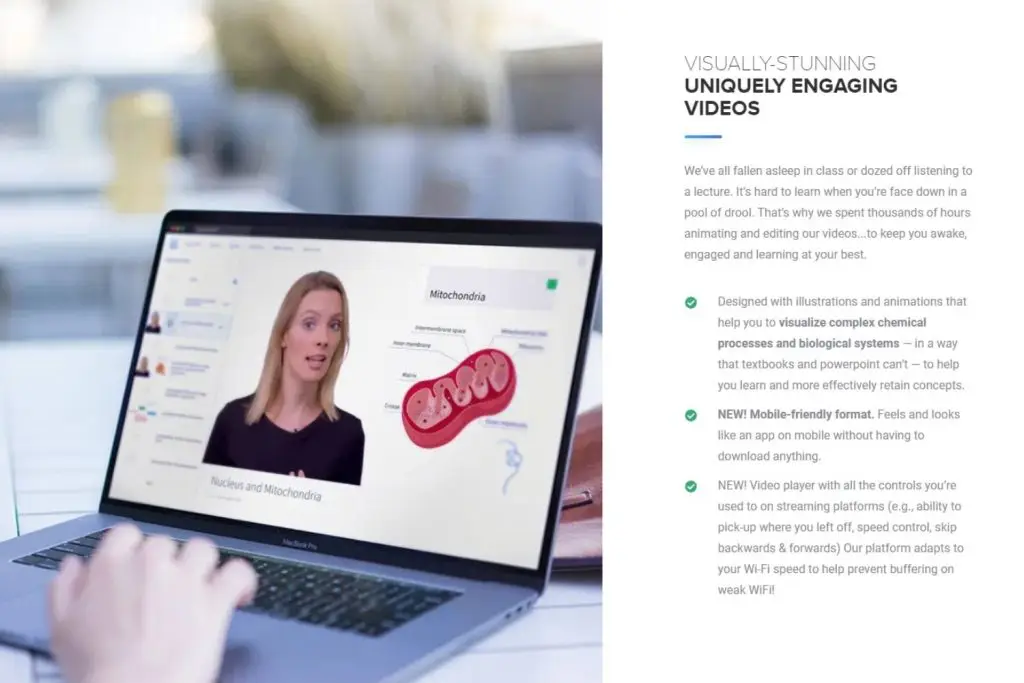 Unlimited Access to Live Office Hours
You'll get unlimited access, five days a week with MCAT Experts. Even if you love to study alone, with Blueprint, you are not alone. If you are enrolled in either the Live Online or Online courses, you will get access to online review sessions (aka office hours) with their best MCAT instructors. During each two-hour session, expert instructors will help you focus on an area of your choosing. They will answer your questions as they take you from confusing to that "aha" moment when it all makes sense. During the sessions, there is "group time" where, as a class, you will work through some of everyone's questions or passages. Offices hours end with an open Q&A on any subject you still have concerns about.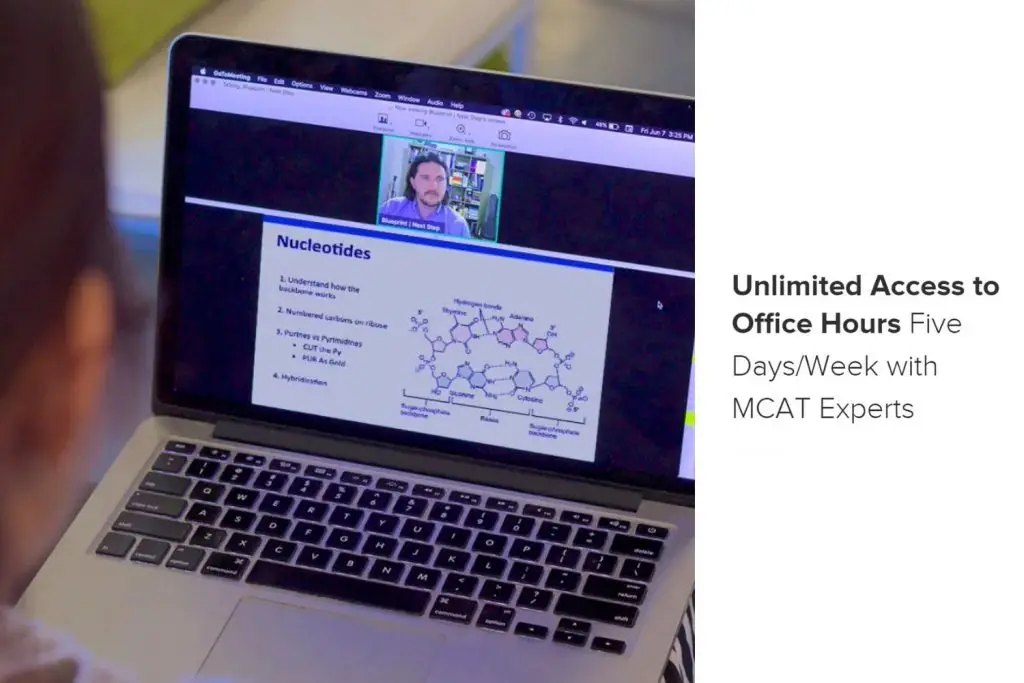 Personalized MCAT Study Plan
Blueprint offers a one-of-a-kind fully-customizable study planner tool that adapts to your schedule. Just plug in your MCAT test date, your study schedule, and they will figure out the rest. They will optimize your study schedule around the days and times you are available. Blueprint's study plan lets you adjust your plan on the fly—in real-time.  Need a break? No worries, just plug in some time off and your study plan is adjusted for you.
Insert Image 6
Hardcopy Practice Materials
Unlike some of Blueprint's competitors, they offer a collection of print course materials to supplement their online courses. All of the online courses integrate with the content of the textbooks seamlessly to complement each other. The series of six books contain:
Five content books total including entirely new Psychology/Sociology, and Physics plus overhauled Biology, BioChem, and Chem/OChem content.
One book on MCAT Reasoning so you can crush both the CARS and science sections.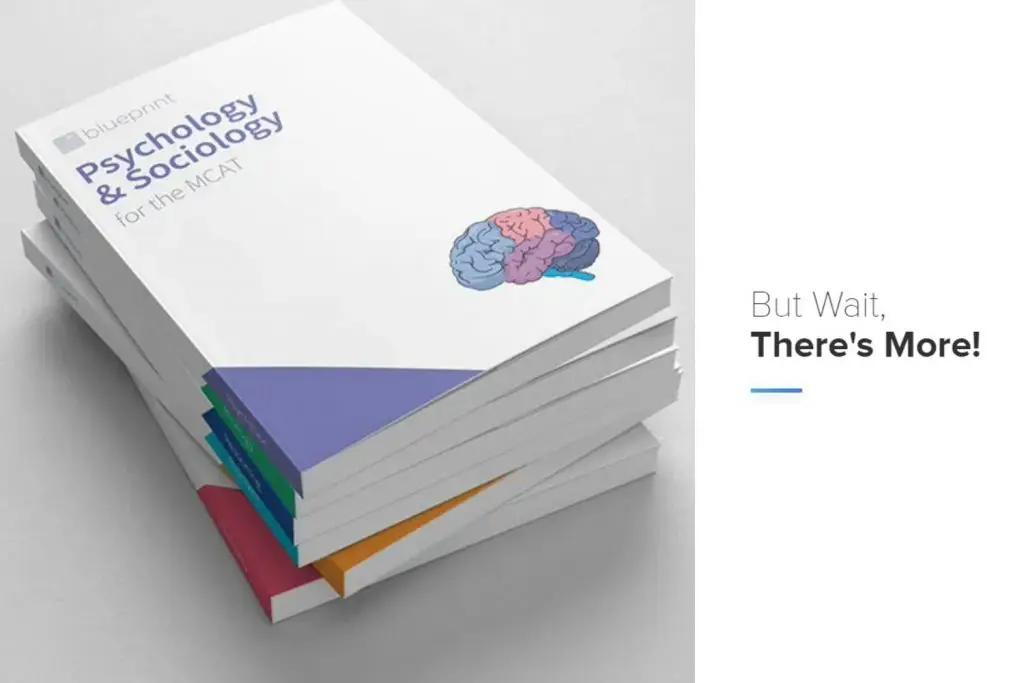 Free MCAT Exam and Other Resources
Blueprint also offers lots of free goodies that give you an insight into how comprehensive that their online programs are. After you see what Blueprint MCAT can do for you, you'll jump at the chance to sign up and being your journey to ace the MCAT.
Here are the freebies:
Free MCAT Practice Exam. Get a free full-length MCAT practice test plus a half-length diagnostic with analytics to diagnose your strengths and weaknesses.
Free Online MCAT Study Planner. Create a personalized MCAT study plan in an instant by just answering a few questions.
Free Sample of Blueprint's Online MCAT Course. Try their Online Course before you buy. You'll get access to seven of the learning modules.
Free MCAT Question of the Day. Hone your MCAT skills with the QoD written by their expert instructors.
Free Events & Webinars. Meet their instructors and tutors in person or through a webinar.
Medical School Admissions Consulting
The Blueprint MCAT prep course also provides guidance and support to take you from respectable med school applicants to remarkable med school candidates. They offer personalized guidance and consulting services from experienced Admissions Consultants. Their goal is to help you get into the medical school of your dreams. Whatever your goals and needs, they have a package suited for you.  Pricing ranges from $1,549 to $6,499.
Score Increase Money-Back Guarantee
Blueprint stands behind their product—no questions asked! If after you have completed the entire Blueprint MCAT course and don't get a higher MCAT score than your last attempt, Blueprint will give you a full refund or compensate you with additional access to their online course. You'll have to offer proof of your last test score to qualify for a refund. For full details, check out Blueprint's website.
Here are their guarantees:
MCAT Live Online (6 Month+ Plans)
If you don't increase your score you may be able to receive another 6 months of MCAT Live for free or receive a full refund.
MCAT Online Course 6-12 Month Plans 
If you don't increase your score you may be able to receive another 3 months of access for free or receive a full refund.
Tutoring
If you don't increase your score you may be able to receive two free tutoring hours with a premium tutor or admissions consultant. You will also get extended access to their online resources for the rest of the testing cycle.
Free Practice Account
To see if the Blueprint MCAT course is the best fit for you, they offer a free practice account.  You'll be able to get a head start on the MCAT without paying a dime.
Here are the highlights of what is included in their free practice account:
Half-length diagnostic MCAT (to provide you with a baseline)
Full-length practice exam (with answers, explanations, and analytics)
Seven learning modules (one from each subject area)
Preview of their Study Planner tool
Question of the Day emails and content review videos
Blueprint MCAT Blog
Blueprint created their MCAT blog because they believe so strongly in the motto "education first." The blogs are written by the same experts who write their MCAT book, course materials, and practice exams. Expert professional and industry-expert guest contributors also chime in to make sure that you are getting current, relevant, and accurate info. Check out this free MCAT resource to learn about specific subject changes and general info about the MCAT.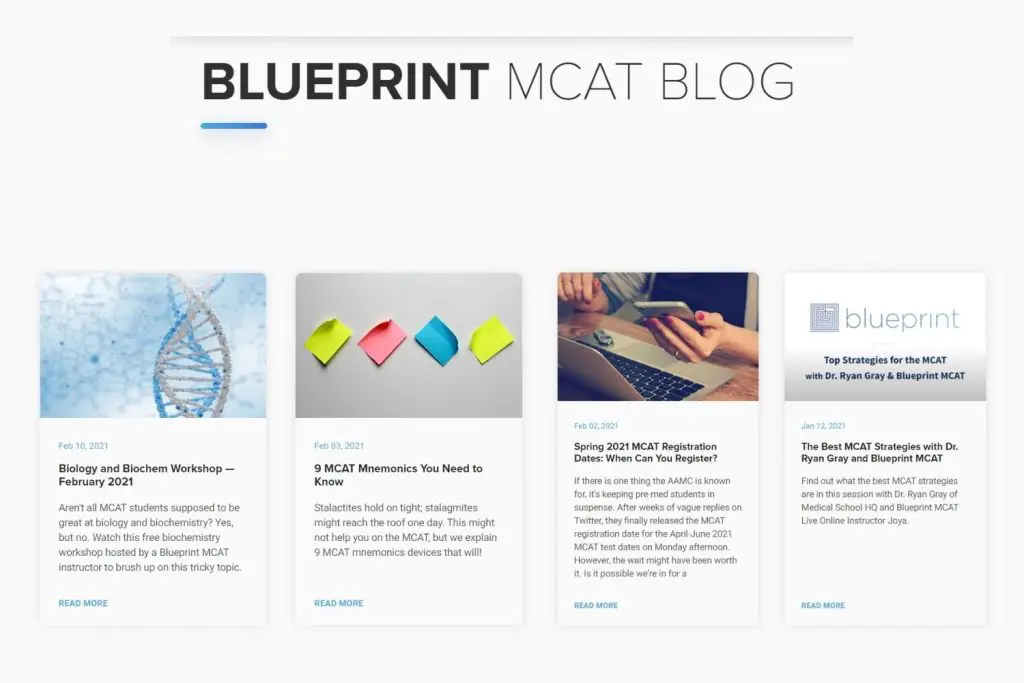 Is Blueprint MCAT any Good?
The best way to find out the worth of any MCAT test prep course is to see what past students have said about their program. Here are just a few testimonials from past Blueprint learners who praise the merits of their MCAT course: