You have to jump through lots of hoops to get into medical school, and crushing the MCAT has to be high on the list. We have provided you with many articles on ways to get a high mark on the MCAT, from the best online prep courses to reviews of individual MCAT products to the best prep books on the market. In the end, it all boils down to how comfortable you are when you sit down on test day to take the exam. We think that one of the best ways to gain confidence on the exam is by taking as many (to a point) full-length practice MCAT tests as you can.  But you have to be careful because some tests are inherently better than others. Gathering the best practice materials is one part of test prep where you don't want to cut corners.
Full Length Practice Test

10 Practice Exam Bundle + QBank

$35 per exam
$268.80 for on-line bundle w/14 products

Full Score and Detailed Answer Explanations

AAMC MCAT Official Prep products are written by the same people who write the questions for the actual MCAT exam

Their QBank of 4,000 Passage-Based and Discrete MCAT Practice Questions with Full Answers and Answer Explanations with Advanced Analytics

Practice tests come free with the purchase of their prep book

Practice and simulated test modes

Challenging questions make you study harder
You can also visit our Best MCAT Prep Course post here.
What makes a great MCAT practice test?
Most full-length MCATs are sold in packages. You can find printed practice exams in a prep book or, more commonly, as an online resource. We have found that high-quality practice tests focus on high-yield subjects. These are the topics that are probably going to be on the actual exam. The best practice MCAT tests also are realistic, have well-written practice questions (follows the form and pattern used by the Association of American Medical Colleges (AAMC)), and offer quality answer explanations. Other considerations you might consider include price and delivery format.
In this article, we've compiled a list of the five best MCAT practice tests on the market. We based our review on quality, price, and extra features. Read on to find the best practice tests you'll need to take to crush the MCAT and get into the medical school of your dreams.
What's on the MCAT?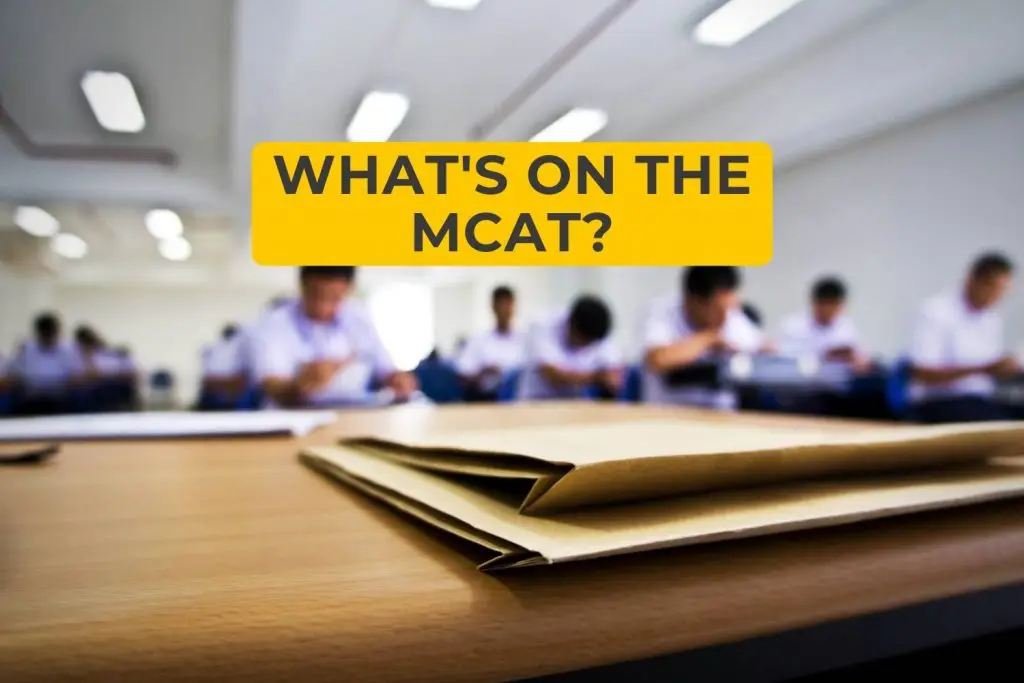 The MCAT is created and developed by the AAMC and is administered in testing centers all across the U.S. and Canada. It's a computer-based exam containing 230 multiple choice questions divided into these four sections:
Biological and Biochemical Foundations of Living Systems (59 items, 95 minutes)
Chemical and Physical Foundations of Biological Systems (59 items, 95 minutes)
Psychological, Social, and Biological Foundations of Behavior (59 items, 95 minutes)
Critical Analysis and Reasoning Skills (53 items, 90 minutes)
The MCAT tests your aptitude and command of the covered subjects to get into medical school. Most of the questions will be passage-based, and its complexity sets the MCAT apart from most standardized tests. You'll have to synthesize information and choose the correct answer based on only your knowledge and the passage itself. Another reason the MCAT is the most challenging exam out there is its length. The total seated time is over 7 ½ hours, making it both mentally and physically demanding. For most students, it's not long enough. Not many students complete all the sections in the allotted time, especially the CARS section.
This sounds intimidating, right? But if you take enough of the right MCAT tests, you will get through test day in one piece and with a fantastic MCAT score.
When should I start taking practice tests?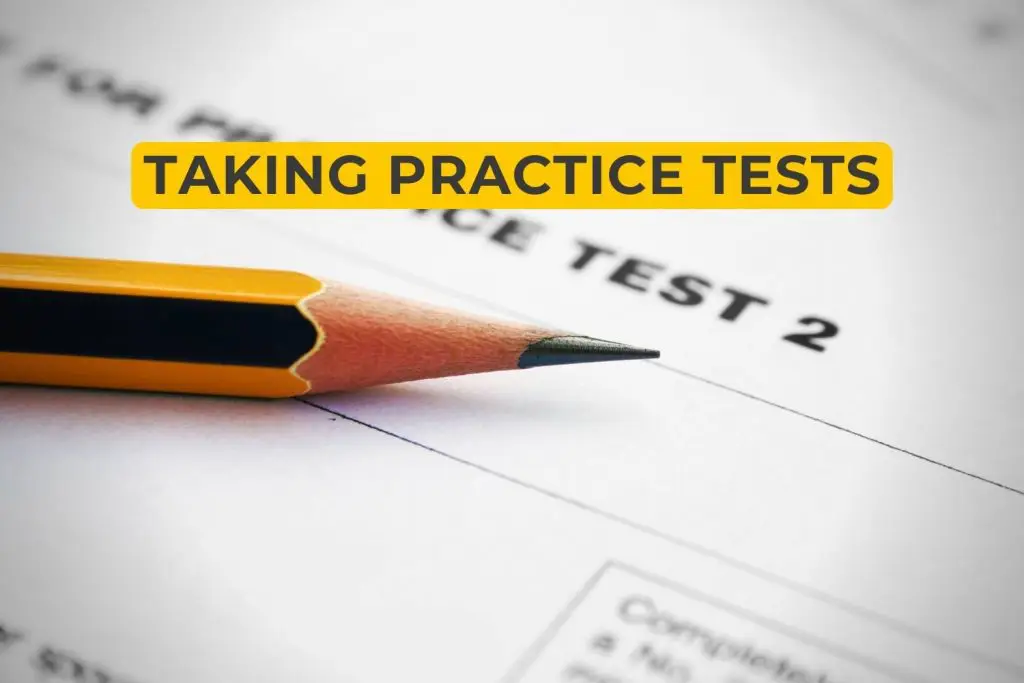 Before we answer that, let's look at the best way to prepare for the MCAT. Most experts agree that your prep should be in three phases:
Reviewing content
Taking practice tests
Reviewing questions from the practice tests
Okay, it seems simple, right? You review content and then take full-length MCAT practice tests. This is probably the most ideal way to prepare for the MCAT. One of the most proven techniques is to start taking the exams halfway through your allotted study schedule. For example, if you have six months to study, start taking MCAT practice tests at three months of reviewing content. If you have four months, start testing at two months. We don't recommend attempting the MCAT in one month.
Your first full-length practice test
You might not be "test-day ready" on your first practice exam, but by the time you have gotten ten practice tests under your belt—you will be! Don't worry, the score of your first practice test will be bad—but so is nearly everyone's.  When you start off at a low score, you have more incentive to raise your score each time. A bad first score does more good than harm.  You go into your second round of studying carefully and feeling more humble.
How many full-length practice tests should I take?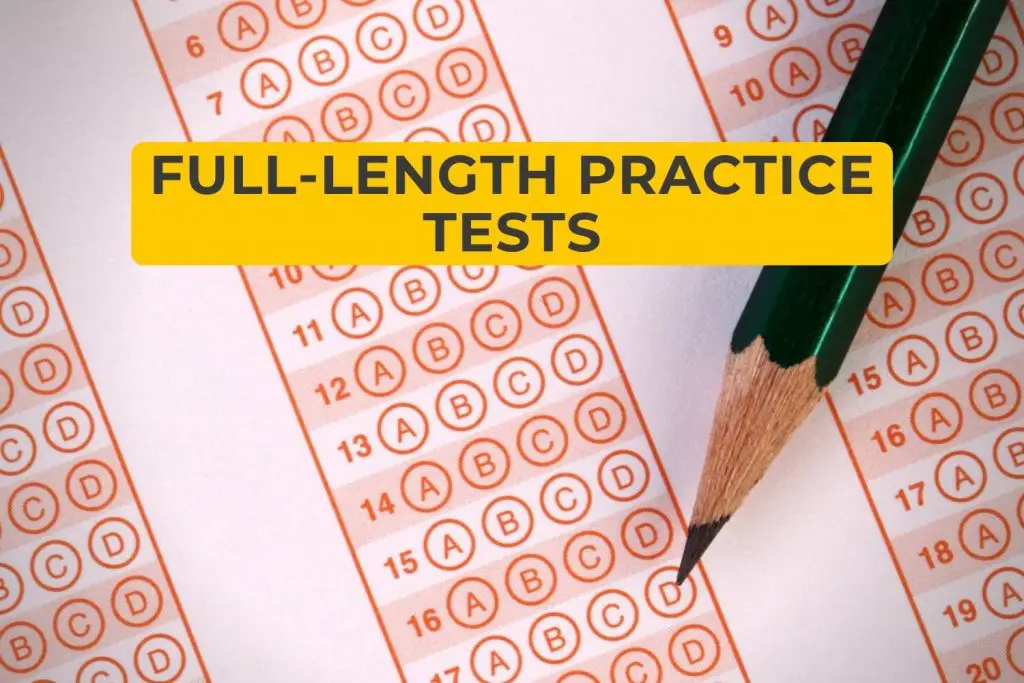 We recommend that you take at least 10 exams before test day. Your best bet is to the AAMC practice tests plus two other testing companies.  You can use our chart of the best MCAT practice tests to determine which tests appeal to you most. The idea here is variety. Going through as many questions as you can from different experts will give you more exposure to practice questions. If you only take practice tests from one company, and their logic is flawed, then you're sunk.  Your first practice test should be the AAMC MCAT. It's best to start with the official questions. The logic is that you should see what the official questions look like to have a standard to compare to other tests. You can then space out practice tests from other companies (with a couple more AAMC tests as well) and end with an AAMC official test. You should take at least five full-length exams under test-day conditions. Start in the morning, take breaks in between exam sections, read and analyze the passages carefully, and answer the questions as if this was the actual exam.
The MCAT Practice Test at a Glance
Association of American Medical Colleges (AAMC)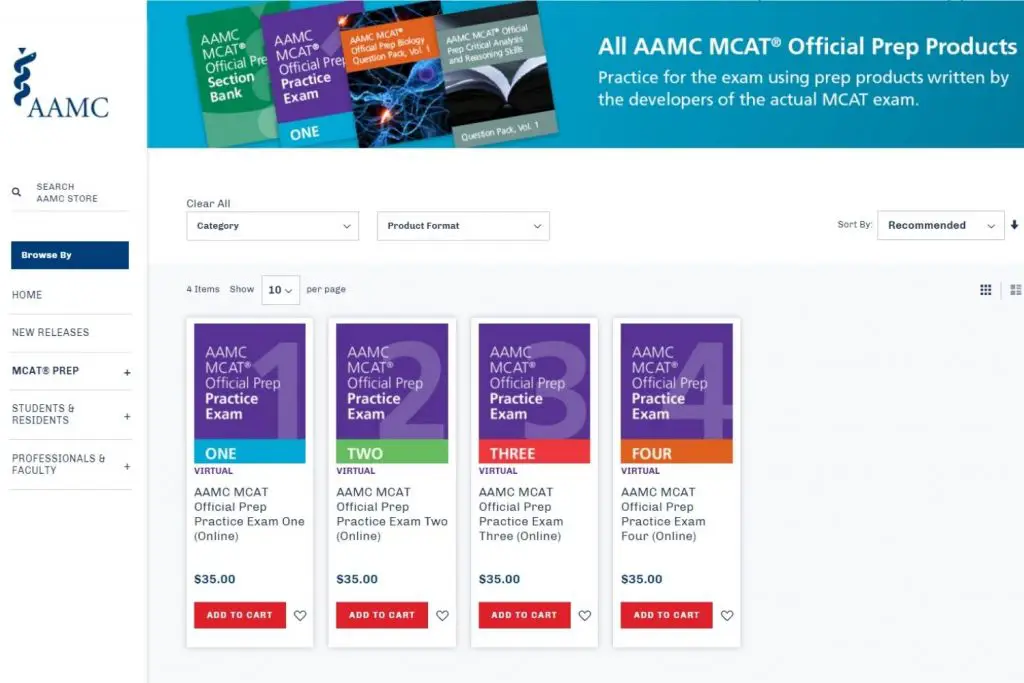 The AAMC practice exams are definitely the best among all comers. That's because AAMC is the organization that facilitates the MCAT and are the very people who write the questions for the exam. So logically, AAMC official practice tests include almost identical questions to those you will find on your exam. The AAMC practice tests are so good that we recommend using them first and fill in with practice tests from other companies. The only weakness with AAMC is that they do not release many practice exams (only four are available). Make sure that you bookend your practice test sessions with AAMC practice tests so you don't take the same tests all in a row.
Each test has 230 independent and passage-based questions that allow you to use options that the real test includes, like strikethrough and highlighting. After you take the MCAT test, you'll get a scaled score and your percentile rank for each section, so you know what areas you need to put more effort into. You can buy each exam separately for $35 or in a bundle for $268 that comes with question banks and flashcards.
Pros
Questions are written by the people who write the real MCAT
Same level of difficulty as the actual MCAT test
Strong CARS section
Best if used with other practice tests
Cons
Limited number of practice tests
Don't explain why the other answers are wrong
Examkracker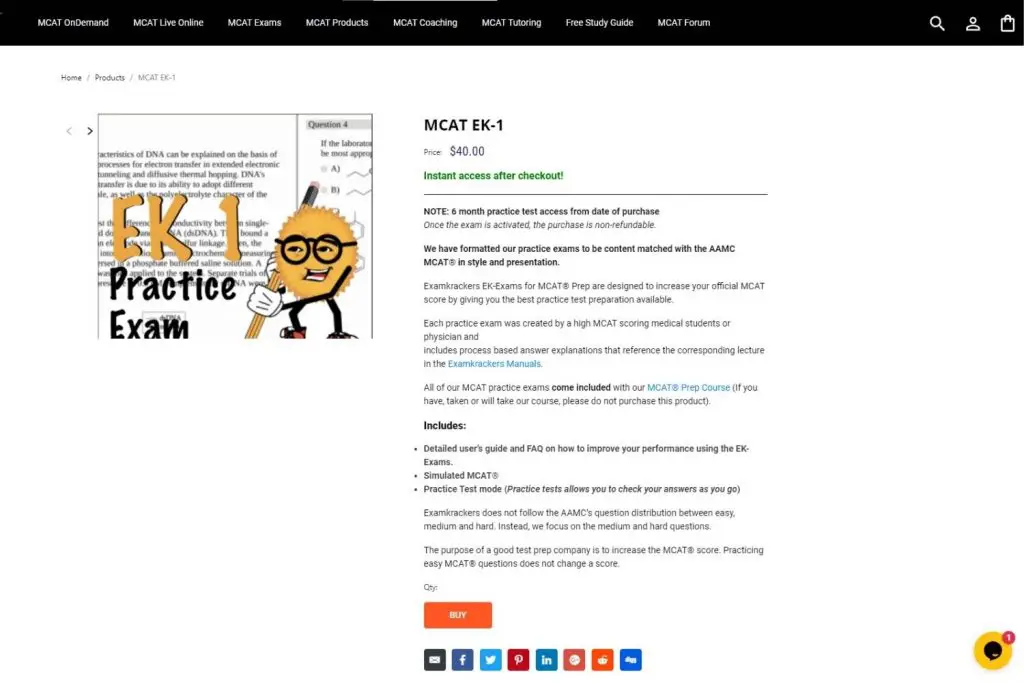 If you want to be challenged on your practice tests, then Examkrackers should be on your list of practice tests to buy. If you take all six of Examkrackers practice tests, the MCAT will seem much easier than if you went with practice tests that did not challenge you and lulled you into a false sense of security. The authors of the tests are high-scoring medical students or physicians who purposely focus on medium and hard practice questions. Each online practice test comes with six-months of access and costs $40, or you can get the six-exam bundle for $200. A great feature is that while you are taking the sample test, you can check your answers as you go. Besides this practice mode, there is a simulation test that mirrors exam day conditions, timing, and scoring. This way, you will know your strengths and weaknesses before you take the actual test.
Pros
Passages test your critical thinking skills
Questions are harder than other practice tests
Offers practice and simulated test modes
The test is similar to the AAMC format
Cons
Some answer explanations refer to their prep books, which can be confusing
Your score will be lower than the actual exam
Blueprint (formerly Next Step)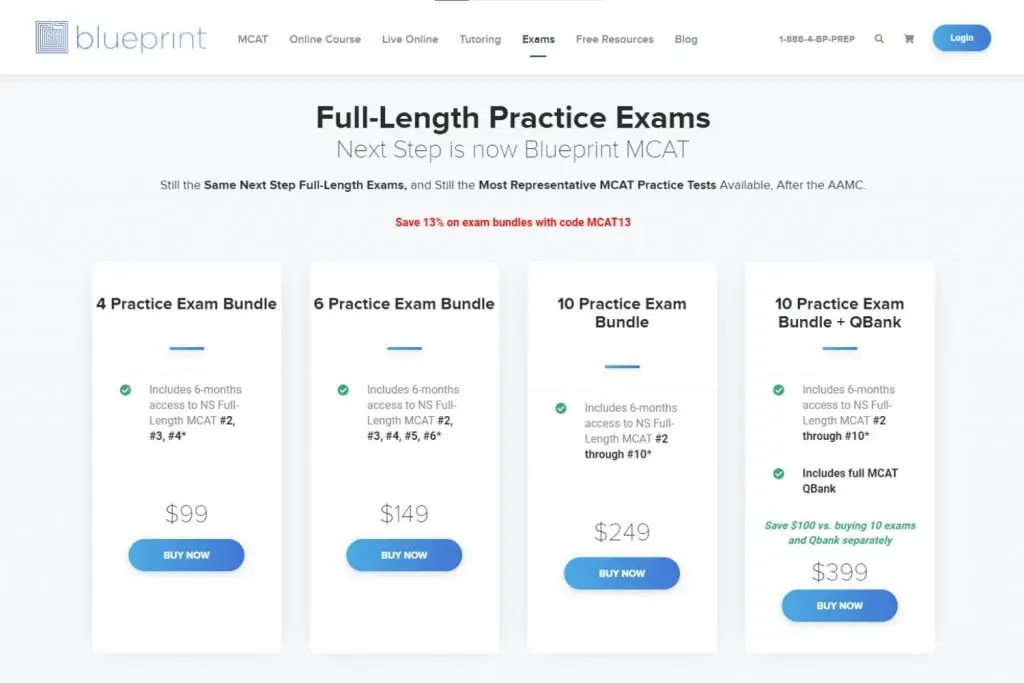 Blueprint was founded by skilled test prep instructors and is one of the biggest and best test prep companies in the country. When Blueprint merged with Next Step Test Prep, they brought their advanced technology and content delivery tools to Next Step's stellar MCAT content and strategies. Those expert MCAT instructors have developed the next-best practice tests after AAMC. A great feature of their online practice tests is that their interface is very similar to the actual MCAT exam. We want to warn you that Blueprint's practice tests are hard, maybe harder than taking the MCAT itself. But many students like to be challenged, and it's good practice. Their science and psych questions are some of the best around, but they need to work on their verbal sections (a bit convoluted). The tests are not as expensive as AAMC. You can get a four-test bundle for $99, or go all out and buy their 10 Practice Exam Bundle plus their QBank for $399. Their QBank of 4,000 sample passage-based and discrete MCAT practice questions comes with full answers and answer explanations with advanced analytics.
Pros
Psychological sections are great
Practice tests are very hard, but it helps you score higher on the real exam
QBank of 4,000 questions comes with the 10-test bundle
The online interface is close to the real MCAT
Cons
Many students feel like they don't improve from test 1 – 5
Many questions are too hard and confusing
The Berkeley Review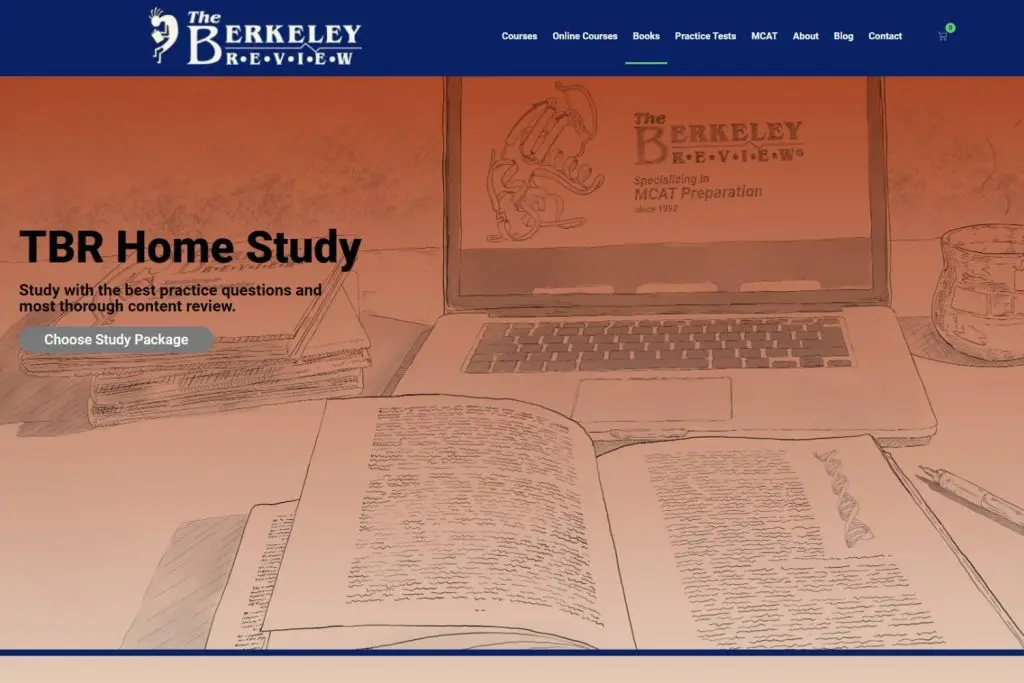 The Berkeley Review stands out in a crown because they are one of the only test prep programs that do one thing—MCAT prep. They pride themselves on their prep books and their practice tests. Their focus pays off because they have some pretty good practice exams that are realistic and written by MCAT experts. You can buy a prep book as a set or get the book that strengthens your weak areas. You can buy their first practice exam individually for $49, sets of two exams (2 & 3, or 4 & 5) for $79, or you can buy the five test bundle for $149. On the downside, once you buy the MCAT practice test, it's only accessible for 40 days. This forces you to buy them when you want to take them. Most other companies let you take and retake the exams for 6 – 12 months. Also, some students have said that their practice questions don't focus on commonly tested areas, while others like the difficulty of the questions that challenge them to study harder. Just like Examkrackers, they use their prep book answer explanations, so it may not make total sense if you don't have access to those materials.
See also our How Many Times Can You Take The MCAT here.
Pros
Practice tests are hard, like Blueprint, but they test everything and is good practice
Works hand in hand with their prep books
Great science sections that test critical thinking
Only prep company to focus just on the MCAT
Cons
Weak verbal, psychology, and sociology sections
Difficult science section (can be a pro to some students)
What's the Best MCAT Practice Test?
Let's review the features of the five best MCAT practice exams on the market, compare them to each other, and rank each of them overall.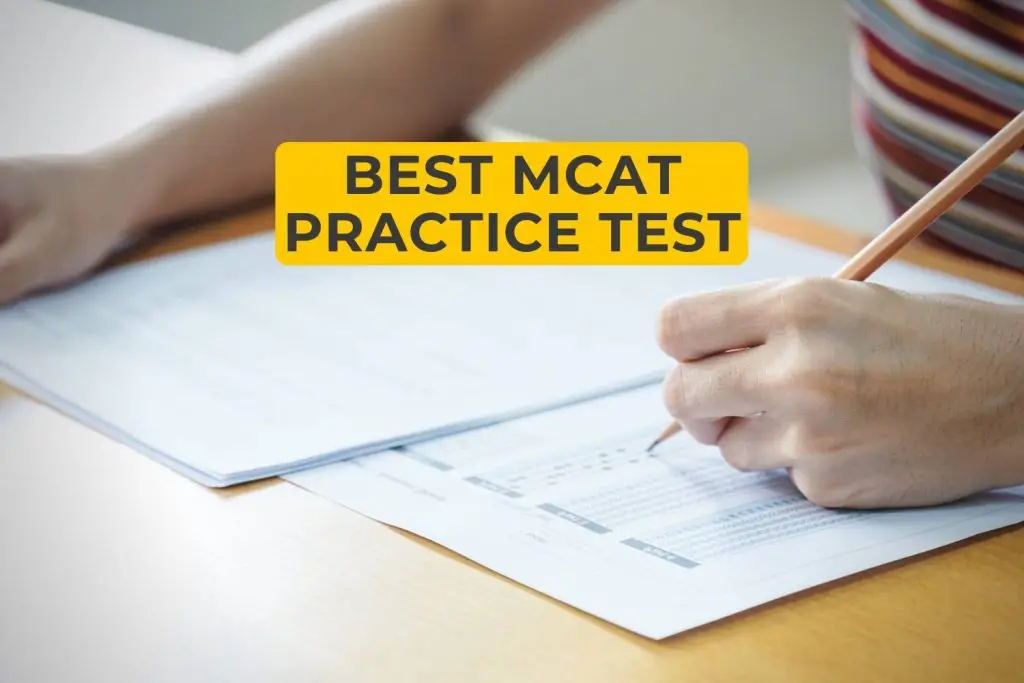 Conclusion
Buy AAMC practice tests if:
You want practice tests written by the folks who write the actual exam
You need to strengthen your CARS skills
You want questions that are the same difficulty as the real thing
Buy Examkrackers practice tests if:
You want to be challenged by difficult questions
You want to see your answers as you take the test
You want a test with AAMC standards
Buy Blueprint practice tests if:
You need to beef up your psychological skills
You want free access to question packs when you buy practice tests
You like an interface that mimics the real exam
Buy The Berkeley Review practice tests if:
You want the option of getting MCAT prep books that mirror the practice test
You want to work with a company that deals only with the MCAT
You want to be challenged by hard test questions
Buy the Princeton Review practice tests if:
You want great options for MCAT prep books and online prep course that comes with practice tests
You want to go with a trusted name in the test prep business
You want to take an MCAT practice test that is really close to what you'll see on exam day