For many individuals, pursuing a traditional high school diploma may not be the most feasible option for various reasons, such as personal circumstances, time constraints, or educational challenges. 
In such cases, the General Educational Development (GED) program offers an alternative pathway to earn a diploma. It's a widely recognized equivalent to a high school diploma, one you can use in other continuing education programs once you get your GED score. 
So, how long does it take to get a GED? This article will explore the process, the duration of GED classes, and details about the GED test. Read on!
What is the GED Diploma?
The GED, which stands for General Educational Development, is a nationally recognized credential designed for individuals who did not complete high school but wish to demonstrate their academic knowledge and skills. 
The GED testing service is organized and administered by the American Council on Education (ACE) in collaboration with Pearson VUE. You can find a GED testing center across the United States. Hence, you can locate a GED testing service center through the official GED website, contacting a local adult education center, community college, or state education agency. 
The GED testing center provides a secure and standardized environment for individuals to take the GED tests, allowing them to earn their high school equivalency diploma and pursue their educational and career goals.
One of the differences between this high school equivalency and a high school diploma is the pathway to attainment. As such, while it takes four years of formal education to get a high school diploma, the GED is obtained through a series of tests that assess proficiency in core subjects. 
A high school diploma typically requires full-time education, encompassing various subjects and coursework. In contrast, the GED continuing education program takes a shorter duration, about a few months. 
Further, GED candidates can prepare for and take GED tests at their own pace. This flexibility allows individuals to achieve a high school equivalency credential in a more expedited manner, allowing people who need credentials to get them fast and avoid losing opportunities like employment and promotions.
Candidates demonstrate competence in:
Reading

Writing

Mathematical reasoning

Science

Social studies
Requirements for a GED
To be GED ready, candidates must meet a few requirements, which may vary slightly from state to state in the United States. 
Generally, candidates must be at least 16 years old, not enrolled in high school, and not possess a high school diploma or equivalent credential. 
Some states may require candidates to complete a pre-GED testing service program or practice tests before attempting the official GED tests.
How Long Are Traditional GED Classes?
The duration of a traditional GED class can vary depending on an individual's pace and prior educational experience. Consequently, one candidate can complete GED preparation in a few weeks, while another takes several months to be GED-ready. 
These classes typically cover the five subject areas tested in the GED exam: 
Language arts (reading and writing)

Mathematical reasoning

Science

Social studies
Many community colleges and adult education centers offer GED preparation classes, both in-person and online, to cater to a wide range of learners.
To find a GED preparation center, visit the official GED website, where you can use their search tool to locate centers in your area. Alternatively, contact your local adult education or community college programs, as they often offer GED classes and can provide information on nearby centers. State education agencies can also offer guidance on finding GED preparation resources. 
Remember that many GED preparation centers now offer online courses, providing flexibility for learners who prefer remote study options. Additionally, you can inquire with local libraries, community organizations, or social service agencies, as they may have information about GED programs in your community.
An online GED class offers flexibility in terms of duration. They offer self-paced study materials, practice tests, and access to instructors. Some individuals may find online courses more convenient for this adult education program, as they can tailor them to fit busy schedules. 
However, like traditional classes, the length of online courses can vary depending on a candidate's pace and commitment.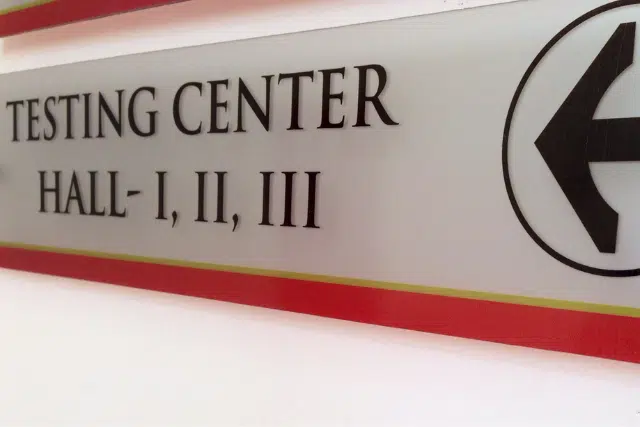 What Is On The GED Test?
The GED exam comprises four subject areas, each assessed separately:
1. Reasoning Through Language Arts (RLA)
It evaluates the ability to read, comprehend, and analyze written materials, including fiction and non-fiction texts. Additionally, it includes an essay component that requires candidates to write a well-structured response to a given prompt, demonstrating their ability to express ideas coherently and support them with evidence. 
2. Mathematical Reasoning
This test assesses a candidate's mathematical skills and abilities across many topics, including algebra, geometry, statistics, and data analysis. It consists of multiple-choice questions and constructed response items that require candidates to demonstrate problem-solving, critical thinking, and application of mathematical concepts. 
The test evaluates the candidate's proficiency in solving quantitative problems, interpreting data from charts and graphs, and using mathematical reasoning to analyze real-world scenarios.  
3. Science
The science test evaluates a candidate's understanding of scientific concepts, critical thinking, and problem-solving abilities.
4. Social Studies
This test covers history, civics, government, economics, and geography. It tests knowledge and analytical skills.
This adult education program provides numerous advantages. It's a high school equivalency credential, facilitating access to a broader range of job opportunities and improving earning potential. On top of that, GED holders can pursue higher education, including college or vocational training programs, enhancing their skill sets and qualifications. 
Beyond the practical benefits, enrolling in this continuing education program fosters personal achievement, boosting self-esteem and self-confidence. It can lead to an improved quality of life, financial stability, and opportunities for lifelong learning. 
Additionally, it can inspire others as a positive example of educational dedication and commitment. The flexibility of GED preparation and testing options allows individuals to tailor their learning path to their unique needs and circumstances, ensuring accessibility to education for a diverse range of learners.
So, how long will it take to complete the GED test? The duration varies, but candidates can expect to spend around 7.5 hours at the GED testing center if they take all four subject area tests. However, candidates can take one or more subjects on different days, allowing them to manage their time and focus on individual areas of strength.
Conclusion
So, how long does it take to get a GED? It depends on your knowledge and experience, as this pathway doesn't follow the traditional formal education system like getting a high school diploma. 
Further, the duration of the process, including GED preparation and testing, can vary widely depending on individual circumstances. However, with dedication, access to resources, and the best support, you can earn your GED in less than three months.
FAQs
How Do I Study for the GED?
The most efficient GED preparation is through self-paced study, traditional classes, or online courses. Utilizing official GED study materials, practice tests, and seeking guidance from educators or tutors can be beneficial.
What passing score do I need in the GED exam?
To pass the GED test, candidates generally need to earn a minimum score of 145 on each subject test. However, the GED scoring system allows for a cumulative passing score based on all four subjects. Candidates should check with their state's requirements, as the passing score may differ slightly from state to state.
What are the hardest parts of the GED class?
The difficulty of GED subjects varies from person to person, but many candidates find the mathematics test challenging due to its comprehensive nature. The essay portion of the language arts test can also be challenging for those who aren't GED-ready.