What is SAT vs ACT comparison? How are these two tests different from each other, and which are you going to take? Or maybe you are thinking of taking both the SAT and the ACT? There's actually no saying when it comes to the SAT vs ACT test that one is more superior than the other. So how do you decide about the right standardized admission test that'll take you to the doors of the colleges of your choice? Here are some tips to guide you.
Consider that admission criterion of the colleges or universities you are targeting. Do they require a certain number of points for either of the SAT or the ACT in order to accept new students? But if they have not specified either or both of these two tests to be part of their requirements, then you can make your own decision about which is best to take. No science has dictated that the ACT is easier than the SAT and vice versa. You just have to take into account the most appropriate format of the test that better suits your strengths. Each of these tests has different structures and varied emphases, and it is a smarter choice to take the standardized exam that feels more familiar to you. The SAT vs ACT scores, whichever is higher should be able to help you gain admission to your chosen colleges.
Check our ACT Practice Tests for English
What Makes The ACT Test Preparation
The ACT covers 4 major subjects, and they are English, Math, Reading, and Science. The ACT is a standardized exam that evaluates high school students' capabilities, readiness and competitiveness to enter college life. Most colleges have standardized test requirements so that they can better determine if student-applicants are worthy to grace their schools with their admissions. It takes 2 hours and 55 minutes (without including breaks) to finish the ACT test.
You can get a score of anything from 1 to 36 points in the ACT. Your scores in the 4 subject areas mentioned above are averaged altogether where you then can determine your composite score. There is an optional writing test in the ACT, and this is designed to gauge your planning and writing skills. It takes 30 minutes to finish the optional ACT writing test and it represents an additional score which is reported separately.
Is writing your weak area? In that case, you should consider skipping the ACT Essay test, unless it is required by the colleges you are considering to study in. Otherwise, if you have strong abilities in writing, taking the ACT Essay test can benefit you. In your ACT test prep, it is important to take ACT practice tests. These test prep resources that are available online or in your local bookstore and library can give you an idea about the "feel" of the ACT test.
Related Topic: ACT Test Introduction, Registration, Dates & Score
What About The SAT Test Preparation?
Whereas in the ACT, your overall educational development is measured, the SAT is designed to gauge your problem-solving and general thinking abilities. There are 2 major sections that comprise the SAT, and they are the Evidence-Based Reading and Writing and the Math topics. The time limit for accomplishing the SAT is 3 hours.
Just like the ACT, you'll also find that the SAT covers multiple choice questions. However, in the Math section, it is necessary to produce your answers. There is no room for guessing or choosing from a number of choices in this particular aspect of the SAT. In both the ACT and the SAT, you won't be penalized for your wrong answers. Take SAT practice tests, too, so that you can familiarize yourself with the test. Practice tests in your SAT prep are crucial because they will help you figure out your weak and strong points. With it, you'll gain an idea of which subject areas you can improve on. See also our Kaplan SAT Prep Review here.
Check our Practice Tests for ACT Math
The Subject Tests Covered By The SAT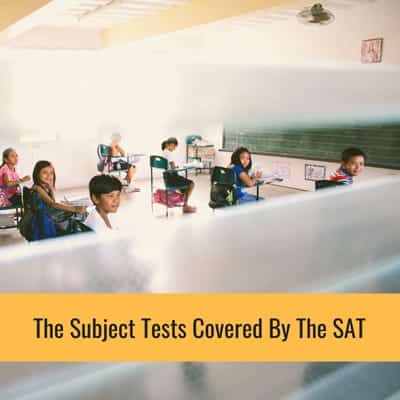 In the SAT, you likewise have the option to take subject tests. Some schools require applicants to take these subject tests prior to their admission. Otherwise, you may not need to tackle this specific aspect of the SAT, but again, if they represent your strong points, you can boast of your high scores. Scores in the additional Essay test in the ACT and the subject tests in the SAT will be reported,  regardless of whether they are required or not.
If you're worried that your score might not be that exemplary in the major sections of the SAT, register for and take ample test prep measures in taking the subject tests. They could highlight your skills in various areas such as History, English, Science, Math, and different languages.
Related Topic: SAT Math Practice Test
SAT vs ACT Test? It's Your Choice, Depending On Various Factors
Despite the varied differences between the SAT and the ACT, both of these standardized tests have the potential to produce an excellent score from you. A large number of students have in fact performed comparably on both the SAT and the ACT tests. Neither should you think that it is a "SAT vs ACT test" dilemma as well. You can take both of these tests if your targeted schools did not specify their requirement for either your SAT or ACT scores. After all, each of these tests measures your capabilities in different ways. Taking both the SAT and the ACT can help you work out in whichever test you'll score better.
What if you need more time or are short on money? You can start deciding on either to take the SAT or the ACT by taking practice tests. SAT and ACT practice tests are available electronically or in print, and they can be had very affordable. Thus, through these efforts, you can obtain an experience of the tests which are as close to reality. You can then decide on a test that feels more familiar or comfortable to you and you can go for it. Through SAT and ACT practice tests, you can judge your performance which can guide you in making your choice for the real thing, whether it is the SAT or the ACT.
Start reviewing with our helpful contents: Free SAT Reading Practice Tests
Related Topics: