In the United States, the world of truck driving and commercial driver's licenses (CDLs) offers a promising career path for many. However, a potential truck driver may often wonder about the educational prerequisites for obtaining a CDL license.
This includes finding out "Do you need a GED to get a CDL?". In this article, we'll delve into the details of CDL License requirements to become a professional truck driver.
What is a CDL License?
Let's delve deeper into the world of Commercial Driver's Licenses (CDLs) and explore the distinctions between Class A and Class B truck driver license qualifications.
Class A CDL
A Class A CDL is the most versatile and widely sought-after type of commercial driver's license. It authorizes the holder to operate a broad range of commercial vehicles, including some of the largest and heaviest on the road. Here are some key features of a Class A CDL:
Vehicle Types: With a Class A CDL, drivers are qualified to operate tractor-trailers, also known as semi-trucks or 18-wheelers. These vehicles typically consist of a powerful tractor (front part) attached to one or more trailers (rear part).

Weight Limits: The distinguishing factor for Class A CDL holders is the weight rating. They can operate vehicles with a Gross Vehicle Weight Rating (GVWR) exceeding 26,001 pounds, as long as the GVWR of the towed vehicle (trailer) also exceeds 10,000 pounds.

Endorsements: Depending on the specific cargo or type of equipment being transported, Class A CDL holders may need additional endorsements. 
Truck driver training for a Class A CDL typically involves more comprehensive training. This is due to the complexity of driving large combination vehicles. 
Class B CDL
A Class B CDL, while not as versatile as a Class A, still opens the door to a variety of commercial driving opportunities. Here are the key characteristics of a Class B CDL:
Vehicle Types: Class B CDL holders are authorized to operate single commercial vehicles with a GVWR exceeding 26,001 pounds. These vehicles are usually not towing trailers but can include large delivery trucks, buses, and straight trucks.

Weight Limits: The primary distinction from Class A is that Class B CDL holders do not tow trailers with a GVWR exceeding 10,000 pounds.

Endorsements: Similar to Class A, Class B CDL holders may need endorsements for specific types of cargo or passenger transport. 
Training for a Class B CDL often involves less time and complexity than a Class A. It is primarily focused on single, non-combination vehicles.
Do You Need a GED to Get a CDL?
A GED or high school diploma is not always a mandatory requirement for obtaining a CDL. However, these qualifications can be advantageous in terms of job opportunities and overall career prospects.
CDL requirements vary from state to state and might include factors like age, residency, and medical fitness. But, there are some rules which need to be met on a federal level. 
For example, you need to be over 21 years old to qualify for operations in interstate commerce. So it doesn't matter if you're in North Carolina, California or Texas. 
Many states do not specifically mandate a high school diploma or GED as a prerequisite for CDL issuance. Instead, they focus on evaluating an applicant's ability to meet specific skills and knowledge requirements. 
In North Carolina, for example, you must pass a written knowledge test and a skills test. This includes a driving test, to obtain your CDL.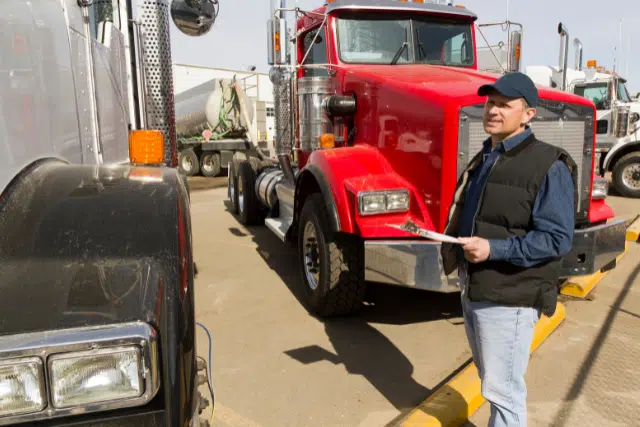 Alternatives to a CDL if You Don't Have a GED
If you're interested in a career in truck driving but don't have a GED or high school diploma, there are alternative options to consider:
GED or High School Equivalency: If you're serious about becoming a truck driver, continuing education officially is a wise choice. Obtain your GED or high school equivalency diploma, then train for a commercial driver license.

CDL Training Schools: Many commercial driver training schools offer comprehensive programs that include both classroom instruction and behind-the-wheel motor vehicle training. A good CDL school will often not require a high school diploma or GED for admission.

Company-Sponsored Training Programs: Some trucking companies offer training programs where they provide the training and cover the cost of obtaining a CDL in exchange for a commitment to work for them for a specified period.
Conclusion
In the world of commercial truck driving, a GED or high school diploma is valuable but not always a strict requirement for obtaining a CDL. CDL requirements primarily focus on your ability to pass written and skills tests related to commercial vehicle operation. 
To embark on a fulfilling career in commercial truck driving, consider pursuing your GED or exploring alternative paths. Ultimately, your dedication and commitment to public safety on the road will play a significant role in obtaining a commercial driver's license.
FAQs
Are there states that require a GED for a CDL?
CDL requirements vary from state to state, but in most states, a GED or high school diploma is not explicitly required. States focus more on testing and skills assessments.
Can I start a CDL training program while working on my GED concurrently?
Yes, you can. Combining educational pursuits can be a proactive approach to improve both your career options and your educational qualifications simultaneously.
How do I find out the specific CDL requirements in my state?
To find out the specific CDL requirements in your state, contact your state's Department of Motor Vehicles (DMV) or visit their website.