ACT test prep is not just about studying for months, but also preparation to ensure everything goes as planned for the test day. Getting stuck on a question is bad, but breaking your pencil in the middle of the test has been just as disastrous. Part of acing the ACT test is knowing and complying with the ACT test day requirements.
We have Free Practice Tests for ACT English
What To Bring With You On The ACT Test Day
1. A printed copy of your admission ticket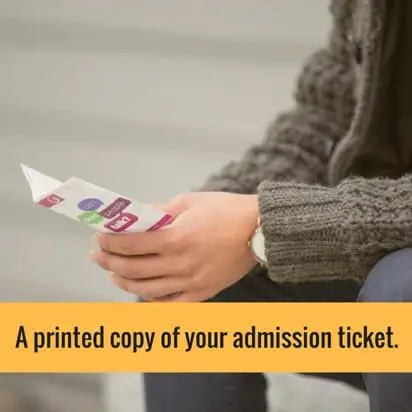 Log in to your account on the ACT website where you registered and print out your admission ticket. Only the paper copy of this document is allowed on the ACT test day. Images of this ticket on your mobile phone or other electronic devices will not be accepted.
Related Topic: ACT Test Introduction, Registration, Dates & Score
2. A valid photo ID
The full name and photo on your ID should match what's on your ACT registration. Which valid IDs can you use on the ACT test day?
Your current school ID
Your driver's license
Your passport
If you don't have any of these, have a school official or a notary fill out a downloaded copy of an Official ACT Identification Form. If you took part in the ACT Talent Search, you should prepare a copy of your talent search identification letter.
On the ACT test day, you can't present credit cards, birth certificates, employee IDs, Social Security cards and learner's permits as ID. Personal recognition doesn't count either, so don't be complacent. Even if your test administrator is someone you know, you can't take the test without approved ID. Your admission ticket and valid photo ID are important requirements on the ACT test day.
Learn more review materials here: Free Practice Tests for ACT Science
3. At least two pieces of #2 pencils and a good quality eraser
Always make sure to have a spare pencil in case the one you're using breaks. Pens, mechanical pencils, liquid paper, highlighters and other writing accessories are not acceptable, even for the ACT essay test.
Related Topic: ACT Registration and Requirements
4. An approved calculator
Although there are particular limits, the ACT allows 4-function, graphing and scientific calculators for the test. Be aware of the limits and uses of the calculator in the ACT.
We have: Free ACT Math Practice Tests
5. A noiseless watch with no audible alarms
This comes in handy because you'll need to keep track of the time when taking the different sections of the test. Don't forget about the time limit for every section in the ACT. You need to be aware of the time when taking the ACT test. But this is an optional ACT test requirement, specifically if it distracts you or causes you to be anxious. Don't wear your smartwatch though, because this is not allowed.
Related Topic: ACT Practice Test
Other Things That You Might Need When Taking The ACT Test
* Additional #2 pencils and a small, handy pencil sharpener. These are essential backups should mishaps take place while you're taking the test. They will bring you much-needed convenience, especially if you're taking the ACT Plus Writing test where you will need to write an essay.
* Extra calculator batteries. The last thing you would want to happen while taking ACT Math is to have a dead calculator. That's why you need to bring extra batteries for this test accessory. In fact, it makes sense to put new batteries in your calculator on the day before the ACT test. See to it that your calculator is operating well a day before taking the test as well.
* Snacks and drinks to replenish you during your breaks. Although eating is not allowed in the testing room, The ACT test schedule includes breaks. Bring nutritious snacks and drinks with you to energize you for the test.
Related Topics: