You might be wondering about when and where to start studying for the ACT. Just where is the best place to start to prep yourself for this important placement test? And how long do you need to study for it?
These are the initial questions that you have to deal with before preparing for the ACT test. After all, acing the ACT test can make you a recipient of a full-ride scholarship. Or else, if you fail, you'll be inclined to pass up the opportunity of studying in the college of your choice. This is why it is important for you to prepare for a systematic and efficient ACT test prep. You can visit our reviews of the Best ACT Prep Book here.
More review materials: ACT English Free Practice Tests
Where To Begin Studying For The ACT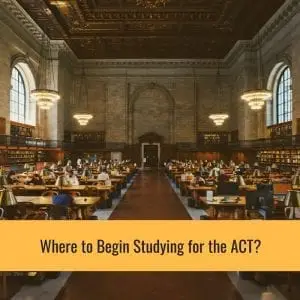 The best place to start studying for the ACT is both online and offline. Get to know the "feel" of the actual test by taking ACT practice tests. Go through the blog as well where you can learn vital tips and information about the test, including the ACT requirements and ACT test dates. The Test Prep Toolkit blog will even equip you with know-how about test-taking strategies and what to do during your exam day. You'll also gain knowledge about the structure, covered subjects and topics and the scoring of the test, including what to do before, during and after taking it.
Start searching for offline ACT resources as well. Try looking in your local library or bookstore and find hard copies of ACT study guides, booklets, and practice tests. You can purchase these items online, too. See to it that the books and study guides you're buying are up-to-date. You need to cope and be well-informed about the changing needs of colleges and universities.
Related Topic: ACT Test Introduction, Registration, Dates & Score
When Is The Best Time To Take The ACT?
Before deciding on when you should start studying for the ACT, you first have to determine when to take the test. Ideally, the best time to take the ACT test is during your junior year in the fall. In case you fail the ACT on this test day, you can manage to retake it in the spring. Your senior year will then be focused on your college applications, while your freshman and sophomore years will be spent on learning the subject matters that'll make you possibly ace the ACT.
Learn more : ACT Math Free Practice Tests
When To Start Studying For The ACT: 3 Steps To Guide You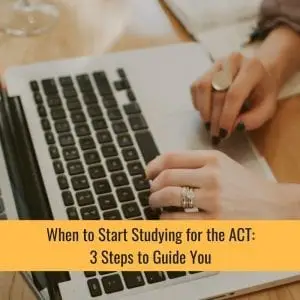 What works for most high school students is to start studying for the ACT at the end of their sophomore year or during the summer in the middle of their sophomore and junior year. Come the beginning of their junior year, students can allot enough time for their test prep during this period. Exactly when you should start studying for the ACT depends on various factors, such as how much time you can allocate for your test prep schedule.
If you intend to engage in a more intense ACT test prep, such as 10 hours every week, you can most probably do it in 2 months. Or else, if you want to take part in a more gradual preparation, such as 1 hour a week, then you need to study longer, approximately within 6 months. You also have to keep in mind your target score and the college or universities you want to enroll in. Here are 3 steps to help you figure out when you should start studying for the ACT test:
Discover your baseline score by taking an official ACT practice test.
You need to be doing this during your sophomore year. Taking an ACT practice test will help you assess your readiness for the ACT. Doing this as early as your sophomore year will give you sufficient time to plan for your test prep and studying schedule.
Related Topic: Registration and Requirements
Determine what your target score is and what your college goals are.
You'll need a different length and intensity for your ACT prep if you're studying for a score of 26, and an ACT score of 36. In the same way, you'll need extra work if you want to attend an Ivy League school than if you plan to study at an in-state college. In this sense, you primarily have to figure out your target score as required by your preferred college.
Related Topic: ACT Scores
Calculate the exact time that you need to study for the ACT according to your target score.
After taking an official ACT practice test, you will be able to obtain your baseline score. Have you achieved your target score as required by your chosen colleges? If not, you should verify how many points more you need to attain according to the requirements. Here is a guide you can refer to:
None to 1 point improvement – Test prep for 10 hours
1 to 2 points improvement- Test prep for 20 hours
2 to 4 points improvement – Test prep for 40 hours
4 to 6 points improvement- Test prep for 80 hours
6 to 9 points improvement – Test prep for 150 hours or more
So, for example, if your baseline score is 26 but your target score is 29, you would need a 3-point improvement, and that would entail an ACT test prep of 40 hours.
Start reviewing with our helpful contents: Free Practice Tests for ACT Science
All in all, you have to consider that the ACT aims to test the academic skills that you have acquired basically throughout your entire life, such as how to read and how numbers work. Having stepped into junior high school, you have completed approximately 20,000 hours of homework and studying. If you need to improve for certain points so that you'll achieve your target score in the ACT, you need to seriously retool your skills and knowledge.
Now that you have determined the number of test prep hours required to reach your target score and when you plan to take the ACT, you can work on the right ACT test prep schedule for you. You can also see our Best ACT Prep Course here.
Related Topics: ACT Science Free Practice Tests 1