Just as students prepared for what's on the ACT test, they also will benefit from gearing up for all the logistics of taking the exam. Students must get everything they need gathered and packed away in their bag the day before their ACT test. All of their ACT prep would count for nothing if they didn't make it to the test or have the proper pencils to answer their test papers. Test-takers will still appreciate having their backpack pre-packed as they are getting ready the morning of their ACT test.
It would be a good idea for students to print a couple copies of their ACT admission ticket, indicating they have a good ACT test prep. Test-takers must not leave this to the last minute, as printers can break or they may rely on school or their local library for printing resources.
You must eat breakfast, bring snacks and drinks, and do any exercises that help to cope with stress. Your physical health can have a huge impact on your ability to answer the test.
Test-takers must not bring their cell phone to the ACT test. Even if they are confident it's in silent mode, they never know – it's not worth the risk of having their ACT scores canceled. Students are not allowed to bring their cell phones in the testing room.
As part of students ACT prep, test-takers must make a checklist and double check that they have everything they need before leaving in the morning. By ensuring that you're well-prepared, you'll have an easy and relaxing morning as possible before your ACT test and you can focus all your attention on doing your best.
Learn more: ACT Math Test Overview, Content Type And Tips To Score High
Prepare What You Need To Bring.
ACT admission ticket.
Students are required to bring the printed ACT admission ticket. The ACT will not accept images of the admission ticket from a cell phone or other devices. To print the admission ticket, you must log into your ACT account.
Photo ID.
The full name of the test-taker should match the name he registered with, and the picture of the test-taker should clearly resemble the picture he uploaded during registration.
Acceptable forms of ID include driver's license, passport, and current official school ID. If students don't have any of these, they can also have a school official fill out the ACT Identification Letter Form.
Unacceptable forms of ID include Learner's permits, credit cards, employee IDs, Social Security cards and birth certificates. Students must have an ID with their admission ticket.
Related Topic: ACT Test Introduction, Registration, Dates & Score
#2 Pencils and an Eraser.
Students are not allowed to use pens, highlighters, liquid paper, mechanical pencils, and any other writing utensils, not even for the ACT Essay section.
Calculator.
Students can use most 4-function, scientific, as well as graphing calculators, but with certain restrictions.
As long as students have their printed admission ticket, calculator, ID, #2 and pencils, they should have no problem making it through their ACT test.
You can also check our post here on What To Bring On the ACT Test Day here.
Related Topic: ACT Test Dates
Arrive At The Test Center Earlier Than Your Test Schedule.
It's important that test-takers arrive on time to their ACT testing center, as ACT won't admit latecomers to the test. It would be ideal to arrive at the ACT testing center around 7:30 a.m., or a little earlier if you are worried about logistics like a parking spot. Arriving much earlier could mean you're not rushing to get in after test-takers have already started to enter the ACT testing center. The sweet spot would be right around 7:30 a.m.
Adding up to preparing the day before the ACT test, students should also familiarize themselves with the route before ACT test day if they are taking the test somewhere other than their usual high school. Students should consider what traffic conditions will be like to prepare for any unexpected delays. Underestimating the time it takes to get to the ACT testing center will be a highly stressful way to kick off your day.
Upon entering the ACT testing center, students must make sure they know where their belongings are supposed to be and they must double check that their cell phone is turned off. The ACT is strict in prohibiting any technology that could make a sound or could possibly record the ACT testing materials, so a mistake like this could result in a test getting canceled.
Start reviewing with our helpful contents:  ACT Scores
Listen To Instructions.
Test-takers must make sure to listen to all the instructions of the proctor and must follow them. The whole process of the actual ACT test is rather rigid, and test-takers need to fill out everything correctly to ensure their ACT test scores don't get delayed. Also, just as a ringing cell phone, as well as opening and looking at the test booklet before the ACT test officially begins, could result in your ACT scores getting canceled.
The proctor will instruct test-takers when to start the test, so wait for the proctor's green light before kicking off on your first section. Once you've gotten through this process, you will finally start taking the ACT test.
Taking The ACT Test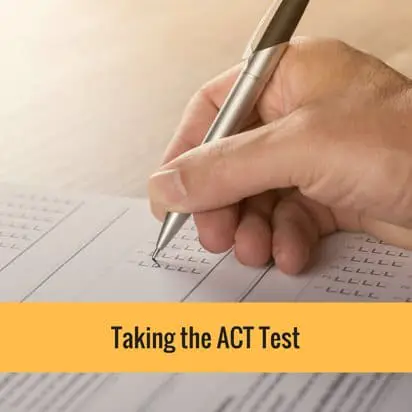 The ACT comprises of four test sections, or five sections if you choose to take the ACT Essay test. The ACT test sections are always in the same order: English, Math, Reading, Science, and the optional Writing. Once you commence the ACT test, it would look like this:
Start with the 45-minute ACT English test.
When instructed by the proctor, go immediately onto the 60-minute ACT Math test.
Take a 5-minute break – have a snack or use the restroom. Return to your desk and complete the next two ACT tests.
Tackle the 35-minute ACT Reading test.
When instructed, move right onto the 35-minute ACT Science test.
If you are not taking the ACT Writing test, gather your things and leave quietly. However, if you will take the Writing section, take a 5-minute break after the Reading and Science tests. After you complete the Writing section, you'll be all finished with your ACT test!
Related Topics: